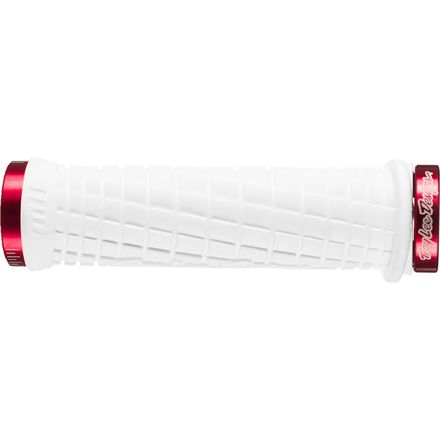 Colors

Community Images
Description
Lock your grip in
The Troy Lee Designs ODI Lock-On Grips delivers comfort and slip-free stability in style. The ODI Grips features grooved channels to prevent mud and water buildup, and the overmolded flap offers added protection. The soft rubber blocks are designed to absorb vibration and offer a comfortable feel with maximum grip. Finally, the lock-on clamp ensures that the grip won't move. The ODI Grips come with the clamps, hardware, and end caps.
Grooved channels prevent mud and water buildup
Overmolded flap provides added protection
Soft rubber blocks provide comfortable feel with maximum grip
Lock-on clamp
Stylish and functional
Familiarity:

I've put it through the wringer
Sure black is classic, black is also the standard. Spice up your ride and make it your own. Chances are your bike is worth more than your car anyway and definitely way more fun. Accessorize your bike with one of the many fun colors of the Troy Lee Designs ODI grips. While they look great, they also perform great. The raised edges keep your hand in place and the blocking pattern provides the right amount of no slip friction. Wet or dry these grips will keep your hands where they belong. Happy trails!
Are the clamps made out of plastic or alumimum?
Best Answer
They are aluminum
Maybe it's because I'm a TLD fan boy but these are the only grips that ever go on my bike. But there's a reason to my addiction it's simple these are the best grips out in my opinion. The pro's of these grips is the make up of grip how it locks your hands onto your bar how they're designed so when you're far back on your bike the rubber blocks create friction that don't let your hands move which is key. Another plus is the grove channels so when you get caught in the rain you don't have to worry about water build up and mud kicking your hands off. The negatives there aren't any I love these things!
Long lasting, good feel
Familiarity:

I've put it through the wringer
These grips feel great. The rubber is a good medium stiffness to make the grips comfortable but not too soft. The ridge on the edge of the grips keeps your hand in position really well. These grips last a while too. Pick up a pair of these, you won't be disappointed. Lots of cool colors to choose from as well. I don't use any other grip, these are too good.
Grippy!
Familiarity:

I gave it as a gift but have feedback to share
Not having proper grips on a mountain bike can be a ride-ruiner! I purchased these for my boyfriend to stick on his fancy red bike and they look great! The red is a bright and a great pop of color.

According to him, they are easy to install, ultra-grippy on the downhill and a perfect medium thickness.
Stickyicky
Familiarity:

I've put it through the wringer
When these things wear in a bit, they get real sticky. I love the small flanges on the ends of the grip, and of course the TLD logos match my so pro TLD kit. These grips go on all my bikes.
Vibrant
Familiarity:

I've put it through the wringer
It seems the latest trend in the bike industry is to make everything matte black. Now, I'm not against matte black, but color can add spice in otherwise drab world.

More important than the color is how the grips perform. These puppies provide tons of grip. I haven't slipped a grip since I installed these on my ride. Awesome colors, and even better grip. What else could you want from a pair of grips?


Killer grip
Familiarity:

I've put it through the wringer
Run these grips on both bikes, design is comfortable after long days of riding downhill, trail and the locks ensure no throttle grip
Awesome grips !!!
Familiarity:

I've put it through the wringer
Love, love, love these grips !!!! Even bought a pair of these for a friend who needed to upgrade his factory pair. The grips have little scales on them that really lock your gloves to the handlebar no matter what terrain you're on. Double locking ensures that they stay put. Also, because of the end cap you don't have to worry about the end of the grips getting chewed up. Plenty of color options for both the lock-on rings and the grips let you personalize your ride how you like. I always have a spare pair of these laying around just in case. You can't go wrong with this grip.
colors!
Familiarity:

I've put it through the wringer
OKAY.... Okay.... okay.... I admit it. I like to accessorize the grip color on my bike.



There, I said it.



Publicly.



It's true.



That being said.... I love the color options, but I am not totally in love with these grips.



Sad face.



It's personal preference.



It's not you. It's me.



I like to use every mm of my handlebars, so I do not like the extra flange on the ends of these grips. I might as well have kept my previous bars and grips at this point. For now I just rotated them so that the smoothest end is aligned where my palm hits the edge. If it weren't for the lock-on AND the grip flare taking up space it might not be so bad, but it just doesn't seem like a logical use of space.



For most rides I find them comfortable and grippy, and I do wear gloves. Generally a size medium -on the larger side for a female hand, but small compared to most dudes- as far as hand/grip diameter goes.



I will still use these until they wear out, but may go back to the ODI Ruffians, Lizard Skins Chargers, or investigate other options for my personal preference like the new SC Palmdale.
I'm a fan
Familiarity:

I've used it several times
As the review below me says, grips are all personal preference. That said, these are definitely quality grips so if they are the right size/shape for you you will not regret getting them. They're medium thickness I would say. I have fairly big hands, so these are what feels like a thin grip to me. I had the Lizard Skin Peatys once and found those to be excessively thin, for reference.



The little ridge they have on the inside is a pretty nice touch. Not as obtrusive as the big moto style grips, but a little support to let you know where you're at.



If you like the looks of these, give them a shot! I got the glow color and they do indeed glow in the dark which is neat I suppose, and during they day they're a nice white/translucent color.
Personal preference
Familiarity:

I've put it through the wringer
Over the years, I've found the ODI Ruffians to be perfect for my hands and I understand they're popular, so this review is for people who are already fans of the Ruffians.



These are thicker than the Ruffians, so if you like the thickness of the Ruffians, I would not recommend these. Unlike the Ruffians, the TLDs have more pronounced grip nubbins, which seems like they would last longer because of this, but may be uncomfortable compared to the Ruffians. It will take a lot longer time for these to become "smooth" because of this.



Because there is more rubber on these grips, they are slightly softer, which may add some comfort to some.



As for grip, they are grippy with gloves and they remain grippy throughout my ride. When Ruffians wear and the texture smooths out, they tend to get a little more slippery, but I dont think these will have that problem.



Otherwise, they are as advertised and do a great job if your hands prefer something larger and softer than Ruffians.
My hands are stuck to my bars!
Familiarity:

I've put it through the wringer
It's hard to type this with my hands stuck to the bars on my bike, these things are that grippy! Some of the nicest looking, stickiest grips I've owned. I got them in white and red and only discovered one downfall. When my chain came off on a ride, after putting it back on, I touched the grips and instantly realized why white grips weren't a great idea. But some Dawn dish soap after the ride cleaned them right up!
I'm a huge fan of ODI for mountain biking and Lizard Skins for road. I use these on my hard tail and fat bike because I'm a little more weight conscious on it than my dual suspension. The rubber is sticky and the blocks are low pro.
Grippy
Familiarity:

I gave it as a gift but have feedback to share
The lady needed some new grips for her ride... I think she was just sick of the boring black ones. What ever the case, she is rockin' these out to the fullest. She's a gloved rider and says they've got killer grip. Hope these last longer than her Ruffians did.
Aside from what's listed, can you choose...
Aside from what's listed, can you choose the grips and end cap colors?


Unfortunately, no. Even on ODI's website, they don't have the option for custom combos.