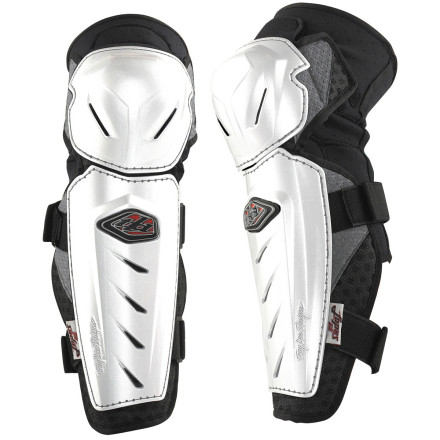 Colors

Detail Images

Community Images
Description
When you win nine NORBA championships, you get to design your own knee guard. Until then, wear Brian's.
Brian Lopes used to make his own knee guard by hand. Now he has the Troy Lee Designs Lopes Signature Knee Guard, and you can have it too. This knee guard consists of an inner neoprene sleeve and an outer, custom molded polycarbonate shell backed by ventilated foam. The comfortable inner sleeve attaches to the durable outer shell with hook and loop closure, ensuring the perfect fit that stays in position no matter how hard you ride.
Great Design
Familiarity:

I've used it once or twice and have initial impressions
I have purchased two pairs, one for myself and one as a gift and both fit us well. These guards are light weight, but very durable and I would say they fit true according to the sizing chart. The neoprene sleeve on each pair was a tad on the tight side to start, but stretches out with use. One nice feature that sold me on this style over others was the fact that the exterior hard shell can be removed from the interior neoprene sleeve so you do not need to take off your shoes to shed the extra bulk. When you are ready for your descent and need the extra protection you can pull the hard shell out of your pack and reattach. I have yet to have any negative feedback on this item so I do not have any to share at this time, but I do have concerns about the stitching that others have mentioned in reviews below.
Poor Quality
Familiarity:

I've used it several times
Like the other reviewers have said, the stitching on the neoprene knee pads begins to separate after 1 ride. After 5 rides I am sewing them in order to use them.
Fall apart
Familiarity:

I've used it several times
The design is good. You put the neoprene knee pads on and the knee/shin guards are held in place. The guards are good. The underlying knee pads wont last two rides as the stitching will fail almost immediately. I like them enough that I'm not returning the second pair, just sewing them up myself, but this is pretty bad manufacturing quality.
Good design, poor construction.
Familiarity:

I've used it several times
When I first got these knee/shin pads, I loved them. They felt good, light and solid. Then after one day of riding I noticed the neoprene knee sleeve tearing at each stitch. The stitching help fine, but it tore through the neoprene knee sleeve. Now I have holes all over the sleeve which make it somewhat hard for the hard shell to feel secure on my leg.
I want to love these..
Familiarity:

I've used it several times
Truth is they were very disappointing. I had to return the first pair due to what I thought was a stitching defect, but the second pair I received did the same thing. The inner sleeves are sewn very poorly and didn't even last two full riding days until they started to rip. They also slide down.
Unanswered Question
How do you size these knee guards ?
How do you size these knee guards ?
I love these things almost as much as i love the beers between shuttles. If these things had a bum, i would slap it and say "way to go sport". they stay where they need to be, and the knee sock velcro thing makes these very comfortable. get em and high five yourself for doing something right for once.
Unanswered Question
Is there a sizing chart for these? I looked...
Is there a sizing chart for these? I looked on TLD's website and couldn't find one. I'm 6' and 155 lbs. What size would be good for me?
everybody says they're great. the velcro-on kneecap sounds like a great idea for custom fit, but it just didn't do it for me. got em for my gf, but we both tried em on and hated them. WAY too tight for one thing, plus the articulation between knee and shin plate isn't spaced out enough. i don't know how everybody loves these things.
These are some solid knee/shin guards, they have great coverage, durable construction, and awesome fit. The detachable knee piece allows for not only a perfect non slip fit for the burly hard plastic protection but also can be use alone as a light duty knee guard for xc rides heavy on the downhill.
Love these. The neoprene knee gasket is the best invention ever. No slipage at all! very light weight and comfortable. PLUS, the neoprene knee gasket is great to wear alone when all you need is a light kneepad for trail riding.
These fit perfectly. They come out in 2 pieces for each leg-- A stretchy knee pad that's slightly padded that fits like a knee brace/sleeve and is covered in Velcro. The knee/shin guard fits on top of these via velcro..

These will NOT slide or move around.. You simply put them on and forget they're there.. The knee pad is great as it helps warm up your knee for those of us with knee issues.

This is a great product.
Troy Lee Designs Lopes Signature Knee Guard
The Troy Lee Designs Lopes Signature Knee Guard comes with an inner neoprene sleeve and an outer, custom molded polycarbonate shell backed by ventilated foam. These are my favorite knee guards I have ever ridden in.
They don't slip. I thought theyd be really hot and they proved me wrong. 2 in 1. Great for girls too- fit nice and snug.
The Best Knee Guards I've Ever Worn
My old Knee Guards were thrown away after I crashed hard last week - the old shin pads somewhat protected my knees; however, their plastic caps on the knee completely shattered upon impact. After 6 years with the same pads, it was clearly time to upgrade before I really got wrecked.

I tried on a number of different pads, including the Fox Racing Launch, Dainese Revolution and the TLD Lopes'. While all three felt good, the Troy Lee Designs Lopes Signature Knee Guard were the best fitting pads out of the bunch. The neoprene sleeve that comes with them is supportive, protective and most importantly, keeps them in place and off your mind while riding. I used them at Deer Valley today and couldn't be happier with my decision. It was 95 F degrees and the Lopes' vented well - don't worry about the neoprene sleeve making your legs too warm, they actually wick the sweat away from your skin. It wasn't until after my 4th lap that I had to readjust the velcro straps (which fit nice and snug out of the box, leaving a lot of room for them to stretch without getting too big). I highly recommend these pads for DH, Trail Riding, Slopestyle and/or 4x - they are top notch!