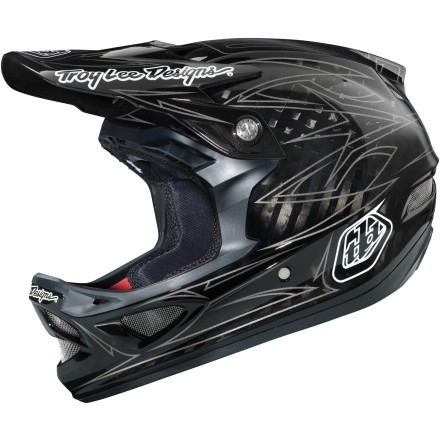 Detail Images

Community Images
Description
Just a little bit cooler.
Troy Lee Designs helmets have always had that one-off custom mystique. There are mountain bike helmets, and then there are Troy Lee helmets. It's tough to nail down a reason, exactly. It could be the incredible graphics, the amazing attention to detail, or, in the case of the D3, the fact that, instead of a flimsy little adjustment strap, the D3 is built with full incremental sizing, like a true custom. Whatever the reason, a Troy Lee helmet is always cooler than the helmet the guy standing next to you is wearing.
The D3 CF is made from carbon fiber. It's lightweight and incredibly durable. Because this is the carbon fiber version, the hardware that's spec'd is titanium. It also comes with an extra visor, just in case you smash the first one into a tree, or maybe a podium.
The D3 employs dual-density shock pads for your comfort and safety, and it meets or exceeds CPSC 1203, CE EN 1077, CE EN 1078, ASTM F1952, and ASTM F2040 safety standards. All those standards mean you have the best possible protection. The liner is removable and washable, and it's made with CoolMax and Dri-Lex moisture-wicking materials.
The D3 is built with 20 intake and exhaust ports to keep cooling air flowing through the helmet at all times. Together with a new, deeper EPS channeling system, the D3 keeps your head as cool as possible, in more ways than one.
Carbon fiber shell
Titanium hardware
Extra visor included
Full incremental sizing
Washable CoolMax and Dri-Lex liner
Twenty intake and exhaust ports
Your Brain Will Thank You.
Familiarity:

I've put it through the wringer
There are a lot of helmets out there, and there are a lot of companies who claim that their helmet is the newest, bestest, baddest brain bucket, but who have a questionable history and can't quite explain why you should buy their helmet.



The D3 isn't one of those. The TLD D3 is trusted by the world's fastest racers for one reason: in that moment when your face is accelerating at an alarming rate towards an inevitable dirt rendezvous, the last thing you want to be questioning is whether or not your helmet is up to the impact. With a history based in the moto industry and quality bred through experience, TLD's D3 padding and construction goes above and beyond most helmets available on the market and has long been the standard to beat for one reason: your brain. While a lot of reviews might focus on the lightness as a benefit of carbon, I'm going to point out the impact absorption part; the most important feature of any helmet is force dispersion, and carbon dampens and absorbs extremely well. So well, in fact, that some studies have shown brain damage to be reduced by nearly half in comparisons to plastic or composite helmets. 50% reduction in force is pretty damn important when you're talking about delicate brain tissue, especially when you take into consideration all of the force an impact can exert on the brain.



I've happily used the D3 for four years and despite some massive hits that should have left me a vegetable, I'm still here, kicking and (semi) sane. Ultimately, that's what a helmet is supposed to do -- mitigate the bad decisions that may cost us the ultimate price. The D3 also has EMS-specific removable pads in the case that everything goes wrong and you need to be cared for by emergency personnel -- the padding is removable by two small tabs which make removing the helmet easy in an emergency without compromising the spinal cord or other injuries. That's how much TLD thought this helmet through. And sure, we could talk about breathability or lightness or cost or any number of other semantic details, but when it comes to your life, does any of that really matter if your brain no longer works?



The D3 isn't just for the world's fastest racers -- it's for those who take risks and want to live to ride another day.
I unfortunately had to return the D3 Pinstripe. First I noticed that the cheek pads seemed a little too loose. Secondly, the padding around the back and back sides is too thin. When pressure was applied in these areas, it hurt. I didn't want to risk taking a hit in these areas with this helmet so it was returned. Other than the previous mentioned issues the D3 did fit well. The Giro Cipher though, is a much better helmet in my opinion.