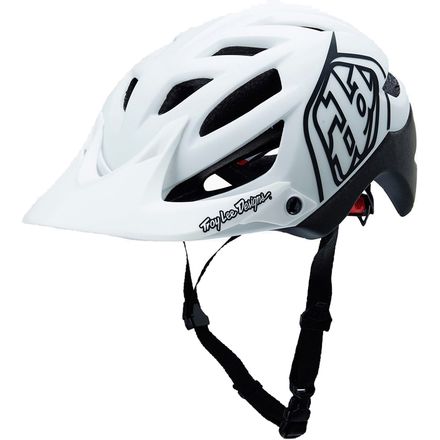 Detail Images

Videos

Community Images
Description
More coverage, more protection.
Troy Lee Designs doesn't mess around with gimmicky technologies when it comes to protecting your head — they cover up what can get hurt, carve away spots for air to get through, and add an adjustment system to keep it all tight to your head. The result? The new A-1 Helmet. With a polycarbonate shell over EPS foam, the A-1 will take a beating, even if you hope it never has to. Troy Lee added 16 distinct vents to move air into, over, and out of the helmet, and there's a synthetic liner with CoolMax pads to assist in moisture management.
Multi-position cams for optimal fit
Fuller-coverage helmet
16 big vents for airflow
Share your thoughts
What do you think of the
Troy Lee Designs
A-1 Helmet
? Share a...
The best hemet, really
Familiarity:

I've used it once or twice and have initial impressions
I seem to have a hard time finding helmets that fit my head. I'm either between sizes, or my head just doesn't fit the shape quite right. I try on helmets every time I go to a bike shop just in case I find the one that feels good. They never do.

I thought I'd try the A1 after reading nothing but glowing reviews, all of which seem to praise its fit and comfort. Amazingly, everyone is right; this is by far the best fitting, most comfortable, and highest quality mountain bike helmet I've ever worn. I've only used it twice on singletrack so far, but that's enough for me to know that this one is the new benchmark.

The shape fits my head perfectly, which is amazing because it seems to fit everyone's heads perfectly. The padding really is better than that offered by competitors. Usually, there's a thin amount of padding at only the points where the helmet makes the most contact with your head, usually at the forehead and running up the top . The A1 covers every point of potential contact, and with a pad that's higher quality and more plush than any I've seen elsewhere. After three hours on the trail, I felt no pressure points, no hot spots, and no need to adjust or remove it.

It also doesn't flop around or shift while riding over rough sections. It just never moved. The dial in the back didn't back off after hours of riding, either. Once I put it on and had it how I wanted it, that's where it stayed until I took it off.

It also looks awesome, but you don't need a review to tell you that.

If you're reading this, you probably want the A1 already. I would recommend you forget about the price and try it. It's the most important piece of gear you're going to use, so it's worth a little extra money. If it fits like it seems to fit everyone, you'll very quickly forget about the cost and realize that every other helmet falls in a separate category. I was a skeptic, but if I crack this one tomorrow on the trail, I'll throw down the money for another one without hesitation.
Awesome helmet!
Gender:

Female

Familiarity:

I've put it through the wringer
I bought this helmet (Orange) a few months ago so I've used it enough (1-4 times a week) to give a review.
This is the most comfortable helmet I've ever owned. It fits my head shape perfectly (thanks to the nice adjusting system inside the helmet). It's light and I like the extra coverage on the back of the head. This summer was hot (high 80s - 90s ...... hot for Seattle area, WA:) and the helmet ventilated well.

On top of it all the helmet looks great!
SO comfortable
Familiarity:

I've used it several times
I swear this is so comfortable, compared to other helmets I've tried. The airflow is great- my head feels fine and isnt sore at the end of long rides. The straps are easy to adjust to be safest, and I love how much of the back of my noggin is protected.

Best helmet I've worn
Familiarity:

I've put it through the wringer
This is an awesome helmet! The mold they use fits my oval head perfectly. It's light, no complaints about the strap adjustment, and the airflow is pretty darn good. Best helmet I've worn
Babe Magnet
Familiarity:

I've put it through the wringer
Comfortable, light weight, well vented, stylin'.
The Best/Most comfortable helmet out.
I've tried a lot of different helmets but will never stray away from the A1. It's by far the most comfortable helmet I've owned with it's deep sunken fit and it's stylish look why look anywhere else.
Great Helmet
Familiarity:

I've put it through the wringer
The A1 is one of the industry-leading helmets for a reason: maximum venting, comfort, affordability and style, all with a pretty sweet selection of colors and sizing.

I would say that the single drawback to the helmet would be the sweat management -- I've never had a helmet drip sweat down my forehead and directly into my eyes/glasses area like the A1, but it's such a minor flaw that the awesomeness of the helmet is barely diminished. Removeable pads make it easy (really easy!) to keep clean, dial-adjustable sizing makes it a perfect fit for any head shape, and clean, open styling makes you look good, even if you have a weird face (like myself). Some helmets make me look and feel a little like Toadstool from Mario Brothers, but the A1 keeps it low profile. The front brim is a lifesaver on sun-facing rides, and the helmet is so comfortable that I rarely bother taking it off on hike-a-bike sections or between shuttle laps.
Best bike helmet you could want
This is the most comfortable bike helmet I have ever worn! It has thick, non obtrusive padding with lots of adjustability. It's also light, and is aesthetically pleasing. What more can you ask for?
None Better
Familiarity:

I've used it once or twice and have initial impressions
I have owned a number of bike helmets having used one for 25 years or so. My current road helmet is a very nice Specialized and my previous MTB helmet was the same. I needed to replace it after I cracked it in an accident (did its job) so I ordered a well reviewed helmet, which was unfortunately painful to wear. I had read reviews of the Troy Lee helmet and one said "Don't put it on unless you are willing to pay the high price." I decided to try one. The review was right. I have never seen such a well made, well fitting helmet. The comfort and fit is well beyond any helmet I have ever worn. My head and comfort is worth the price. I can't see ever buying anything other than a Troy Lee.
I have a 22 inch/57cm head should I get a small or a medium?
Thanks
Hey Tea! Thanks for your question.

Since you are right in-between sizes I would recommend going with a M/L size since this helmet has multiple adjustments to make it fit just right on your head.

Feel free to chat or call one of our expert gearheads for any other questions.
Wife and kids got me the A-1 for Father's Day. They ordered the xl/xxl and my head seems to be swimming in it. My head measures an all most perfect 23". Should I return it for a M/L
Todd, I would definitely try out the M/L seems like a better fit for you!

Feel free to hit me up at bporreca@backcountry.com or 801-736-6398.
Incredible fit!
Familiarity:

I've used it once or twice and have initial impressions
I can hardly believe how comfortable this helmet is, WOW. The second I placed it on my head I realized why it has such rave reviews. My head measures exactly 59 cm and the M/L is perfect, I'm not even at the max range for size adjustment. Highly recommended.
love this helmet. does this A1 matte version come with the protective/storage bag like the other troy lee helmets?
Hi Tahnee,

The Drone color options for $139 do not include a helmet bag, whereas the more expensive versions include it.
Fit is awesome!
Familiarity:

I've used it once or twice and have initial impressions
Get it, your search is over.
Good Fit, Great Looks
Familiarity:

I've put it through the wringer
This helmet fits fantastic for my head (roundish profile). It is comfortable and vents well. The strap system is easy to adjust and the chin strap is looped at the end so you don't have two tails dangling in the wind. The anodized visor bolts are a nice finishing touch. As a bonus Oakley Jawbone glasses fit in the vents so you can post up your glasses when climbing. One minor detail is that the white visor does not completely match the white on the helmet.
Best helmet ever
Familiarity:

I've put it through the wringer
So, the A1 is really comfortable, nice coverage, pretty much what everyone else said. Unfortunately, I did have the opportunity to use it. Rain washed the trail away from sight, had a bout a 10 foot drop that you really couldn't see. Went OTB at 15 mph and flew head first into a boulder. Visor smacked me in the nose when it broke off, fractured my nose, fractured and dislocated several fingers that went along with the superman I performed. Ended up at the hospital. The ER doc asked what I was wearing, told them about the helmet, gloves etc.. Their comment was that I was extremely lucky to be coming in with what I had based on the trauma I was going thru. They have seen worse injuries with less impact and directly attributed it to the protective gear. The helmet was still intact, albiet it had a few good dents in from the rock garden I landed it, glasses were shot and all scrapped up, but that's what you get those Oakleys for.

No concussion, so I was lucky and the ER Doc attributed it to the helmet.
Look Good, Feel Good, SEND IT!
Gender:

Male

Familiarity:

I've put it through the wringer
TLD took their time and didn't overlook any detail when they designed this helmet and that is very evident once you try it on. The adjustments allow you to perfectly fit the helmet to your head This process is easily accomplished via a dial on the back and the straps. Once they are set they wont accidentally change as i have had happen on other helmets.

With added coverage on the rear and sides this helmet inspires confidence inspiring as if you were wearing a full face. While the helmet is not the lightest helmet on the market it is still perfect for all types of riding. The numerous vents flush the hot air out and keep your head cool on hot days. The vent configuration also allows for easy mounting of gopro's and night lights or even sunglasses during a ride.

The visor has never caused any sight issues and can also be adjusted to your liking. Another nice touch is the anodized aluminum visor bolts.
Solid Lid
Familiarity:

I've put it through the wringer
This is a very nice helmet, as you would expect from TLD. I had a POC trabec before this, which I was happy with, but the fit was off just a little bit. This thing feels like it was custom made for my dome. Went with the turbo orange so I would not be mistaken for a deer in the fall/winter months.