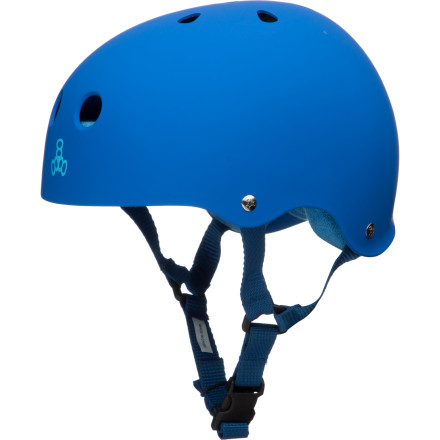 Community Images
If your super-star skate dreams don't work out, you're going to need that brain for making some cash money later on, which is why strapping on the Triple Eight Brainsaver Helmet with a Sweatsaver liner is mandatory before a session. The multi-impact design protects your gray matter day after day, the moisture-wicking liner keeps the sweat off of your face, and the terry cloth fabric ensures itch-free comfort. Plus, the antimicrobial treatment will keep your helmet from smelling like your feet.

Multi-impact foam is designed to protect against frequent minor-to-moderate impacts
Sweatsaver liner uses multiple moisture-wicking layers to keep dripping sweat off of your face
Terry cloth fabric on the liner ensures itch-free comfort
Antimicrobial treatment prevents stink so you can actually stand to wear your helmet
360-degree wrap-around design ensures there is no liner separation
Adjustable chinstrap gives you a secure fit
Top vents improve airflow
I know this is not a BMX recommended helmet, but, at least I'm wearing one right?. This helmet is treated with antibacterial stuff which makes it not stink like your old helmet and pads your using right now. The fabric wicks away sweat and the pads and will not fall apart easily. Traditional air vents also keep your head cool in heated riding sessions.