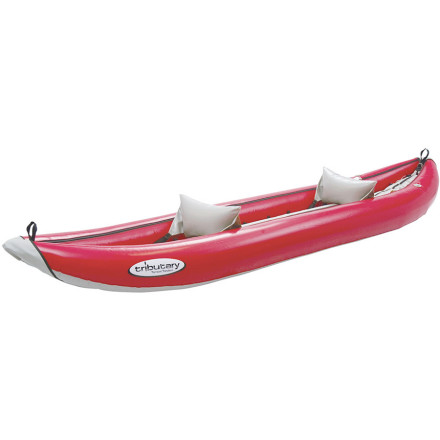 Community Images
The Tributary Tomcat Tandem Inflatable Kayak gives novice whitewater paddlers versatility and performance at an affordable price. The Tributary Tomcat Tandem is a durable entry-level kayak that will last for many seasons on the river. Grab your favorite paddling partner and head for the river, or sit in the boat solo and use the extra space to gear up for multi-day adventures.
A heavy-duty PVC outer shell, double top-stitched seams, and 20-gauge vinyl bladders mean you can bump into rocks without fear of reprisals
Extra-wide and stable construction all but eliminates the possibility of flipping and makes the kayak an excellent choice for those new to the sport
Boat is large enough for long day trips or light overnighters
Boat can handle up to a 450-pound load
Self-bailing design means the boat won't get bogged down when water splashes in
Removable seats can also be adjusted
Repair kit and instructions included
Boat can handle light to moderate whitewater well, and it tracks reasonably well on flatwater
Perfect Sunday float down the Provo
Wish we had the tandem...
We decided to put two people in the single version of this kayak anyway. Didnt work out to well but, was a good try.
if we purchase two boats would you be...
if we purchase two boats would you be willing to give an additional discount?
Best Answer
Give me a call and we can work on putting together your order.



Eric W. Ext. 6069
I have a car and this Kayak is great for running mellow rivers with friends and family. Super easy to inflate/ deflate / and pack up. Rapids were a non issue in this thing. We had a cooler and three people in it at one point (although tight) the weight was totally fine!



I recommend this pump: http://www.backcountry.com/aire-barrel-pump-4-in
Good boat for rivers, not so much lakes
I bought one several weeks ago. I took it solo down a class II+ river and it was a breeze. It make the rapids almost too easy, it self bails front and rear. It's comfortable and it's reasonably agile given the limitations of what it is (ie. a big inflatable). Then I put my 9 year old daughter in it and did the same set of rapids and it was still fine. It didn't notice her weight much at all. Then several weeks later I loaded in my wife, my 4 year old daughter, my 9 year old daughter and myself and took it down the exact same set of rapids and, not surprisingly, it was heavy and ungainly, but it still did pretty well and we had no real problems. A good time was had by everyone. We had no stability problems - it's very stable. Yesterday I loaded it down with the four of us again took it out on a lake and had a nice time kayaking around the lake. It took a fair amount of steering to get it to track in a straight line but it was usable. Everything, including life jackets for 4, the paddles and the kayak and seats fits in the back of my Honda Civic, and I can carry it around by myself with no problems. Using the electric pump that I have it inflates in less 5 minutes and it deflates even quicker. The materials that the two layers are made from are very thick and I would think it would be hard to tear the shell. It does take a while to dry it out though.
, ☃bcs_badge_alumni_label☃
Great Boat
I just returned from a trip down the Green River through the Gates of Lodore. This boat did an awesome job through every single rapid -- including Disaster Falls, Hell's Half Mile and Triplet. The boat is pretty maneuverable, even with a lot of gear (just make your moves sooner). It's also super stable. Even though we hit a few holes and big wave trains, this boat just plowed right over them without any stickiness at all. It also drives through eddy lines like nobody's business. There was also an impressive amount of space on this ducky -- including room for 2 dry bags, a medium-sized ammo box, bocce ball kit, tripod, drag bag and 2 total passengers. All in all, this boat was super fun and very safe and it was the envy of the entire rafting party -- everyone wanted a turn in it.
This thing is sweet for floating the river, I don't think this guy below knows what he is talking about. This is meant to float like a raft, it's an inflatable kayak (ducky) what do you expect. Next time you should call up my grandma and have her paddle you around the lake, sounds like that's more your stile. Me and my 130 pound girlfriend have rocked some class III and IV rapids in this thing multiple times and had no trouble paddling it around. If you are a beginner looking for a comfy ducky style raft for floating your local rivers on the weekend this is perfect and much cheaper than throwing down on a big raft.
We rented two of these recently for a flatwater trip so visiting family could go. If you think "floating refrigerator" you get the right idea. They are big, heavy and ponderous even with fairly strong men paddling. By comparison a conventional, two-person kayak seems like a sports car. This thing is truly awful.
I ran this boat solo this past weekend on the Snake River's Alpine section at about 5500 cfs. It was a snap to remove the 2nd seat and center-mount the remaining one to a middle location in the kayak. Despite being a kayak built for 2, this boat still performed beautifully in the big wave trains and swirly waters. I was very impressed with how maneuverable it was. I'd definitely recommend this boat to any whitewater paddler(s) looking for some easy fun on the river.
For the price, you can't go wrong. I've used this boat for single and multi day trips and pretty soon a self support ducky trip. It has been amazing every time I have taken it out. It is quite durable and stable. I've been over several Class III/IV rapids that I thought for sure I would flip in, but was fine. I'm not saying it's impossible to flip this because I have definitely swam in this, but mainly because we weren't facing the right direction when going over the rapid. There is plenty of space and loops behind the back seat for all your own gear when doing a self support trip or if you just want to take a day bag. Both seats have a zippered pouch behind them for easy access. They are not dry bags, though, so they are mainly for stuff that can get wet (drinks, etc) or to put a small dry bag in. There is also a cup holder behind each chair. The only issue I had with this IK is the chair backs aren't high enough. They would be a lot more comfortable if they were higher. Otherwise, an all around great boat for the money.
We took this out for some causal floating. We used it on a lake (not its intended purpose) and it did pretty well. It was hard to get it to track, especially if there was any wind at all it would blow you off course. But again not what it was meant for, Still fun. It was constructed very well and i would feel more than comfortable in white water on this boat.