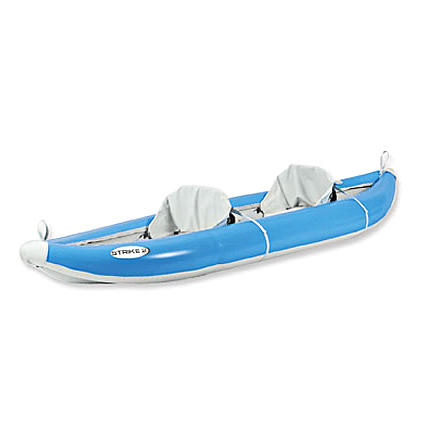 Tributary designed the Strike 2 Inflatable Kayak for paddlers who demand a high performance kayak at a reasonable price. This two person kayak's contemporary styling makes it efficient to paddle on both flat water and in the rapids—the bow and stern are upturned enough to deflect waves in whitewater, but are flat enough not to be a problem in the wind. Tributary constructed the Strike 2 with safety and stability in mind—its extra wide construction remains maneuverable and all but eliminates the possibility of flipping. The Strike 2's durable urethane bladders, welded seams and ample storage space make the boat a great choice for hitting the rapids for an afternoon or heading out on a multiday river adventure.
Unanswered Question
Is this boat self bailing?
Is this boat self bailing?
How is this boat on flat water (lakes)?...
How is this boat on flat water (lakes)? I'm looking for a 2-person inflatable that is easy to pack up and take on road trips. We will mostly do flat water, and being able to paddle efficiently and in wind is important. But i'd like to be able to hit very mild white water as well. Class 3 would be the max i'd ever do, class 2 more likely.

Would this be a good choice? How about the Advanced Elements AdvancedFrame Convertible Inflatable Kayak?
I would recommend the Lynx 2 by AIRE. There is a removable skeg which will improve your tracking tremendously. Also it rolls up nicely and has a 10 year no fault warranty, which means you could drag your boat behind a car for miles and AIRE will fix for free within the 10 year warranty period.

This is also an amazing whitewater kayak. It handles well on both the flat water and class 3-4 rapids. Check it out at http://www.aire.com/aire/products/default.aspx?id=196


for a more economical option the sawtooth 2 will be sufficient. It has a skeg also and does well on both flat and class 2-3 rapids. It has a lesser warranty and is made overseas. The AIRE Lynx is made in Boise, ID.

Cheers
The strike is a flat bottomed skeg-less boat that would be great for rapids but not so good for flat water, it will not track well. Look at Tributary Sawtooth or Innova Sunny. The exact boat your looking for does not exist. Its either mostly flats and little rapids or the other way around. Sorry. AE StraightEdge II I do not like because of the space eating floats placed stern and bow.
What air pump is best to use with the...
What air pump is best to use with the Tributary Strike 2 Tandem Inflatable Kayak?
I would recommend a barrel pump (a good one) so it doesn't take forever to blow up. This one looks pretty nice http://www.backcountry.com/outdoorgear/Aire-Barrel-Pump-4-in/ARE0009M.html or try the K-Pumps - the eliminate the hose so it's much easier to transport and keep on the river with you. Whatever you do get a Summit2 valve adapter. http://www.nrsweb.com/shop/product.asp?pfid=1493.1 This will enable you to inflate the boat much more efficiently and without needing someone else to hold the pump hose in place.
do you offer a repair kit for the inflatable...
do you offer a repair kit for the inflatable and can it be repaired if it splits on a seam?
I don't see any repair kits on Backcountry. This boat does come with a repair kit.

If you are looking to repair an Aire or Tributary boat then repairing on the seam shouldn't be too hard. With these two types of boats there is an air bladder that is wrapped in the outer layer of polyurethane material. So the outer layer isn't what holding the air in the boat. You could probably sew the seam back up and use some repair material to cover it an it should hold for you.

If you have another brand of kayak it is substantially more difficult to repair a seam because it has to be air tight. Personally i would try to find a company that specializes in raft repair and pay them to do it. A Google search for whitewater raft repair may get you going in the right direction.
Can a solo person manuever this boat thru...
Can a solo person manuever this boat thru small rapids with relative ease?
, ☃bcs_badge_alumni_label☃
I took this kayak solo on the Colorado and did well with most rapids, though I got tossed once on the biggest wavve of the stretch I was on. It was a little cumbersome with just myself, though my gear, unstrapped, stayed put and the boat had no fear of tipping. The wideness of it made it a little tough for me to really feel secure and tight within, as well as the length to steer with only my one paddle. However, I am an amateur kayaker and I imagine this guy would perform just fine for a more experienced admiral!
We purchased this boat for quick runs on our local rivers. This weekend we ran the Moab daily. This boat easily handles large pour-overs and large, rolling waves with ease. The self-bailing design and the clip-in seats make for a comfy worry free ride. The material's super burly. This boat could handle class III water with ease.