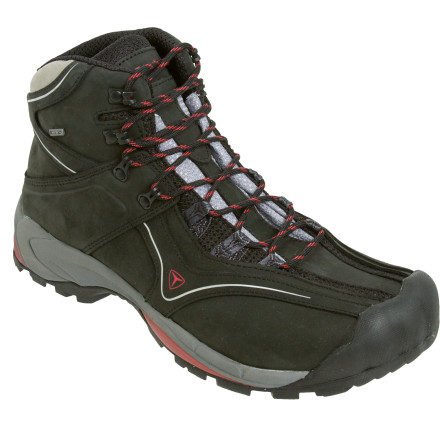 Detail Images

Videos
For a down-and-dirty hiker that looks, feels and performs more like a mid-top shoe, look no further than the Treksta Assault GTX Hiking Boot. Built with a Gore-Tex waterproof breathable membrane and an ultra-tacky outsole, the Assault has the tools you need to motor through muddy, snowy, and icy trail conditions.
Gore-Tex waterproof breathable membrane keeps you dry through wet and muddy conditions and allows foot sweat and moisture to escape
Unique NestFit construction means that shoe's upper, last, insole, midsole, and outsole all 'nest' perfectly with each other for a supremely precise fit
Highly breathable synthetic upper keeps your toes cool and dries quickly
From mud to ice to snow, IceLock HyperGrip outsole provides traction over a wide variety of slippery terrain
Molded leather heel system lends extra protection and torsional stability without affecting the boot's overall flex
Lightweight EVA midsole and triple-density EVA insole ad plenty of cushioning and support from the long road ahead
TrekSta Assault GTX Hiking Boot - Men's
A tacky sole ...... will this pick up pine...
A tacky sole ...... will this pick up pine needles?
When they say "tacky" in reference to boot rubber, what they're really referring to is the fact that it'll stick to rock and dirt well. It's a mixture of rubber and tread, but it's not actually sticky. So it won't pick up pine needles.
Do these boots need to be treated for...
Do these boots need to be treated for conditioning and additional waterproofing? If so, what do you recommend and how will it affect breathability?
Since the upper are synthetic, no additional waterproofing is needed.

A caveat with gore-tex footwear, the inner liner is what is waterproof, so the outside will get wet. However, your feet will stay dry.
overpronate? you might like these
I overpronate. A lot. I wasn't always aware of this so I tried more minimal hiking shoes for a while, but found myself having a lot of knee pain. While looking around at more supportive boots, a friend recommended the treksta brand so I figured I'd try them out.

Save for the overpronation, I think I have a fairly average foot. Shoes tend to fit off the rack nicely. However, the trekstas feel like they were molded on my feet, and my knees are digging the fact that they keep my feet tracking better than my previous shoes.

The break in was mellow (no real break in period needed), but they fit well from the start and are synthetic, so that was to be expected.

Overall, they have held up really well through all sorts of PNW conditions, fit my fairly average foot like a glove (I just ordered my normal shoe size), have maintained their waterproofness, and I just generally really like them.

On the downside, while light for their category, they do still have most of the weight of a heavy duty backpacking boot, and the arch support might intimidate people who frown upon things as supportive as green superfeet for example. The above commenter wasn't joking when they said these have a lot of arch support. I see that as an upside, but to each their own.
Since there are no reviews period, I'll add my experience with the fit only (they had to be returned).

I have a very hard-to-fit foot because I'm an E width, 39.5 EU size, low arch, and a low instep. Needless to say I've tried on a lot of boots from Salomon, Scarpa, Asolo, and Salewa to name a few. None of these manufacturers came close to having the correct width (even Scarpa and Asolo in wide) and all crushed my pinky toe.

TrekSta, with their Nestfit business has a fantastic fit for my foot in terms of width, length and volume required to fill the boot. However, the arch support is, in my opinion, wayyyyy too high. For a comparison, it feels like the green superfeet, possibly a bit higher. This one reason alone made me return them (on another site).

I ordered my normal size and found it to be perfect with light cushion socks (injinji's, 2 pair). I'm not sure how this boot would work with a more narrow foot, but TrekSta claims it fits a wide variety of feet.

Hope this helps gauge the fit a little better.

The size chart is from TrekSta's customer service and is official