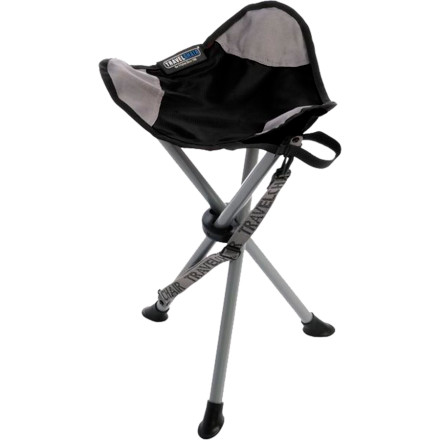 Videos
Description
If there is one thing a good Slacker needs, it's a place to sit.
Want a comfortable place to sit around the fire without bringing a 10-pound chair? Kick back in the TRAVELCHAIR Slacker Camp Chair. This comfy perch packs small and weighs only 2lb. With this package you can be a slacker on the hike and at camp. The Slacker takes only two seconds to set up and holds an incredible 275 pounds. Collapse it shut, wrap the hook-and-loop strap around it, and you're ready for the hike out.
OK, It really only has 3. I guess that's all you need though.



I'm not into sitting on the ground. Not even when I am backpacking.
No frills sturdy backpackers stool
Highly mobile...compact....light. couldn't ask for a better place to rest my but after a long hike. Great multi purpose use and for $20, probably the best in its class. Money well spent.
Perfect Camp chair!
Familiarity:

I've put it through the wringer
bought 2 of these chairs and they were great for camping. Light enough to stick in your backpack and easily pack able. Would recommend.
Goes anywhere!
Familiarity:

I've put it through the wringer
This little chair is super light, super convenient, and super reliable. It is sturdy and reasonably comfortable. I use it frequently at work (I work in an outdoor setting), and also at the beach and on hikes and other trips. Love it!
Small Chair Big Dog
Familiarity:

I've put it through the wringer
After a long hike in the woods we all need a place to rest. Put your butt (or paw) in this chair.



Small enough to take anywhere. Tie it to your pack or jam it inside. It fits. Despite its size, this chair feels well built and very sturdy. The seat webbing is pretty beefy. The strap is too short to really comfortably sling it over your shoulder.



This sucker gets the job done.



Don't worry the dog isn't dead. She just loves this camp chair.
Love the portability
Familiarity:

I've used it several times
I use this chair for in home massages. It's very lightweight and easy to set up in a short time. It's also very sturdy and price is also beyond reasonable. The chair arrived with time to spare in their ETA.
Light, Compact & Reasonably Priced
Light, compact, and reasonably priced. I've stashed one in my car along with a couple bigger folding chairs for the next impromptu tailgate. I imagine it'll also get great use camping and maybe even backpacking. I went with red but would have been happy with any of the colors.
TRAVELCHAIR Slacker Camp Chair
Surprisingly Comfortable
Familiarity:

I've used it once or twice and have initial impressions
Actually bought this for a trip to the happiest place on earth, but they don't allow stuff like this in the park, so while it did not live up to the fullest of its potential that week, it is great to have an extra seat close at hand and does in fact support the 250 pounds it claims.
Sturdy and convenient
Familiarity:

I've used it several times
This sturdy stool is great for bringing along to the campsite for some guitar playing around the fire, or for bringing to park concerts to get a little sitting break after standing for hours. I could see the benefit for backpacking as well--it folds down to a small size and you could use it to rest on without having to sit on the ground (especially useful if it's rocky, snowy, or wet). I might try bringing this along on a long snowshoe trek this winter. But as the reviewer notes below, it could be lighter weight for its size, so camping and shorter outings might be the best use for it.


Worth the extra weight...
When I don't have my bear canister with me, I take this guy. I like to pack it on top of my pack for easy access so when I take a break I can enjoy a nice place to sit. Keeps your rear off the cold ground on cooler nights and more comfortable than uneven rocks. I just wish there was some way to lighten it up a bit.
Unanswered Question
O.K. I have travelchair got it from a...
O.K. I have travelchair got it from a thrift store



I don't think I have a hook strap but I have a loop strap how does it work?






Great stool for the money
While not as light as the REI trail stool, this one is slightly taller and larger overall (which suits my 6'3" frame) for just a little over half the price. Highly recommend it!
What is the height of the seat when it is...
What is the height of the seat when it is open and in use?
Open Dimensions: 18" x 11" x 11"
Closed Dimensions: 18" x 3" x 3"
Seat Height: 18"
Best Answer
Hi Chris, Not to get into an argument with Guy, but I am the rep for Travelchair and the dimensions should be:
Open: 12x14x20
Closed: 3x3x24
Seat Height: 17.5"
Hope this helps.
3"x3"x24" - Pretty tight!
I got this for backpacking and climbing and have been really happy with it, it is great for anytime you kinda want to sit down and have nowhere else to sit. its pretty light and super easy to strap onto any pack. Its just a solid little stool.