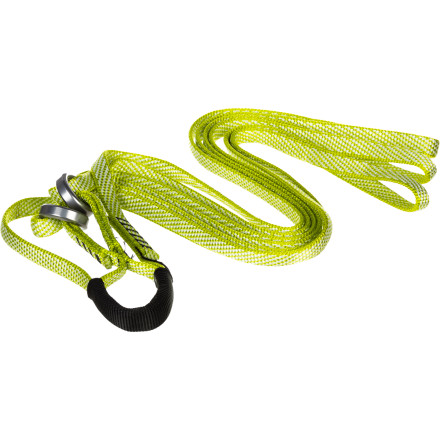 Instead of fussing with cordelettes, knots, or multiple slings, simply break out the Trango UltraTape 6ft Alpine Equalizer for hassle-free anchor building. The six feet self-adjusting sling allows you to instantly equalize two or three pieces of protection.

12mm UltraTape is made from a blend of nylon and Dyneema for an ideal combination of strength and low weight
Sling can be made non-extending by tying an overhand knot in the center loop or clove-hitching each protection point
Note: sling colors do vary; we can't guarantee what one you'll get
Makes anchoring easy
Familiarity:

I've used it several times
I have one of these that I use frequently. It's really straightforward and QUICK to rig. I read complaints in other reviews about it limiting you to 3 anchor points. Well, not really. You can always use more pieces and equalize THOSE to one of the 3 anchor points if you want, say, a 5 piece anchor. Or you could clove hitch one of the loops to two different pieces like you do with an equalette..

But statistically it's been shown that above 3 pieces of protection you're not really adding any safety. If the rock and placements are so bad that I feel I regularly need 5 pieces I think I'd rather go home.

They also advise rigging a 4th piece as protection against upward forces if you're using it to belay your lead. That would tie into the EQ point.


Time saver (if you know how to use it)
Familiarity:

I've used it once or twice and have initial impressions
My climbing partner got this last year and has had nothing but praise for this pice of gear. I also love the design, but it took a bit of time to really figure out how to use it. It really does replace all the slings and bits of webbing, but if you don't fully know how to use it, and you are hanging on a piece of vertical ice hoping that it will just save you,then guess again. Make sure you know what you are doing with this guy first.
Quick set up, limited versatility
I really like this product and use it often but it is not the right product for everyone or for every circumstance. A simple piece of cordelette is cheaper and potentially more versatile than this item but there are some benefits to this system worth considering. I enjoy having the system ready to equalize from the moment I clip it to it's intended pieces with less knot tying and the beefy main converging point. I dislike that it limits you to how you set up an anchor to 3 points, which means you'd have to do upstream converging with a runner if you wanted to use more than 3 pieces in your anchor system. BUT, for most uses it excels beautifully and with a little extra rigging it can handle most any system you wish to configure for your anchor. It is also beefy which I appreciate. Thus not a full on 5 star but close.