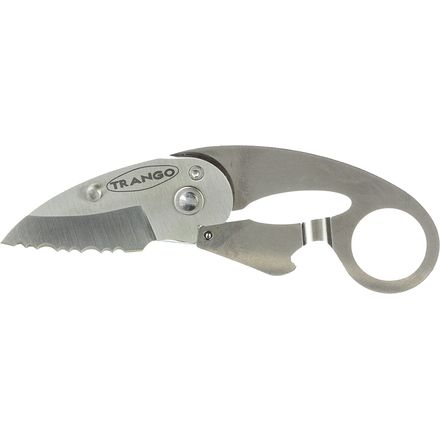 Colors

Detail Images
At just 0.7 ounces, you'll forget the Trango Piranha Knife is even clipped to your rack until you need to cut out a blown section of rope or perform surgery on the cactus spine lodged in your foot. Even better, the integrated bottle opener will save the day when it's time to slug victory brews.

Surgical grade 440-C stainless steel holds a keen edge and resists rust and corrosion
Minimal design allows the knife to weigh in at a paltry 0.7 ounces
Carabiner hole and folding design allows you to attach the knife to your rack, key chain, or pack
Integrated bottle opener ensures you'll be able to quench your thirst
Baby Shank
Familiarity:

I gave it as a gift but have feedback to share
This little knife is pretty rad. I bought this as a small gift for a friend and before giving ti to him i gave it the once over. I realized that this had an incredibly small blade, but with that being said it is very sharp and handy to have in tight situations. This would be the perfect climbing knife or even a low profile tool to have with you and not even realize you have it. Though it is small don't count it out because it is definitely sharp enough to come through for whatever your need.
Not a show-er.
Familiarity:

I've used it several times
Its pretty dang small, that threw me off. But its not about size, its more about how you use it right? Since, ive used this for all sorts of stuff, its really easy to throw on a pair of keys, or a beaner on your harness and just leave it till you need it. The blade is pretty sharp and cuts surprisingly well. I'd say its an awesome little gift to throw in a stocking or a birthday cake to an inmate. I would buy it again :)
Opens when it shouldn't
Familiarity:

I've put it through the wringer
I bought this knife because I wanted a small, light knife I could take with me for climbing. I bought it, stuck it on a carabiner, and pretty much forgot about it, until it poked me when climbing. The rivet that attaches the blade to the body had loosened up, and the blade just fell open. It's not supposed to be able to open when it's attached to a carabiner, but it does. Having an open knife attached to my harness isn't a great situation for climbing. Got rid of this piece of junk knife, and replaced it with a (1st gen) Petzl Spatha. A bit bigger, but much better quality.
Convenient and Handy
Familiarity:

I've used it several times
Super compact and lightweight but yet still feels super sturdy. Easy to open and close. Knife is sharp and it was perfect for preparing some cord before a multi-day hiking trip. Hole is big enough for most carabiners and is perfect hanging from my harness or backpack strap.
Knives are handy.
Familiarity:

I've put it through the wringer
And they are even more handy when they are small and easy to carry so you always have it with you. I keep this little guy in a small zippered pocket on my chalk bag along with 10 feet of half inch webbing and two rap rings. and it comes in handy all the time!

this knife is super sharp so it goes through webbing and rope like butter. its really nice when there is a ton of tat on an anchor and you are cleaning it all up. when you have it clipped with a biner it wont open, which is smart. most the time I keep it in that pocket but when I have it clipped off I don't want to worry about it opening up on my harness and cutting all my stuff up.



If you climb in the desert or alpine a lot where anchors slings can be sketchy or missing, this is a must have tool.
Though it is mighty small, it is mighty light and has a solid, toothy blade.

My thoughts in brief:

It's not that easy to wield, given it's small size. concern I'll drop it while hanging on a cliff

The loop is good for a small caribiner

It's a little tough to open one handed (see fear I'll drop it)

The blade is sharp and will cut through anything

One handed closing is easier than openning

I wish its loop was large enough to fit a finger in (other than my pinky).



The enclosed photo gives some sense of scale. It's definitely small. Add a caribiner and it might be a little easier to grip. Finally, the loop is too small for a finger. Even a pinky, often.
I honestly didn't realize how small this thing actually was. Its big enough to do the jobs but small enough for you to realize you even have it hanging from your harness. Which is kind of the point of a climbing knife its there when you need it but you don't even notice it when you don't . My only complaint is that its so small that it is a bit difficult to use. Also Trango makes a nut tool that looks to have this knife built in for only five bucks more i wish I might trade this in and up grade to that.