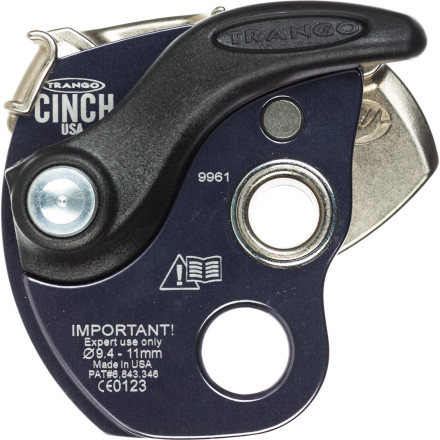 Colors

Videos
Description
Quick feeds, soft catches, and silky smooth lowerings.
Thanks to its compact size and easy-to-use design, the Trango Cinch Belay Device is a solid choice for catching whippers at the sport crag as well as longer multi-pitch adventures. The fluid design allows you to quickly feed and take rope without having to ever remove your break hand, and the assisted breaking technology provides a soft and secure catch every time. Plus, you can be confident when you tie in with your ultra-thin redpoint cord, because the Cinch works with ropes all the way down to 9.4mm.

Assisted breaking technology dynamically breaks the rope for soft and secure catches
Cinch allows you to quickly feed and take rope without having to ever remove your brake hand from the rope
Release handle allows for super smooth lowering and rappels
Compact design and a low weight of just 6.4oz allows the cinch to perform on long multi-pitch routes
Designed to work with ropes from 9.4mm to 11mm in diameter
Proper training and experience required for safe use
Best autolock belay device
Great for toprope belays, outstanding and for lead belays. I use this as my regular device for any single-pitching I do. Pretty simple to use and very reliable. Be sure you get a tutorial on how to use it correctly and then off you go. Light, durable, well-made.
Simple, easy to use. Best for top-roping
Familiarity:

I've put it through the wringer
Great for top roping. Had to YouTube the video on how to appropriately use for leading. have a bit of trouble giving slack during leading, but I'm sure I could learn to do it better through practice. I use it a few times a week, and it works. When my wife and I were learning, she felt much more comfortable learning to belay me on this device.
Great device
Familiarity:

I've put it through the wringer
Ok, so I'm kinda new in rock climbing (or that's what I say to myself since I'm not that good ha) but I've tried a couple of other belay devices and this one is really easy to use and feels super safe, it takes just a couple of minutes to learn how it works, I've use it only to secure a climber, never done rappel, catching a fall is super easy and unlocking is also quite easy, I absolutely recommend this either for an expert or a beginner .
Best belay device
Familiarity:

I've used it several times
I've tried every belay device out there and this one is the winner. It feeds rope quick and smooth for belaying a leader. It takes a bit to get used to pulling the rope horizontally to feed. It locks real easy, almost too easy, when catching a fall. From time to time I may accidentally lock it while I'm belaying but it's quick and easy to unlock. Not too many negatives, it can be used to rappel but only on one strand. Cannot belay directly of anchor. Overall, it's the best thing that exists for these purposes...
Trango Instructional Video
Here is a video from Trango on using the Cinch belay device
sUper sMooth
Familiarity:

I've put it through the wringer
This device is the ideal, simple, smooth autolock belay device. Pay more for the Petzel name if you must. I love it. Make sure you're using it for the right sized rope. I've used this with my Stearling Kosmos 10.2 and Mammut Tusk 9.8. very smooth operation on both.
You have a Petzl what? Get a Cinch
Familiarity:

I've put it through the wringer
I've use both the Gri Gri and the cinch and would take the Cinch over the Gri Gri any day. I'm not really sure why the Cinch isn't more popular, but it is probably all because everyone wants to buy Petzl stuff and they just haven't heard about the Cinch. This thing is great. It takes a couple minutes to figure out how to use it smoothly, but for beginners I give them this instead of an ATC every time. Auto locking with nothing to hurt the rope, its just a great piece of gear that will make taking out new climbers a lot less of a headache.
Great for Beginning Belayers
Familiarity:

I've put it through the wringer
Whenever I'm climbing with a newer climber, I always pull out my trusty Cinch. Smooth and simple. Pay attention to rope thickness as thin ropes slide right through.
Simple and versatile
Familiarity:

I've put it through the wringer
It is simple, compact and versatile device.



I use it as the high (chest) piece when TR soloing, indoors, outdoors cragging, multipitch climbing, as a backup device when jugging, etc.



I prefer Cinch to Grigri 2 by the following reasons:

1. Ropes glides better thru Cinch. When you belay your second off an anchor again and again this really makes difference.

2. It is more versatile (you can use it unmodified as a jug backup, as a top piece for solo TR, etc).

3. It is less bulk (more compact, takes less space on my harness).

4. It can be put on and taken off of a weighted rope. Trick you can never do with figure 8, ATC or Grigri.



I prefer Grigri 2 to Cinch by the following reasons:

1. Grigri is intuitive, Cinch is counterintuitive. One takes a Grigri and in five minutes is able to give a belay. One takes a Cinch and in five minutes is ready to drop you to the ground after shortroping you badly on every clip.

2. Virtually everybody knows how to belay with Grigri.



Thus for cragging with semi-random people I prefer Grigri 2, for all other applications (especially multi-pitch and aid) I prefer Cinch. Also prefer Cinch indoors because it is more smooth.



Warning! One MUST watch an instructional video (on Trange web site) before an extensive training on this device usage. It is smooth when and ONLY when used properly.