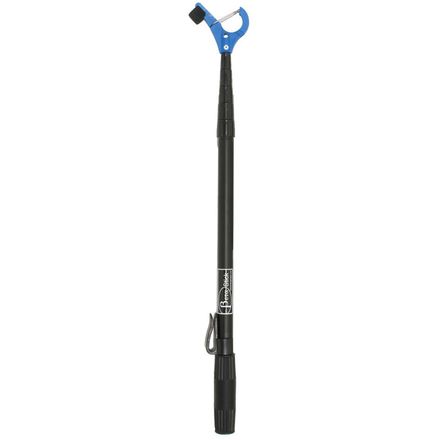 Description
No more sketchy starts.
Whether you're keen on stick-clipping the first two bolts for safety or you just want to work out the first few moves without no-fall pressure, grab the Trango Beta Stick. The telescoping design collapses to just over two feet for easy packing and extends to nine feet when you need to stick-clip the first couple of draws. Plus, the included brush securely attaches to the stick so you can prep all the holds before sending and clean off the tick marks when you're done.

Collapsible handle
M16 bouldering brush and holder included
Perfect for the traveling climber
Familiarity:

I've put it through the wringer
I've had this stick for a bit over a year now. If you are looking to do some traveling (aircraft) for sport-climbing, this is a great option as it is easy to fit into luggage and extends to a good length. It is also very lightweight will stow on the side of a reasonably size cragging-pack for hiking (versus having to carry the stick itself). It is quite pricey and a bit dainty (could bend/break pretty easily, and the top section does not want to lock into place easily anymore)...but all in all, I think it is worth it if you are doing any climbing trips involving flying.
Stick clip and stick brush
Familiarity:

I've put it through the wringer
I've definitely seen folks strap one of these to their harness and climb using it!! Thats not how I roll but it seems like a great application! I use mine for bouldering for a stick brush and its soooooo totally worth it!
perfect combination
Familiarity:

I've put it through the wringer
I love these because they are so easy to carry, and they do the job of stick clipping perfectly. I usually just strap this to my pack so my hands are free on the approach, and I have even flown with mine (just toss it in the back of the overhead bin as your "personal item")