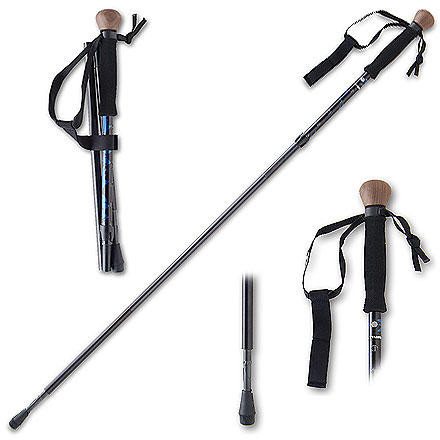 Your international travel companion. The Tracks Compact Travel Staff features an upper section with push-button length adjustment, and two shock-corded lower sections for compact storage and travel. An elastic keeper strap secures the collapsed staff. The Compact Travel Staff has a contoured foam grip with Wedge Lock wrist loop, a camera mount beneath a walnut knob, and a molded flex tip with removable rubber foot and trekking basket.
Stored Length: 19in/48cm.
SOLD INDIVIDUALLY.
The threaded plastic part of the rubber...
The threaded plastic part of the rubber foot on my Tracks pole has cracked and the foot comes off easily. Where can I buy a replacement foot?
Unfortunately we do not carry replacement rubber feet for these poles but Tracks does make them and you can purchase them directly from their site here:



http://www.trackspoles.com/accessories.asp
Can a person with a spinal stenosis use...
Can a person with a spinal stenosis use the compact Travel Staff Trekking Pole for city sidewalk walking?
Angie,

I think the Tracks Compact Travel Staff Trekking Pole would be an excellent all around option for a person with Spinal Stenosis. The rubber foot will give the user some impact cushion and the compactability and push button adjustability will make this staff convenient to use on the go and easy to store while you are out.
Very pleased
Gender:

Female

Familiarity:

I've put it through the wringer
Finally got to use the Trekking Pole on my trip to southern Utah and the Grand Canyon North Rim. I am not a regular hiker and at 65 I am not terribly steady on rough or sloping terrain so a hiking stick is necessary. I was really pleased to have this one that easily folded to pack in my checked bag. It snaps into place easily and was very ridged and stable on my numerous hikes at Cedar Breaks, Zion and the Grand Canyon. Very happy with this purchase and a great value as well.
Pluses: Folds down to small package for carrying or packing away in my RV when not needed. Helps stability on trail, I'm 70 and support for going downhill.

Minus: none
Compact travel trekking pole
The pole arrived promptly and I immediately put it to use. I need to steady myself when walking and for that the trekking pole works great. But, the real reason that I bought it, was to steady my camera while taking telephoto shots, mainly at HS football games at which it has proven itself to be a valuable piece of gear. It is rock solid, loaded with the right features, and can be taken down or assembled in seconds. I recommend it to anyone with similar needs.
Great Product/Great Service
I own several trekking poles and this one is the best! What sold me was the ability to take it apart and put it in my luggage for airline travel. Service was excellent.
I really like my compact travel staff trekking pole. We like to travel light when we fly to our vacation destination, and this pole fits right into a piece of luggage. It even fits into a normal size backpack.
Light weight easy to use staff with a camera mount. Replacing walnut ball after using camera mount is something of a chore. Wedgelock for wrist strap is easy to use after becomming accustomed to the mechanism.