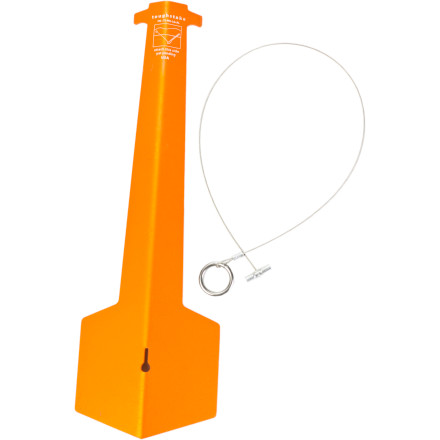 Best sand and snow stake available.
For sand or snow camping these are well worth it.
Has anyone used these in snow to anchor a...
Has anyone used these in snow to anchor a tent? I bought a set of the "parachute" type anchors and decided they weren't even worth the trouble to use in sugar/dry/depth hoar snow. At 7 oz. these weigh the same as the smaller snow flukes available from MSR and SMC. I was wondering if anyone had successfully used them, particularly in tough snow conditions?
With any sugar or dry grainy snow you have to build up a base for just about any stake similar to how you would compact snow for snow blocks. Just stomp down were you want to put the stake, add more snow and stomp down again, repeat as needed. Some very dry snow can get a little frustrating because of the extremely low water content.
Thanks. I've found that once the snow is disturbed you can forget it...in very dry sugar snow conditions. No amount of stomping will do anything besides frustrate you and tire you out. Under the particular conditions I've experienced you can place a fluke as long as you didn't disturb the surrounding snow...if you did, say by stepping on or near it...the whole tenuously cohesive mass just crumbles to sugar. Thanks though, for your response.
These have ruined me...
Gender:

Male

Familiarity:

I've used it several times
I used these to anchor a large canopy into the sand. The wind was around 6-8 knots steady with 10 knot gusts. The holding power was so strong that the poles were bending but the stakes showed no signs of movement at the end of the day. I have 100% trust in these.
We used one of these to tether our fully loaded raft on a Grand Canyon trip to the beaches and it held beautifully. I was amazed at the holding power in the sand. It's great to even have as a backup if there are no trees to tie to. Highly recommended.