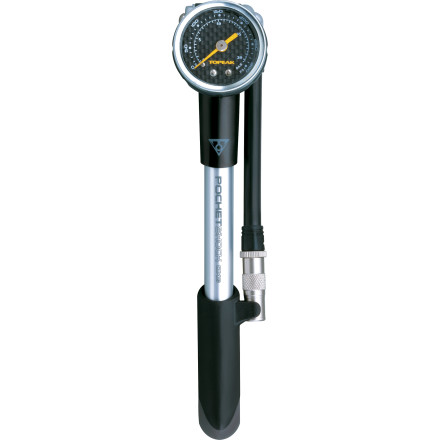 Community Images
Description
Perfect pressure.
Topeak's Pocket Shock DXG Fork & Shock Pump features a 300psi gauge and a pressure tuning air-release button to ensure that your shocks stay pressurized wherever you go. Topeak uses a durable aluminum barrel, and its carbon-faced gauge adds a bit style. The pump also has a convenient rotating hose with a Pressure Rite connector and a Kraton-covered plastic handle. The Pocket Shock DXG is only 21.5cm long, so you'll have no trouble stowing it in a jersey pocket.
Durable Aluminum barrel
Carbon-faced dial gauge
300psi gauge
Pressure Rite connector
I've only used it once, but I worked great. Easy on off, accurate pressure reading, light weight, high quality. It was also a great price. No complaints.
This tool does exactly what it's made to do. It's built solid and I like how easy to use (and easy to read) it is. Great price as well. This is a shock pump worth having.
Simple and Solid
Familiarity:

I've put it through the wringer
I have tested the gamut of shock pumps and this one comes out on top.
1. Large gauge displays pressure in psi and bar
2. Threaded head for quick adjustments
3. Bleed screw allows the pump to de-pressure prior to removal and reduces air loss
4. Volume per stroke is best in class
5. Shiny finish doesn't wear off in a month

I would add this to your personal shop arsenal.
A Reliable Shock Pump - Finally
Familiarity:

I've put it through the wringer
This shock pump is great, it has an accurate gauge and what I really like about this pump is the head has a longer metal nose, so if you are pumping up your dropper seatpost it will actually fit down into the post. It isn't huge, so it will easily fit into a hydro pack if you want to take it with you. This thing is reliable and I would recommend it over any other shock pump on the market.
compact, easy to use, great pump
Familiarity:

I've used it several times
This shock pump is great for a few reasons.

first its small, compact and Light weight. It is super easy to engage the pump even under full pressure. The bleed valve is nice, and the attachment is designed to minimize leakage when you unscrew it.

*addition 9/5/14*

after using this pump all summer its all ready legendary in its sweetness for overall ease, and precision, with my riding buddies.
I bought this when I bought my fork, because I wasn't sure if the fork came with one or not. I now know that pretty much all air sprung forks include a pump. Anyway, this one is way better than the one that came with my fork. The main reason I say this is because of the Pressure Rite connector which opens and closes the valve on the fork or shock independently of the coupler on the pump. Whatever pressure you pump to, is where it will stay when you remove it. Topeak makes a dual stage pump that will fill tires too, but it doesn't have the Pressure Rite connector. I'm really happy now that I mistakenly ordered this pump.
I own a Pocket Shock DXG Fork & Shock Pump because it was evaluated as being very accurate (Google: Shock Pump Shootout). I bought one to keep my shocks correctly pressurized after the initial setup by my LBS. Now that I have one, the review was right, this is a precision tool. It has a valving system that once you fill your shock with air, it allows you to screw the valve off of the shock without losing air. On some forums, there were complaints that the pump lost air...but it could have been user error or a Monday pump. I would have given the pump 5 stars, but Topeak did not include a case for the pump--Wouldn't Topeak think a precision instrument like this calls for one? The case for the DXG will cost you almost as much as the pump!
Does the Pocket Shock DXG Fork & Shock...
Does the Pocket Shock DXG Fork & Shock Pump - with gauge come with a mounting bracket of any kind
The Pocket Shock DXG does not come with a mounting bracket or any type of mounting hardware. Sometimes, I carry mine in my back pack. IMHO, you don't want it mounted on the frame of the bike and damage it in a wipe-out.