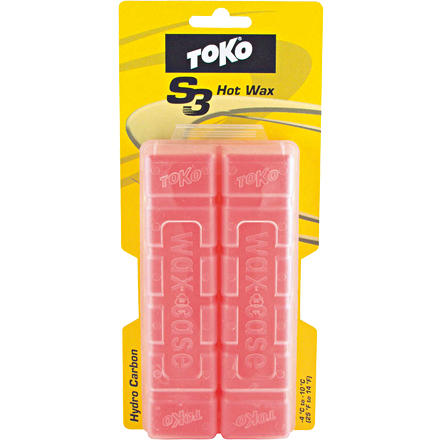 The best in the world use Toko's high-quality hydrocarbon System-3 Glide Wax for training, so you know it works. The tried-and-tested, simple temperature coordination makes choosing the right wax for any kind of snow easy. Toko's System-3 wax is especially suitable for the upkeep of your new alpine or cross country skis. It saturates the base, keeps it smooth, hinders oxidation, and optimizes gliding properties.
I got the red/yellow combo pack and I have been super stoked on the performance of this wax. The combo pack is nice because you can either wax for hot or cold. Also if you dont know what the conditions are going to be you can mix them and have an all temp wax. Great wax at a great price!
This cold wax is much easier to use than the green swix. It goes on much easier and it is way easier to scrape. But the green swix is best for when it is super cold.
Great wax. Easy to spread, easy to scrape, makes you go fast. What more do you need?
Demonstrates hot waxing Alpine skis or snowboards
Demonstrates hot waxing Alpine skis or snowboards
Demonstrating Hot Waxing Cross Country Skis
Demonstrates Hot Waxing Cross Country Skis
I go through this stuff in the season. Pre-season, I load up all my glide areas with yellow, and put them in the hot box. The yellow is a great base wax, and then you can layer for the day. You'd want something with a higher flouro count for races, but for bummin around the local park you'd do great with this.
Toko always makes great wax. Just make sure that you are buying the correct wax for your application. Great cold weather wax sucks when its 36 degrees out.
how many pairs of skis will this one package...
how many pairs of skis will this one package do?
If you are doing fat alpines skis you get about 10 pairs. Cross country and small alpine skis you get 20 pairs.
Great combo pack for DIY. Great for the Price. I have used this product in a mixture of snow conditions, temperatures, and locations. If used in the proper temperature range this wax makes your skis glide like a professional tune job.