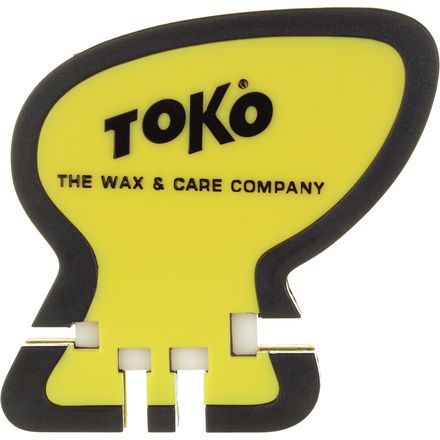 Description
Make your job easier with the Toko Scraper Sharpener.
If you have ever worked in a shop, you know that waxing skis or a board is a quicker, simpler job with a nice, sharp wax scraper. When your wax scraper gets blunt, sharpen it with the Toko Scraper Sharpener. The Toko Scraper Sharpener works with plexiblade scrapers in 2, 4, 5, and 6mm widths.
Never Go Without A Dull Scraper Again
This sharpener is must in your tuning kit to help avoid that dull scraper frustration. Seems to work best when used at a 45 degree angle.
Pricey, but it works
Familiarity:

I've used it several times
Saw this in a store one time unlabeled, and asked how much it was. I thought he was joking when he said about forty bucks. Got one later via gift card, and it actually works really well at restoring my dinged up scrapers. Sure, scrapers are usually under $10, but with this, you can get a fresh edge every time.
Makes tuning from home easy. There is no bigger pet peeve I have than using a dull scraper. Not only does it make life harder on everyone involved, it also doesn't get all of the excess wax off your base which is counter productive to waxing in the first place. Sharpen your scraper to avoid that from happening, and if you want to ensure that it is squared up, get this.
This thing is a necessity for anyone who wants to take care of their gear. Scraping wax with a dull scraper takes a lot of unnecessary effort. A couple swipes with the toko sharpener and your scraper is like new. Eventually, the scraper causes a slight concave edge on the scraper, however, it doesn't affect the ability to scrape wax off the ski (obviously). Do yourself a favor, and buy one of these now.
These things are fantastic. I have maybe 20 plastic scrapers that have accrued over the years, and this thing makes them like new. Quit rubbing dull scrapers down your boards and save yourself time (especially with the brushes) by using a sharp like-new scraper every time.
Yeah this product can sharpen my scraper but I could not sharpen one of my scraper which seems to be harder plastic scraper.