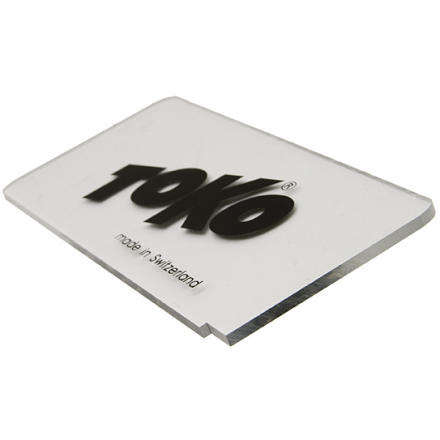 Colors
Description
The Toko Plexi Blade is a professional-quality wax scraper that makes scraping wax easy and ruining bases difficult.
The Toko Plexi Blade Wax Scraper is a high-quality acrylic blade for cleaning your bases and scraping wax. Toko gave it a sharp edge that easily removes wax without damaging your bases like metal scrapers can if you're not careful. When the Plexi Blade Wax Scraper gets dull, you can sharpen it by setting sand paper on a flat surface and rubbing the cutting edge while holding the scraper vertically.
Does what it needs to do.
Got the 5mm. It's sharp, has good rigidity, and holds up well.


Per the below recommendations, I went with the 5 mm one. It's a sharp, inexpensive piece of plastic that scrapes skis well. Enough said.
Does it's job
Familiarity:

I've put it through the wringer
Does pretty good. When the edge gets dull i run a diamond file over it to smooth it out again and get a good scrape- just wide enough for the tips of my skis. the best feature is the notch for scraping all the wax of your edges
Works well, solid, very little flex with the 5mm. Edge scraper is handy, very pleased.
As everyone's been saying...
Definitely go for the 5mm for the best scraping performance, although the 3mm is good if you treat your equipment like you treat your perfectly preserved 1982 G.I. Joe figurines. Toko makes quality stuff and this scraper, although simple, is no exception.
I got 5 on it
Familiarity:

I've put it through the wringer
Got the 5mm based on everyone's reviews.

Really happy about it too. Doesn't flex at all, and easily takes of the wax.

Keep it sharp by running it over a file every now and then.


Definitely go for the 5mm one. It doesnt flex at all, perfect size for my BD Zealots.
Scraper has done its job. I got the 5mm and was surprised Toko even makes a smaller one. The 5mm barely is the width of my dads skis and about 1/2 the width of my snowboard.

Scrape well so you don't stick. Don't be shy about taking lots of wax off.
Scraping Technique (Cross Country)
Describes proper scraping technique when glide waxing Cross Country skis
No complaints. Works well
Solid, sharp, and the notch is perfect for getting the edge of the ski. Can't go wrong.
So this is the third brand of plastic scraper I have used- and it beats the other big names hands down. It is, however, the first plexi glass version I have used. The plexi version seems to start off sharper and stay sharper a little longer than other types. Any scraper will get the job done when it comes to waxing skis, but a scraper like this will make the process easier. Just came back to buy a second!
Here are the sizing specs of the different...
Here are the sizing specs of the different sizes (all numbers are in mm):
3mm is 130 x 58 x 3
4mm is 220 x 60 x 4
5mm is 150 x 53 x 5
(all numbers are in mm)
Not a question, but thanks for the specs. Have an upvote.
This is a great scraper. it is very durable. Then again, it is just a piece of plastic. Why do I love it so much? For months I was having to use an old windshield ice scraper and I couldn't take it anymore..I bought this and I am happy again!
Perfect for any snowboard or ski!!!
I bought the longer and thicker one from skiis and bikes, it works perfectly and is long enought to cover at least half of your snowboard, it would cover all of your ski. The little Edge on one of the sides helps you clean all that excess wax from the side of your board or skiis making your turns sharper and faster... Bottom line i recomend this to anyone
I bought the thin one which seemed to be a little bit of a mistake...i feel like i will inevitably snap it at an inopportune moment.
, ☃bcs_badge_alumni_label☃
It does as a scraper should
This scraper definitely gets me by. It scrapes and that's all I need it to do.
This is my first scraper so I don't have anything to compare it to but it did a really great job: it's big enough to hold firmly (so you don't have to put so much force into scraping)and wide enough to evenly work a good area of your base so you're not scraping for ages. Though I agree that after most of the wax is scraped the little areas that you're cleaning up tend to get bits of wax stuck to the scraper.
This scraper is great, it is small enough that you don't have to press hard for it to scrape off the extra wax. The only problem is the wax tends to stick to the scraper.