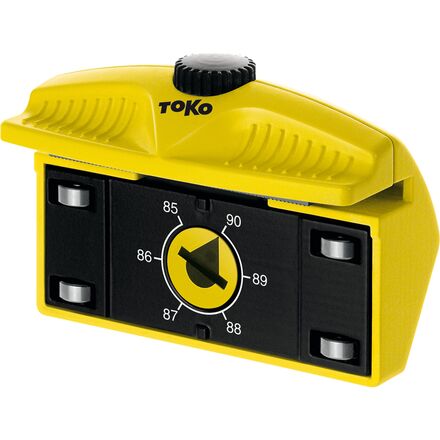 Colors
Before hitting the slopes, make sure your ski edges are ready to go with the Toko Edge Tuner Pro. Featuring roller bearings for a super-precise grind and angle settings from 90 to 85 degrees, the Tuner Pro provides the extra edge you need to push the envelope on the mountain. The Tuner Pro comes with an 80mm universal file but readily accepts all file types.
Roller bearings precisely guide the file without damaging the base of the ski
Wide contact surface increases safety while working
Angle settings from 90 to 85 degrees allow you to tune edges to your preference
Fits all types of files including diamond files
Includes an 80mm World Cup universal file
Very Happy with Toko Edge Tuner (Not Pro
Familiarity:

I've put it through the wringer
Not listed on BC for Toko Edge Tuner but I will give some feedback here. Only difference is Edge Tuner has plastic guide and the Pro has wheels along the ski base. Its important to make sure the base is clean before doing side edging with either tool. For rec skis, I do not tape the base so keeping a smooth cutting/polishing stoke is important. For aggressive cuts using a file, do not apply much pressure. Let the tool work and take more smoother cuts to get your angle. Use a sharpie with thick tip to gauge you progress. When close, switch to DMT black/blue/red and green if racer to polish up. Tool is very easy to adjust angle. Tool has good physical design to fit in palm of your hand for smooth cuts. Pleased with results.
How to use the Edge Tuner Pro