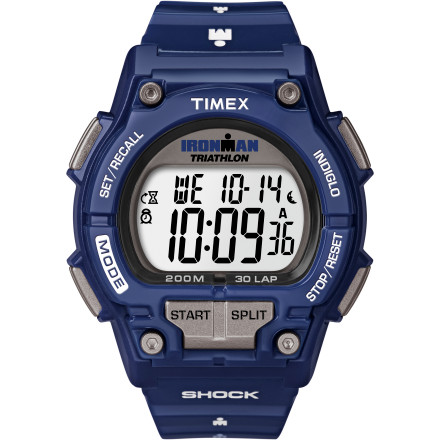 Community Images
Back in 1986, the forward-thinking geniuses at Timex came out with the original Ironman watch. If you were lucky enough to get one way back then, chances are you remember its legendary durability and super-sleek design. Watch technology has come a long way since then, which is why Timex is re-introducing the classic-Ironman design with improved functionality and shock-resistant durability and calling it the Ironman Shock-Resistant 30-Lap Watch.
Watch sports a 100-hour chronograph with lap and split times for your afternoon training session
Lap counter tallies to 99 and has a 30 lap memory recall
Daily, weekly, and countdown alarms alert you to important life happenings
Your boss is in Anchorage and your wife is in Miami; the Ironman's dual time zones help you remember the best time to call each
The old Ironman watches 'took a lickin' and kept on tickin'; with its updated, shock-resistant technology that meets modern ISO standards, the new Ironman can take a spankin' and keep on crankin'
Share your thoughts
What do you think of the
Timex
Ironman Shock-Resistant 30-Lap Watch
? Share a...
Good buy. I've put it through a beating and it still works. Can keep 3 separate times on it and the glowing background is very useful. It is also nice being able to set three separate alarms.
How thick and big is the watch? Is it a...
How thick and big is the watch? Is it a regular size watch, more suitable for a man's wrist ... as large as the Polar RS300? Thanks.
It's 42mm in diameter and 14mm thick. So, it's a fairly substantial watch, but not the "oversized" style that seems popular today. I don't know about Polar, but this watch is about the same size as a G-Shock DW5600 and a bit smaller than most other G-Shocks.
I used to be a die-hard G-Shock fan, until I came across this watch. I've had the Ironman Shock for only a short time so I can't speak to its longevity or durability, but the user-friendly features and functionality are miles ahead of G-Shocks in the same price range. The watch guides you through settings by providing blinking "next," "done," "+" and "-" markers to indicate which buttons you need to push in order to do what you actually want to do. No more guesswork or fumbling about with a manual.

The dial is simple, uncluttered, and easy to read, with larger digits than some digital watches. The buttons are large and easy to push but have plastic lips that help to prevent them being pushed accidentally. The band is a comfortable polyurethane and includes a notch that will hold the keeper in place and prevent it from sliding around. The watch is a good size, slightly smaller than most Gs and more comfortable on the wrist. It also wears better under a shirt sleeve or jacket because it isn't so oversized.

I also prefer the Indiglo of this watch to the backlight of a Casio G-Shock. A G-Shock lights up the entire dial. The Ironman Shock only lights up the digits - that saves energy on the battery, and it's gentler on night-adjusted eyes.

One minor concern is that I've heard that the lighter-colored versions can become discolored over time. So you might consider staying away from the white, pink, and yellow versions and sticking with the darker blue, black, and purple ones. G-Shocks are known to have this problem as well, especially the ones with "matte" (rather than "glossy") resin. I got the watch in basic black, though, so I'm not worried about it.
I bought this for running. I usually go with something a little smaller and something with a lower profile. The watch function great. I use it for biking, swimming and mostly running. The watch seems very waterproof and Its fairly durable. I started wearing it around all the time and lots of people think it looks cool. The only problem I've had is the band and face get extremely dirty from normal wear nn the light blue and white colors. Its better to stick to g-shocks for casual wear since the bands don't get as dirty.
no complain... does what it's supposed to
wear it all the time every day. even in the shower and water. actually waterproof. no complaints here. got this off SAC for 25...bought 2, sent my brother one too. no problems with his either. he wears it all the time too.
Bar none, Timex is a awesome Watch maker!!!!