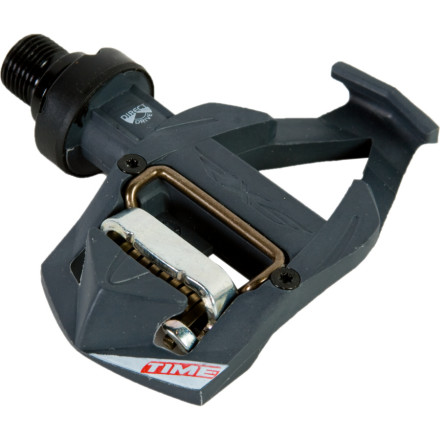 Detail Images
The TIME RXS First Road Bike Pedal uses a steel axle and composite body for strength and durability—and at 260 grams a pair, the RSX Pedals are far from hefty. The narrow Q-factor allows for an aerodynamic pedaling style, and the galvanized engagement arch provides confident clicks in and out so you're not left guessing—instead, you're pedaling.
13mm pedal + cleat bio position (distance between sole and center of the pedal axle) for an efficient pedal stroke with minimal power loss

Oversize pedal platform offers a noticeably solid feel while cornering

Simple Sensor adjustment system allows the rider to customize angular float elasticity within + or -5 degrees, dependent on preferences

What do you think about this product?
Have questions about this product?
I've put countless miles on these pedals in all weather conditions. They have held up quite well with the only damage being done in crashes. The bearings are still fine despite salty winter riding and everything.

I am planning on touring Europe in 2015 and have no intention of needing new pedals.



The down side is the cleat design. Plastic cleats fall apart in my experience. Also they don't have a 100% confident engagement. Even after years with these I can still miss-align the cleat somehow and not get clipped in.
I just switched over from the first generation (80' vintage) of Time. Found these much more difficult to get into--apparently the new generation is smaller (pedal and cleat) so there are more ways for the cleat to touch the pedal w/o engaging. Took me several months to get to where I could "hit it" ever time, first time. But on the occasion when I do hit the pedal and do not engage, I cannot "feel" where to twist my foot so it'll engage. This may be a problem with all clipless pedals, so I am not sure its a valid criticism.

That said, I rode these 2-4 times a week (like any ex-racer would) for about 8 months and the pedal body cracked. The "good" news is that the crack was perpendicualr to the axel, so the steel axel apparently kept the pedal intact so I could get home.

All in all, the functionality of the pedal/cleat, once engaged, is superb---love the float (b4 release)!!!
I just switched over to clipless pedals so I dont have a whole lot of background knowledge on the subject, but here is my take. These fall into the 'good not great' category. Having ridden on some shimano SPD and LOOK (something) pedals, they definitely come to play.
I prefer them to the SPDs due to the platform size, and I really couldnt tell the LOOKs apart from them. They are really easy to clip into and hold my foot great. Clipping out is also a breeze, and obvious when you are in or out, which is very nice to avoid the embarrassing stoplight bails. I also like the width positioning of the pedals - they feel like they're in the right place. I would recommend for the casual but interested road cyclist, but Im sure there are better options out there in terms of weight and strength.
Although I've only put a few hundred miles on them so far, there are a few things that I am hesitant about when it comes to these pedals. First of all, the pedals are made of a composite material. While I have not had any durability issues, I have a hunch that they will break or muck up a lot easier than other materials. Also, the shoe cleat has a huge hole for the front screw - so large that I had to use a washer to get a decent purchase on the cleat (but I didnt use the screws it came with - so that may not be an issue). Lastly, they have a lot of play when clicked in. This can be tightened/loosened accordingly, but even still there is more than what I would like (but I prefer not much at all, so may not be an issue for you).
Overall, good into-level cleat, I personally would recommend it for someone who is interested in cycling but not unitard suited people dropping 3Gs on a frame.