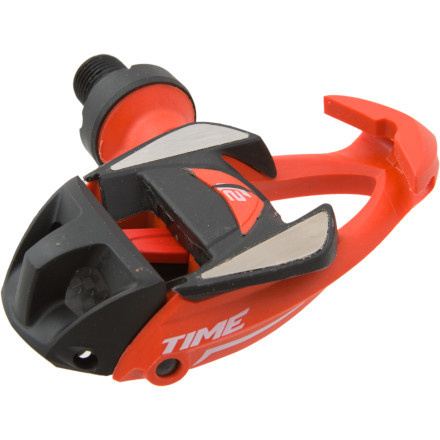 Detail Images
There are so many things to ponder when racing: Should you move up in the group to avoid a potential crash? Should you join the break so far from the finish? One of the last things you should have to worry about is whether you'll be able to clip in and out of your pedals with ease. The Time I-Clic 2 Racer Pedals keep that worry off your list so you can concentrate on strategy.
The retention mechanism on the I-Clic 2 Racer Pedals employs a carbon leaf spring rather than a coiled metal spring. Basically, it's a flexed blade of carbon fiber. When you step into the pedal, the cleat presses a trigger that releases the energy trapped in the leaf spring, which snaps a clasp into place over the back of the cleat. Think of a standard mousetrap; it's pretty much the same concept. When you click out of the pedals, the retaining clasp returns to a cocked, open position for the next time you clip in.
The I-Clic 2 Racer Pedals allow sprung angular float of five degrees in either direction. The cleat can also move 2.5mm laterally when clasped in the pedal. These float characteristics offer some freedom of movement, but also a secure and controlled connection to the pedal for hard efforts and sprints. You can choose one of three spring tension settings to dial in the feel of the float.
This is the second generation of the I-Clic design, and the engineers at Time made some key improvements. They added metal plates to the top side of the pedals for a more durable pedal-cleat interface. The retaining clasp was beefed up a bit, and the cleats were also made more robust to last longer. The cleats have rubberized contact points outside the pedal interface for walkability. They're also asymmetrical, so by choosing which cleat goes on each foot you can change the width of your pedal stance by 2.5mm.
The Time I-Clic 2 Racer Pedals have a steel axle and composite body. They come in two color options: Red and White.
Composite body with flexible carbon blade absorbs shock to reduce fatigue

Automatic pre-opening of engagement mechanism

Foot angle adjustment

Q-Factor adjustment-setting of lateral foot position for comfort

15° release angle so you can position your foot for comfort

Good on bike; don't let feet hit ground
Familiarity:

I've put it through the wringer
I bought these over a year ago to replace Ultegra pedals... when i first got them I loved them. The feel during the ride was perfect and gave the right amount of float. The one thing I learned fast was not to walk anywhere with them. I lived in the country and use to walk my bike down a gravel hill but the cleats wore down after walking down twice in the grass with a little gravel. Then, when I took my bike to DC, I was forced to walk 200 ft on cobble stones and destroyed a brand new pair of cleats. Cleatskins are tough to get my hands on an a pain to carry if not using a waterbag.

I opted to buy a new pair of Shimano Ultegra pedals and am incredibly happy with them. I bought the walking covers for when needed (small storage required) but don't even have to put them on most of the time unless on rough concrete.
I picked these up for a new bike and thought I'd give Time a shot as opposed to the Shimano 105 or Ultegra which I was looking at.



They are incredibly light, I was amazing when I pulled them out of the package. I am a fan of the "mouse trap" style click in, great float and adjustment.



The weight comes at a cost, a composite is used all the way around which leads me to worry about durability. The cleats leave a lot to be desired. I have done minimal walking, mostly just setting a foot down at a light, and the cleats are showing heavy wear after just a month.



I will see how long these last and then move on to either a Look or Shimano cleat.



For the sale price they are worth a shot, but at full retail I would stay away.




Are these pedals compatible with any other...
Are these pedals compatible with any other type of cleat? I am having a hard time finding a source for cleats.
Best Answer
Negative.

Cleats are quite specific between road bike pedals.

The Time RXS (what I use) cleats will look like they will work, but they certainly will not.



I've had trouble finding Time cleats as well. Which is a problem considering they don't last very long (plastic cleats seem to have a short life expectancy).
Timex Pedals
Gender:

Male

Familiarity:

I've used it several times
Easy to un cleat and light.

Use them 4 o 5 times a week, they do come with the Cleats, but as a recommendation, should buy and extra pair of cleats cuz they here in Mexico are hard to find.
does this come with the cleat?
does this come with the cleat?
Yes they do come with the cleats. Mine arrived Friday.
These are great new light weight pedal for reasonable price. I used a pair of Look pedals for last 18 years, and these are functionally fimilar to Look pedals, easy to clip in and out. I love the cleat allow adjusting Q-factor when you swap the Left cleat to right shoe, and right cleat to left shoe. for some reason, i'm not feeling the "float" of the pedals, but fixed position with 5 hours of riding felt great, no pain, and i had a broken right fibula just a year ago from hockey accident.

Cleats protrude more than old Look cleats, the 3 legs on the cleat makes me feel uneasy to walk on, afraid to break them