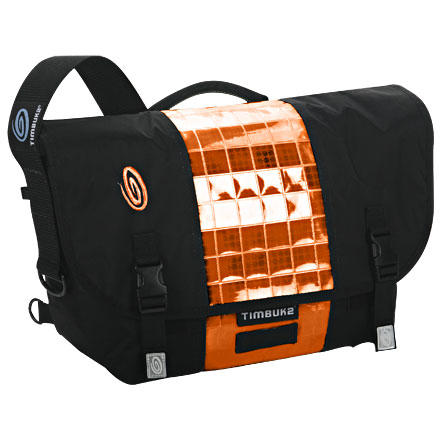 I bought this for my husband's commute which grew substantially when we moved out of the city. Now he carries all his gadgets, books and music in this stylish pack instead of an old beat-up backpack. He really likes the size as it is scaled to hold more items, has an organizer, and looks great against his 6'5" tall build when most bags look like a kids school bag.
I got this bag for carrying around gear for heading to work or shopping in town, or carrying my computer (and jacket) around conferences. It's really done the job. The X-pac cloth feels nicer and lighter than the balistic nylon and the reflective strip is classy while also doing the job it's intended to do. I found the laptop messenger bags definitely heavier, and so less likely to use as a multi-purpose bag.
I thought i'd prefer a custom made TB2 with a divider sewn in - either for extra stuff or to keep the computer sleeve in place when i use it - I still think that would be nice, but I don't miss it.
At a conference recently I had my computer related gear, and cuz there was no place else to put it, my GoreTex jacket for a full day of walking around going to sessions. Made for a puffy bag, but it worked.
I tried the bag in a local shop with the TB2 shoulder pad and found that I preferred the feel without one - would be good to hear other opinions on the extra padding compared to the raw.
The bag has also been great on the plane: the exrta pockets inside look small compared to the capacious interior of the medium, but wow, they are great. cell phone pocket, pen stuff, ID, big inner one, fit big glasses case and stuff stuff stuff.
Haven't had to test the waterproofness yet - that's this winter. In the meantime, ya, I'd recommend this made in san fran bag.
Not just for carrying stuff
I got hit by a car today and the bag was a great skid pad--saved me some nice road rash. Scratched up now but still functional. The orange reflective material has been great; all the neighbors comment on how well they see it when I'm commuting in the morings and it's dark. Roomy enough to carry what I need and very comfortable even fully loaded.
This bag is one of the most satisfying purchase I have ever made. The quality and the price equal a rare value. Compared to other Timbuk2 bags with the same dimensions, it is much lighter and more flexible. I can cram a textbook, a few notebooks, a laptop, accessories, and magazines. I also recommend the shoulder pad and a cell phone holder. Only negative is if the bag is very empty, it can carry a little awkward.
I chose this product because it's waterproof, big, and reasonably good looking. To date, it has been all of these things. It's totally worth the money.