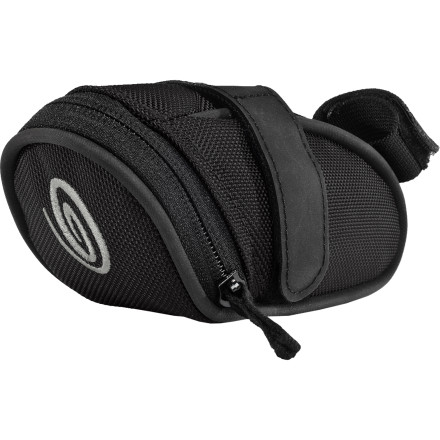 Colors

Detail Images

Community Images
Description
Don't forget your snack pack!
The Timbuk2 Bike Seat pack is hanging from your saddle, patiently holding onto the things that you just can't leave behind. While you're checking your P.O. box, the Bike Seat Pack quietly waits outside with your bike keeping your ID, pudding snack pack, lucky rabbit's foot, and kazoo safe and sound from prying eyes and sticky fingers.
Great tool bag
Familiarity:

I've used it several times
This bag is just big enough, but not too big, to hold your tools while you're out and about. I have; a spare tube, 3 tire levers, and my multi-tool in there at all times...JIC, and they all fit in there no problem. The bag is low profile and has three attachment points to make sure that it is really secure on your seat post.
Timbuk2 (Med)...Great essentials pack
Familiarity:

I've used it several times
Rock Solid, Small, Out-Of-The-Way. This is a great bare essentials saddle (emergency) pack. It's not a vehicle glove compartment (at least medium size) that will carry your bulky keys, wallet, smart phone, tube, etc. etc. ..FOR ME it fits (1)Lezyne patch kit (2) Park Tools Levers (1) Park Tools AWS-9 Multi-Tool, (1) Baggie with First Aid - Lg. Bandaid, Sm Bandaid, AntiBac Cleaning Pads, and about three napkins. (1) ID Wallet with ID, Insurance Card, Cash and CC if needed. I add a single house-key + Car key to the handy included integrated lanyard, if needed. A Blackburn Mini Pump in my jersey, and depending on distance +tube. My Smartphone rides on my Rokform pro mount. Oh, it just went through the San Diego Century Ride with flying colors>> HAPPY CYCLING.
Wish I'd gone bigger
Familiarity:

I've used it several times
Works great, sturdy, small (I bought a medium). Barely fits a tube (road) and tire lever. I should have bought a large at least.
Shoulda got large..
Familiarity:

I've put it through the wringer
I got the medium to put on my mtb bike and 1 tube barely fits and not much else. probably rad for a roadie but a bit small for my needs. The 3 velcro straps are good and are really secure, but the zipper isnt very accessible under the seat unless you loosen the velcro.
Great little pack
Familiarity:

I've put it through the wringer
I really like this seat pack. It holds tight to the seat rails and seat post and has more than enough room for what I need to carry. It currently holds one 700x23 tube, one tire lever, one patch kit, a multi-tool, and some cash. I would like to see a couple of improvements though. It would be nice if the stitching on the back were reflective and/or have a piece of webbing stitched to the bottom to attach a tail light. Maybe it's just me, but I find the fabric tab that is sewn to the zipper pull to be too short to grip well, especially while wearing full gloves. I have a hard time unzipping it when I get to the top of the bag just under the saddle. Another 5-10mm would make a world of difference. Small issues aside, it's a nice sturdy bag.
Medium, Great size for a road bike
Familiarity:

I've put it through the wringer
I have a 700x23-28 tube, two CO2 cartridges, Park Tire Levers (3), and a Multi-tool in this pack. It's a tight squeeze, but it's all in there. The Velcro is okay. I had a buckle closure on another bike and I prefer that. It works though.



I've had this bike on since the spring, 800 miles for this bike this year, so it has seen sun, rain, etc. Still holding up well. I anticipate having this bag for a long time.
Weak velcro
Familiarity:

I've used it several times
I bought this bag to replace an old one. I loved the simple design and available colors. However, the velcro was not strong enough to keep the bag close to the seat. On my first ride with this bag I rode 3 miles and noticed the top two straps had let go and the bag was dangling by the seat post strap. Thinking that I had overloaded the bag, I removed the multi tool that was in there so that only a tube, a lever and a co2 cartridge remained. The problem persisted no matter how little I put in there. I'm never buying a velcro saddle bag again.
Nice lines
Familiarity:

I gave it as a gift but have feedback to share
Put this on my girlfriends hybrid and she loves it, it isn't obtrusive and she can stash a power bar and her cell phone with room to spare and the reflective lining makes it easy to find what she's after.
I bought this for my MTB (29er) to carry a spare tube and co2 inflator. They fit...just.
basic bag
Familiarity:

I've put it through the wringer
All I wanted was a basic bag, and it appears Timbuk2 is one of the only companies that makes a no frills, black, small, under-seat bag. It works well, and is bombproof. The system to attach it to the seat is foolproof, 3 velcro straps, one for the seatpost, one for each of the seat rails. The only thing that bugs me is that the end of the seatpost strap will sometimes hang out a bit and get caught ever so slightly on my inner thigh. It hasn't happened yet, but looks like it could easily snag a pair and ruin them if you're not careful. Just make sure it's tucked down well.



Pretty tight, but fits a 23mm tube, small tool, a few self-adhering patches, co2 inflator and cartridge, house key, and credit card or some cash. Then you can stuff a few allen wrenches in there if you want them too.



Really great bag, just not for the weight conscious, it's built like a tank, probably more for the commuting crowd, where weight's not an issue, but I don't race my roadie, so it doesn't matter to me.
Perfect
Familiarity:

I've put it through the wringer
I tossed this under the seat on my commuter bike, holds everything I need to keep on me. I keep my multitool, a spare tube, CO2 cartridge and the front light in there and theres still room to toss my keys in. It doesn't hang very low so it does not obstruct the view of my rear light either
Got this baby on my mountain bike. The medium holds two co2 cartridges, tire sealant and my multi-tool just fine. It is a nice sleek look and doesn't add bulge to my bike.
Timbuk2 Medium
Gender:

Female

Familiarity:

I've used it several times
Got the size medium and it's great! Fits perfectly onto the my seat and bar and has enough room to hold my phone, keys, and small tools. I like how the entry zipper is kind of on the top so all my stuff doesn't fall out when I'm trying to pull something out. No complaints!
Pretty good seat pack
Familiarity:

I've used it several times
I have a few seat packs and this one is not my favorite, but it does the job. The only reason I like it less is that it sticks out a bit from the seat and looks bulky. Of course, I have the large one. Not sure how the medium fits.