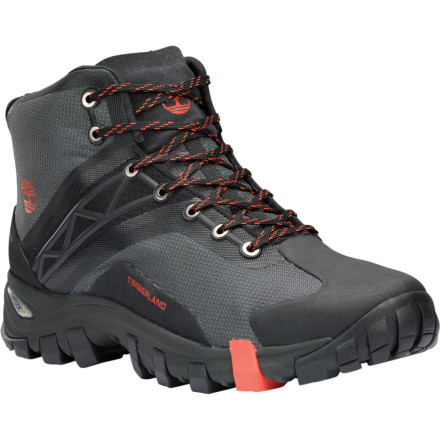 You're not sure if you put more mileage on your car or on your legs. Assuming it's your legs, we recommend the Timberland Lite Trace Mid WP Hiking Boots. Built with a water-resistant, breathable upper complete with abrasion patches, the Lite Trace lives up to its name with partially recycled sole rubber. The Pebax foam and TPU midsole adds specific cushioning underfoot to relieve joint pressure, and super light weight make these great for gram-counting backpackers.
They are shoes that really keep me guessing.
FIrst of all do not buy them online! I got mine on clearance at a Timberland store for 29.99 new size 10.5. Yeah i was shocked too! I didnt know how much they where worth till i looked them up online and was like holy cow! First of all, they are im pretty sure the LIGHTEST BOOTS on the markest if my research is correct. Also i got the orange ones and they really are flashy look good enough and lightenough for casual wear and hiking. Also since they are mid cut, they have more stability than most lightweight hiking boots that are low cut. Got them a week ago and they have no scratches on them whatsoever. I made them go through a torture testy on a muddy ditch filled trail and made them go through every ditch. Yup there waterproof up to the top of your laces. The bottoms has amazing grip and the plastic plate on the bottom really disperses ur weight on the shoe and makes it alot comfy. Their use of pebax instead of EVA foam makes it have more rebound and is more durable and lighter. All in all, these shoes are amazing and really the only complaint i do have is that the toebox climing grade rubber thing on the top bends sharply when they are new and are irritating. When u break them in, the bend goes away and there really comfy. When u buy these for your own, you'll know. NOTE: I AM not somekind of timberland representative.
The narritive description of the boot...
The narritive description of the boot states "water resistant" while on the column section on the side states the boots are "water proof"... so which is it?
Best Answer
I checked Timberland's site, and their description is a little more specific. It's a 3-ply laminated waterproof membrane, which to me reads as gore-tex. They don't list specific ratings on waterproofing or breathability, though.
If it don't say "Gore-Tex" I would bet it is something else. Gore-Tex is absolutely fantastic stuff (they have been at it the longest) BUT many companies are going in leaps and bounds with new materials (look at eVent) Any membrane listed as "3-ply laminated is probably good stuff. The biggest considerations (at least to me) are breathability and the quality of innner and outer materials that protect the waterproof layer.