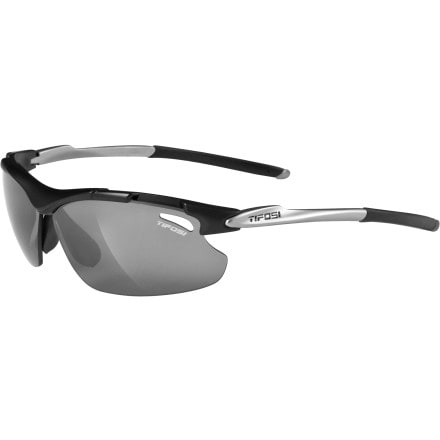 Description
Adapt to changing light conditions.
The Tifosi Optics Tyrant is an ideal option for riders with small-to-medium sized faces, since they're just 131mm wide at the lenses. You'll also have clear, unobstructed peripheral vision as the Tyrant design lacks a frame member on the lateral edge of the lenses. This makes them ideal for riding in traffic, so you can peer over your shoulder to see the cars behind you. You'll get three lens options for different light — Smoke for bright, sunny conditions, AC Red for mottled shade or cloudy conditions, and Yellow for truly low-light conditions. They're easy enough to pop out when you want to swap lenses, but the real beauty of Tifosi's system is how secure the lenses are once you snap them back into place. The outer edges of the Tyrant lenses have vent holes that help air circulate to prevent fogging and to help keep you cool as you ride.
The Tyrant frames are made with Grilamid TR-90 — a nylon with exceptional bendability, strength, and toughness against impact and UV damage. Not only are they virtually indestructible, but they're all-but-weightless, allowing the Tyrant to weigh in at an amazing 25 grams. One of the best parts is the hydrophilic rubber nose and ear pieces. At these three points of contact, this rubber sticks to your skin when you sweat, keeping them in place as you workout. As a bonus, the ear pieces and nose piece can be bent to customize the fit to perfection. The shatterproof polycarbonate lenses offer 100% protection from UVA/UVB rays. They also include a carrying case and a microfiber lens wipe.
Grilamid TR-90 nylon is lightweight, comfortable, and resistant to chemical and UV damage
Adjustable temple pieces allow you to customize your fit, while increasing comfort when worn under a helmet or over a hat
Polarized Smoke Lenses provide a neutral tint that minimizes color distortion
All lenses block 100% of the sun's harmful UVA/UVB rays