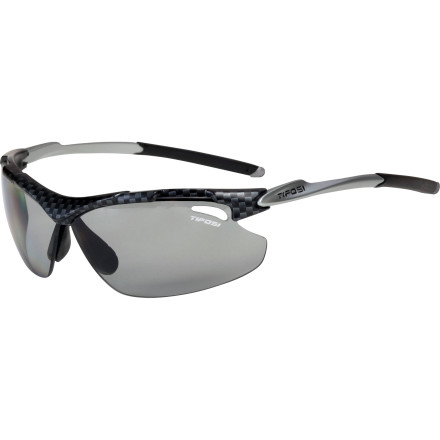 If you're looking for a fully featured pair of sunglasses to race in, look no further than Tifosi's Tyrant Polarized Fototec Eyewear. They're perfect for race day. The frames don't wrap around the outsides of the lenses, so you'll have unobstructed peripheral vision -- just what you'll need to see that attack coming from the back of the pack. You'll also benefit from their ever-changing Fototec lenses. They'll change from light to dark in a matter of 10 seconds or less, and the polarization will virtually eliminate any glare from wet roads or atmospheric haze.
The Brown Polarized Fototec lenses are Tifosi's darkest, and this means light transmission goes from 29% to 9%. You won't squint as the light conditions change during your event, and you won't ever wish you'd snapped in that lens or the other. The Fototec lenses offer 100% UVA/UVB protections as well.
The Tyrant is an ideal option for riders with small-to-medium size faces, since they're just 131mm wide at the lenses. They come with the single set of Fototec lenses, but they can take any of Tifosi's Tyrant replacement lenses. The outer edges of the lenses have vent holes that help air circulate to prevent fogging and to help keep you cool as you ride.
The Tyrant frames are made with Grilamid TR-90 -- a nylon with exceptional bendability, strength, and toughness against impact and UV damage. Not only are they virtually indestructible, but they are all-but-weightless, allowing the Tyrant to weigh in at an amazing 25 grams. One of the best parts is the hydrophilic rubber nose and ear pieces. At these three points of contact, this rubber sticks to your skin when you sweat, keeping them in place as you workout. As a bonus, the ear pieces and nose piece can be bent to customize the fit to perfection.
The frames on the Tifosi Tyrant Polarized Fototec Eyewear are Mocha. They also include a carrying case and a microfiber lens wipe.
Fototec lenses with variable tint technology adjust rapidly as light conditions change (lenses get lighter in the shade and darker in bright sunlight)

Grilamid TR-90 nylon is lightweight, comfortable, and resistant to chemical and UV damage

Adjustable temple pieces allow you to customize your fit, while increasing comfort when worn under a helmet or over a hat

Mocha Polarized Brown Fototec Lenses are Tifosi's darkest polarized lenses, the brown color sharpens contrast and reduces eye fatigue, and these lenses are ideal for sports where the sun is reflecting strongly off of the water

Carbon Polarized Smoke Fototec Lenses provide a neutral tint that minimizes color distortion

All lenses block 100% of the sun's harmful UVA/UVB rays

Fine for biking
Familiarity:

I've put it through the wringer

Fit:

Runs small
I had high expectations for this pair of shades. First impression were not great. One of the arms doesnt close as far as the other (on my pair) so i have to make sure to close the correct arm first. They are very light. Fit is a little tight. I have a 7 1/4 hat size, and not a particularly wide face, and when they are on they are definitely not going anywear. Which is actually good because I got them for biking. The gunmental clear lense ones are NOT POLARIZED. My fault for not realizing it until I bought them, but I dont need it for biking anyway so I dont really care. The transition time on the lenses isnt that quick. Ill keep them, they work just fine for biking.
I need medium to large (male head), will...
I need medium to large (male head), will these work?
I'd go with something else. I have a narrow head and these are nice and snug, just the way I like it. If your head is wide, forget it. The Tifosi website lists local retailers. You're best served checking out a local REI or other outdoor/bike shop to try them on.
I might be in the wrong element here, but...
I might be in the wrong element here, but - do any of you have an opinion about how these sunglasses would handle the golf course?
These particular lenses would be fine, but you'd be better served going with the frame/lens set they make specifically for golf, which are green/gray and supposed to provide better ball contrast (or something).
When I got these, they were not quite what I was expecting. I'm not sure why this color is listed on this page, but the Sky Blue/Smoke Fototec color is actually NOT polarized. Also, based on the picture above, I was expecting the lenses to be clear or almost clear at their lightest. They're not. At their lightest, they are still definitely "sunglasses". When I first got them, I kept moving them between direct sunlight and total darkness to try and see how much they change, and for a while I couldnt tell whether they were changing at all. I was a little annoyed at first, but I have to say, these glasses have grown on me. They're not Oakleys, for sure. Oakley Transitions go all the way from clear to quite dark. But these don't have an Oakley price tag, either. The lenses do change, just not a ton. Still, they change pretty quick and it does help.
Best sunglasses I have ever owned. Perfect for mountain or roadbike riding. Excellent for hiking or backpacking airflow keeps them from getting foggy. Fototec is great light to dark or dark to light depending on the light. Clear crisp sight picture in any light.
I think it is comparable to the Oakley brand but less pricey. I've been wearing a pair of polarized Oakley half jacket for the past 4 years and wanted to give a try to an other brand. I like the shape of the tifosi, I like the fact that it molds my face and no sun is getting little open space (as I have only 1 eye that sees and getting blinded is wayyy easy for me!) I use them to run and bike ride and the photochromic option is just luxury!
I would recommend these to potential buyers:))