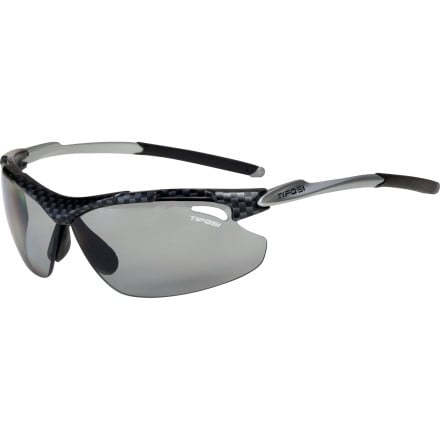 If you're looking for a fully featured pair of sunglasses to race in, look no further than Tifosi's Tyrant Polarized Fototec Eyewear. They're perfect for race day. The frames don't wrap around the outsides of the lenses, so you'll have unobstructed peripheral vision -- just what you'll need to see that attack coming from the back of the pack. You'll also benefit from their ever-changing Fototec lenses. They'll change from light to dark in a matter of 10 seconds or less, and the polarization will virtually eliminate any glare from wet roads or atmospheric haze.
The Brown Polarized Fototec lenses are Tifosi's darkest, and this means light transmission goes from 29% to 9%. You won't squint as the light conditions change during your event, and you won't ever wish you'd snapped in that lens or the other. The Fototec lenses offer 100% UVA/UVB protections as well.
The Tyrant is an ideal option for riders with small-to-medium size faces, since they're just 131mm wide at the lenses. They come with the single set of Fototec lenses, but they can take any of Tifosi's Tyrant replacement lenses. The outer edges of the lenses have vent holes that help air circulate to prevent fogging and to help keep you cool as you ride.
The Tyrant frames are made with Grilamid TR-90 -- a nylon with exceptional bendability, strength, and toughness against impact and UV damage. Not only are they virtually indestructible, but they are all-but-weightless, allowing the Tyrant to weigh in at an amazing 25 grams. One of the best parts is the hydrophilic rubber nose and ear pieces. At these three points of contact, this rubber sticks to your skin when you sweat, keeping them in place as you workout. As a bonus, the ear pieces and nose piece can be bent to customize the fit to perfection.
The frames on the Tifosi Tyrant Polarized Fototec Eyewear are Mocha. They also include a carrying case and a microfiber lens wipe.
Fototec lenses with variable tint technology adjust rapidly as light conditions change (lenses get lighter in the shade and darker in bright sunlight)

Grilamid TR-90 nylon is lightweight, comfortable, and resistant to chemical and UV damage

Adjustable temple pieces allow you to customize your fit, while increasing comfort when worn under a helmet or over a hat

Mocha Polarized Brown Fototec Lenses are Tifosi's darkest polarized lenses, the brown color sharpens contrast and reduces eye fatigue, and these lenses are ideal for sports where the sun is reflecting strongly off of the water

Carbon Polarized Smoke Fototec Lenses provide a neutral tint that minimizes color distortion

All lenses block 100% of the sun's harmful UVA/UVB rays

Share your thoughts
What do you think of the
Tifosi Optics
Tyrant Photochromic Polarized Sunglasses
? Share a...