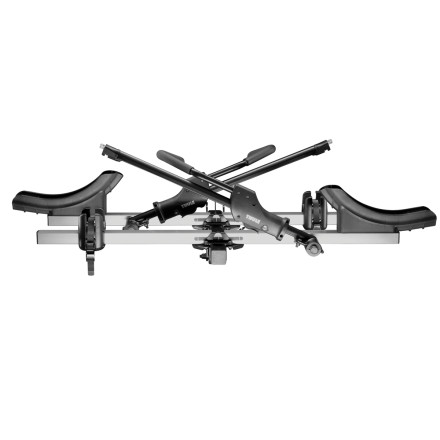 Colors

Community Images
Description
Better than a shoulder workout.
For quick access to your bikes without resorting to overhead presses to load them on your rooftop, the Transport T2 with STL2 Lock - 2 Bike carrier is the ideal accessory. It is hitch mounted with a Snug-Tite receiver that locks into the hitch. You'll only have to lift your bike a few inches off the ground to secure it. The SecureHook system grasps the bike by the front wheel and a rear strap ensures it doesn't slip. Unlike trunk mounted carriers, there is no rack-to-frame contact. When you are done for the day, the Thule Hitch Switch lever folds the carrier away. And if you just need to open the rear hatch, the Switch also allows the rack to tip downward and out of the way.
Holds two bikes (except tandem and recumbent)
Folds up and out of the way when not in use
Includes two locks for security
Makes driving your bike easy
Familiarity:

I've put it through the wringer
Upgraded from a roof rack and can't believe it I waited so long. The thule is duriable, has great customer service (along with backcountry) and is easy to use. I used to be scared I'd hit the garage. And it sounds silly, but this rack makes putting it on so easy . No tires to take on/off and the bike is secure. The only thing is I wish they had given me two locks for the bikes instead of one. Great rack.
Never Had a Complaint
Familiarity:

I've put it through the wringer
I've hauled bikes for many many miles with this rack. Hitch rack is the way to go for sure, and the T2 is the top choice in that world. The only issue I have ever had is when somebody stole one of the front wheel buckets and the ratchet straps off the rack while it was parked in a bike park lot. Thule was quick to ship me replacements. Easy to setup, take on and off, and use, this thing is bomber. When your bikes are worth more than the vehicle hauling them, this is the rack you want.
weakest link
Familiarity:

I've put it through the wringer
These bushings like to explode and your rack will wobble back n forth. You can find them at some Lowes/home depot. Replacing these will make your rack like new.



I hammer this rack on dirt roads and like how these pieces can be replaced instead of having to get a brand new rack.
do you sell replacement rear wheel straps for this rack?
Corey, when my straps and front tire wheel well got stolen I went to Thule directly for replacements. They took care of me ASAP. I'd recommend starting with Thule customer service.
Can you fit a fat tire bike on the rack?
Hey schemmel7, with this add on the Thule T2 can handle those fatties.

www.backcountry.com/thule-fat-tire-kit-for-t2
great product
Familiarity:

I've used it several times
very easy to secure bike and secures great. Lock could be a little easier to use but serves its purpose pretty well.
I have 2 vehicles that I want to use this hitch on, one has the 1.25 inch hitch and the other is a 2 inch hitch..... Does Thule sell an adapter so that the 1.25 can fit in the 2 inch hitch?
We have the same issue, I bought an adapter at a local hitch place. I do not believe Thule makes one but I could be wrong. Been using a Curt brand adapter for 4 years with no issue.
THE rack.
Familiarity:

I've used it several times
Why would you get anything else?? I have a top end carbon bike. It puts no stress on the frame (which was important to me). It is SOLID construction. Makes me want to visit Sweden! haha. Highly recommend for anyone wanting bike protection and quick loading of your bike.
Solid
Familiarity:

I've put it through the wringer
Super solid and favorite hitch rack
Best platform-style bike rack I've owned
Familiarity:

I've put it through the wringer
My hitch size is 1.25" so I got the 1.25" version. It's a pretty good and solid platform type bike rack. The Hitch Lock Pin Bolt may come loose so make sure to put Locktite Blue (Don't use Locktite Red) on the Hitch Lock Pin Bolt and torque it down to about 50 foot-lbs so it doesn't come loose. Mine did when the dealer installed it with grease on the treads and they didn't even use a torque wrench. Adjust the platforms so the bicycle's center of gravity is centered on the platform support or if you prefer, roughly centering the bicycle with your vehicle's width. When securing your bicycle to the platform, make sure the SecureHook is placed near the fork and ratchet it tight. I go for at least 3-clicks for my MTB tires. Same thing with the rear wheel straps, adjust them so they're tight when you close the lever. Don't forget to lock your bike too. You don't want it getting stolen when you leave it unattended.
Alaska Highway Certified
Familiarity:

I've put it through the wringer
I do not like to hang my heavy mountain bikes by the frame, especially on extended trips. So when driving to Alaska from Idaho and back the T2 was my bike hauler on my Toyota Tundra truck. Like other reviewers, I agree that the small cable locks that come with this rack do not inspire confidence and I supplemented my setup with a heavy duty OnGuard cable lock for the bikes and a hitch lock for the truck. I also added an 8 inch hitch extender to the rack in order to be able to open my tailgate without removing the bikes. The extender added some extra wiggle to the rack on rough roads but there was enough room to cook and access the truck bed without touching the bikes. Bringing the bikes to AK was a great decision and allowed us to ride throughout Canada and Alaska (Whistler Bike Park included!). I never had an issue with the T2 or its parts and the bikes survived the trip thanks to this rack. The Toyota truck is gone but the rack has been transplanted to a Subaru Outback three years after purchase and going strong.
Hauls my bikes
Familiarity:

I've put it through the wringer
This is actually the third rack like this I have owned and they have worked well. The T2 is a bit utilitarian but it does what you buy it for and hauls bikes. I have driven thousands of miles with bikes on this rack on paved and dirt roads and it has held onto my bikes every time. The cable lock is all but worthless and I usually use a long cable and pad lock when I need to lock bikes on the rack. The rear wheel strap is a bit tricky to use and I know several people that have lost or had the straps stolen but so far I still have both of mine and once you know how to use them they do the job. Also the T2 worked with my truck and let me lower the tail gate without interfering unlike the Yakima hitch rack I tried out.
Poor quality accessory parts
Familiarity:

I've used it once or twice and have initial impressions
Very disappointed with this product, especially after reading so many positive reviews. The platform is quite sturdy, but the pieces/mechanisms to attach the bike are very cheap/flimsy. On the very first use, one of the cam levers designed to secure the rear bike wheel broke off. They are built with very flimsy, aluminum rivets. I had to use bungie cords to hold the wheels in place. Also on the first use, one of the lock cables pulled completely out of its housing. It is hard to see how this cable is attached inside the support arm, but either another cheap part broke, or it was not attached to begin with. Either way, I expected better craftsmanship for the price.
does this rack work with 2014 Jeep Grand...
does this rack work with 2014 Jeep Grand Cherokee Limited?
Best Answer
As long as you have a receiver on the Jeep, yes, it will.
Sold
Familiarity:

I've used it several times
The is the best rack I've owned. I've gone 'cheap' with other racks but finally decided to throw down the cash for this one. I'm happy I did.
Love it!
Familiarity:

I've used it several times
We love this bike rack. It's super quick and easy to get the bikes on and the lock keeps them all secure.
Thule T2 Review, 1998 Volvo V70, Bronson
Familiarity:

I've used it several times
Thule T2 Review, 1998 Volvo V70, Bronson This rack is awesome. Sturdy and easy to use. I bought the 1.25 inch version and it doesn't move around any more than the 2 inch version's my friends have. Advantages over a roof rack: 1. Minor hit to MPG's and 2. Much easier to set your bike down on the rack.
Fantastic
Familiarity:

I've put it through the wringer
I've had this rack for many years, and it has always performed flawlessly, carrying my bikes everywhere I go in a very secure manner. I love the fact that it can be lowered with the bikes on it so that I can open the trunk of my outback. I also love that the lock is built into it so that I don't have to bring anything separate along if I think I'll need to lock it up at some point.



Probably the best part of this rack is just that it's very well made and durable. My only complaint is that the hardware can rust if it's in a lot of weather. I've sprayed a metal protector onto the bolts that has diminished this, but something to be aware of.



Well worth the money- it will last you many years.
Does anyone use it with 29inch wheels? ...
Does anyone use it with 29inch wheels? I'd like to know if the arms that grab the wheels are near the end of their extension when holding the 29er. How many "ratchet" teeth are left if it slips one?


Best Answer
This rack certainly does work with a 29er and we have had no issues with up to 2.3 tires.

Please let us know if you have any other questions.