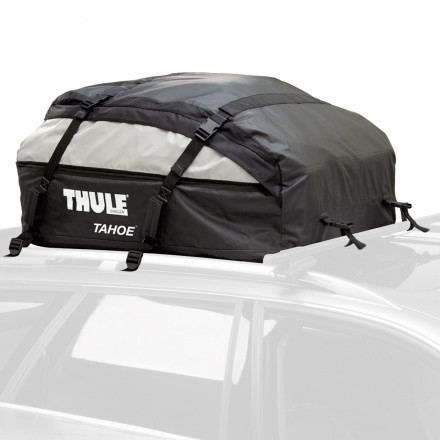 Community Images
When you're one of those people who bring it all when they head out on the road, load up the Thule Tahoe Cargo Carrier. With this behemoth roof bag, you have enough room for everything you need, and probably some stuff you don't. The Tahoe features reversible expansion zippers, so you can expand the bag from 15 cubic feet to 17 when your buddy decides to pack a little heavy. Tie down straps make it easy to attach the bag to nearly any factory or after-market rack system, and taped seams and durable water-resistant fabric make road trip rain showers no problem. When you return from your trip, pack the Tahoe down into its storage bag until the urge to hit the road strikes again.
Will this fit my Subaru Forester that only...
Will this fit my Subaru Forester that only has Thule load bars? There is nothing to attach to on the sides.
Best Answer
The Thule Tahoe Cargo Carrier will work with any factory or after market roof rack. Obviously it is preferred to have contact points on all four sides, but you will have no problem securing this carrier on a Subaru Forrester with Thule load bars.
Dimensions
Familiarity:

I gave it as a gift but have feedback to share
41" x 34" x 18"
Our first big road trip tested the Tahoe's mettle. We drove 730 miles from Utah to San Francisco. The weather was brutal leaving town: below freezing with head/cross-winds up to 50 MPH and horizontal snowfall. The Tahoe was a great travel companion. It was quiet/secure, kept our luggage dry, and freed up a TON of space inside the vehicle so the family and I weren't packed to the gills. While still compressed to 15 cubic feet, I was able to fit an oversized suitcase, a carry-on size suitcase, a large duffel bag, and a crib mattress with plenty of room to spare (the carrier could have been expanded an additional 2 cubic feet by unzipping the expansion zippers).



I discovered another advantage of the Tahoe carrier the hard way. When I arrived in San Francisco, I tried to squeeze into our parking garage. It was close but too short - the bag snagged and snapped one of the anchor rings. As a result, one of the front tie down straps couldn't be reconnected. I called Thule customer service and was told that there was no way replacement part for those links (kind of like how you can't buy a replacement lid if you shatter your hardshell cargo box). So I went to a climbing store in San Francisco and purchased the smallest Petzl Quick Link I could find. This solution worked perfectly. Had I made the clearance mistake with a hardshell carrier, it would have been a vastly different ending to the story.



Attached is a picture from the return trip (somewhere in the Nevada wasteland). You can see the steel quick link on the driver's side front strap.
Good carrier for the price
Gender:

Male

Familiarity:

I've used it several times
We used the carrier on our trip to the beach. Trip was about 10 hrs each way. Once I got the straps adjusted so they were not flapping against the roof, we couldnt even tell it was up there. I did used an extra rachet strap for added security, but the thing worked wonderful. Good amount of space
We used the carrier on one trip so far. We drove about 9 hours each way. It held 3 large duffle bags and a small duffle bag with some space left to expand. The straps held the carrier firmly to the top of our Jeep.
Suitcases/luggage, child accessories (pack...
Suitcases/luggage, child accessories (pack n play, swing chair, bouncey seat) or all of the above? Potentially traveling with wife,baby and two dogs and would like to know how much storage is available...don't have a huge suv so I'd like to substitute the roof rack/bag for the trunk and rear of said car.
The dimensions are about 41 x 34 x 18 inches providing 17 cubic feet of storage. Based on the actual size of all of your stuff that should give you a good idea of what will and will not fit in the carrier.
I just used this item on a trip to Maine. The zipper broke. Thule replaced the item no questiosn asked. Great custoemr service. It kept our suitcases dry even with the compartment (as oppsed to the expansion) zipper broke. We used two tie down straps just to make sure the lid stayed in place.
Such a great cargo carrier!
We didn't want to shell out the money for the hard caro carrier and I was seriously doubting that this one would e good. I was so wrong. It holds a tremendous amount of stuff and folds up into a bag that it cOmes with. Very easy to use and store. In so glad we didn't spend the money on te har one!
This thing is pretty cool. But it is huuuuuuuuuuuuge! I didn't realize that it would be SO big... so I bought it just for myself thinking it would be practical, (haha) but it's much more practical if you are taking one car filled with 4 or 5 people and have no room anywhere else to put your gear, because like I said, it's huge, and you definately don't need it for a small weekend camping trip with just 2 people. So if you have a party of a carpool, get it. It's also weatherproof, and nothing got in at all. It's soo easy to set up too, idiot proof for sure. The only thing I found disagreeable was that it can have a pretty gnarly wind drag if it's already windy outside, so be careful with that. But I would certainly suggest this as a good product, and I think it was worth the money (which wasn't nearly as much as other carriers...). Happy road-tripping to you all.
Unanswered Question
Would this fit on the roof of a 2009 murano?...
Would this fit on the roof of a 2009 murano? - my murano has racks on top
Unanswered Question
I don't have a roof rack on my Taurus, are...
I don't have a roof rack on my Taurus, are there any cargo carriers that I could get?
can i put suit cases in this ,and how...
can i put suit cases in this ,and how many.also is it waterproof
Suit cases- no problem, 41 x 34 x 18 inches will fit a few. 17 ft³ = 29376.000 in³, Some of the larger suit cases out there aren't more than 9000 cu in., I think you're good. It's made out of Vinyl-coated nylon so it's like a ballistic tarp, very waterproof. If wally world is closed, just take 'em hostage.
THIS WORKED GREAT, THROUGH RAIN AND SNOW IT KEPT THE CONTENTS DRY AND SECURE. THE EXTRA LUGGAGE SPACE WAS GREAT. IF YOU BUY ONE BE SURE TO FASTEN THE STRAP ENDS WITH A ZIP TIE OR STRING TO KEEP THEM FROM FLAPPING ON THE TOP OF THE VEHICLE.