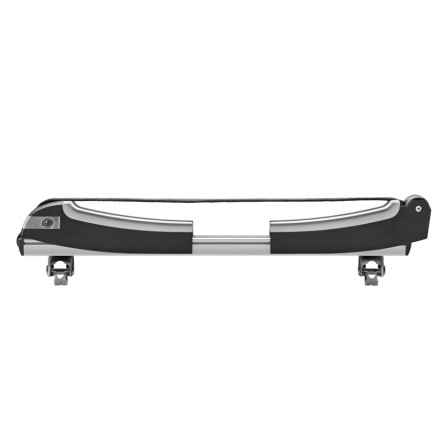 Detail Images

Community Images
The Thule SUP Taxi locks your stand-up paddle board to the roof of your vehicle (your 4wd canyon-runner or wood-paneled station wagon) for transport to and from the nearest water source. The telescoping design holds two boards tightly to the roof of your vehicle. Two One-Key locks secure the boards to the carrier, and the Speed-Link mounting system means you can easily install the SUP Taxi to your current rack bars without tools. Fits boards up to 34in (86.3cm).
Easy to set up. Very secure.
Familiarity:

I've used it several times
I needed this because I started SUPing this summer. So far so good. I have no complaints. If you're wondering, my SUP is 11'6 and it certainly holds it pretty well without tying the board with the string at the front.
Awesome, easy, Thule.
Familiarity:

I've used it several times
Easy to set up after the first time. Takes five minutes to install and another five to put a board securely on. IT's gentle on a board and works really well, especially if you put the front end secure tie on.



The straps are plenty long enough for two fat boards. They fit easily in the slots and cinching it down takes man power, that most of us can offer.

Really pleased with the look and feel and this comes with four cylinder locks so you can secure board to taxi and taxi to roof rack. That makes taking this thing out in public a no brainer. stop in for a burrito before or after and no worries about a thieving paddler making off with your board down the street. Designed especially for Thule bars, it fits on my wide and flat factory subaru bars without a problem. Doesn't leave a mark after.
Does this rack hold 2 sups well, if so...
Does this rack hold 2 sups well, if so how? Also, this includes both racks right? Can this fit onto a typical ladder rack found on pickup camper shells? The rack I have goes perpendicular to the vehicle instead of running from front to rear, and wondering how well the thule will be secured to the vehicles existing rack? Thanks!
Yes. it'll hold them pretty effectively. Lay one down, fin up and to the front. lay towel on top, then lay the second on tail to the rear, fin down.Run the strap over the two boards and lock it in. The strap has plenty excess to accommodate two boards. Recommend the board that fits better into the rack first for best results.
Soooooooooo... this is the price for ONE...
Soooooooooo... this is the price for ONE of these bad boys? And I assume you need a minimum of TWO?

Is there any reason this is not indicated in the product description?! The text suggests that you don't need to buy multiple, just attach it to your roof rack and go. I can't imagine (from the guru's photo) that one of these would nearly do the job, how in the world would it keep from flying off your roof, let alone balance with any real stability to not move around and do damage to either the board or your car? Inexcusable!
, ☃bcs_badge_alumni_label☃
This comes as a set and there are two supports. The picture is a bit confusing. You should be good to go though. Paddle on.