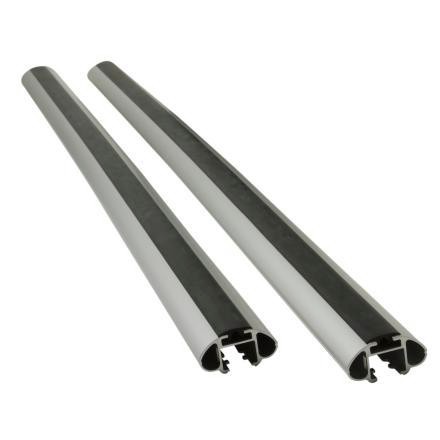 The Thule Rapid Aero Bar is a slotted aluminum load bar designed to work with a Thule Rapid tower. Thule designed the Rapid Aero system so that the towers and all the components slide into the load bar for a sleek, seamless look. The Rapid Aero Load Bar will still work with all your Thule accessories, but you may need an Xadapt kit for some of them.
Well, these bars. They look a lot better than the square ones and aren't as noisy. They also make it super easy to switch around different racks and accessories, so overall a good investment.
See my review for the 480R Rapid Traverse Foot pack which is used in conjunction with these bars. Make sure you check what size bars you need, because will the Rapid Traverse you have to get the size specific rails.

http://www.backcountry.com/thule-rapid-traverse-foot-pack#review_200106153
nice bars, few integrated racks
I like the Thule Aero bars for their style and functionality. The rubber strip that goes along the top will provide good friction if you use your bars to carry something without a specific rack (ie. a ladder). I didn't notice any whistling or wind noise, but I have them on a 2010 Jeep Liberty which isn't exactly aerodynamic.

My big complaint is that many of the racks that Thule makes don't use the integrated slot load feature. The idea is that the racks clan slip in a slot under the rubber strip and eliminate the need for clamps around the bar. Since this feature doesn't exist at all with other rack systems, I can't complain too much. Hopefully Thule will use the slot more as they redesign their racks.

All in all, I'm happy with the bars, but you'll have to decide if they are worth the extra money. I've got chrome side rails, so these match better than black bars.
Has anybody installed the Thule Hullavator...
Has anybody installed the Thule Hullavator on a 2008-10 Toyota Highlander with factory rails? Thanks
Check www.thule.com for compatibility. Use their vehicle fit guide; it will show you what kayak rack options are available for your vehicle.
A bit long for Audi A4 Avant
Got these because of the slick "aero" look, but discovered that they cannot easily be cut for perfect match with vehicle like the the old style bars. They look nice, but have a few inches of overhang, particularly over the back door. Also, it turns out that practically none of the rack attachments take advantage of the "rapid load" slots, making for a very bulky, decidedly non-aero, interface between the bars and attachments. They still work fine but did not deliver expected advantages (given the cost and design changes) over the traditional bars.
This bar package is sexy. This is easily the nicest looking aftermarket roof rack available. The only down side is that some of the Thule products require adapters or a little finagling on the consumers part to make bike racks, ski racks, etc. fit perfect on the Aero bars vs. the standard Thule bars. However, it is certainly not a reason to forgo Thule's Aero system; these bars work great and look even better.
Good qualty, ez to install and they look good!
Great sturdy rack, much better than the old rectangle bars. Looks better than the old thule racks also.
I bought these bars because they are aluminum and felt that they would last longer than steel bars which I needed to replace (Yakima) due to rust when I purchased a new car. They also look sleek. I was quite surprised after installing the bars with Thule Peloton Roof Bike Carriers how noisy the bars are due to resonation from wind resistance. I installed the recommended Thule Fairings to solve this issue. The fairings elliminated 80% or so of the noise, but not all. I live in a snow region so will have to remove, store, and re-install the fairings each year. In sum, I would recommend steel bars until Thule redesigns the alluminum bars to not resonate so much noise.
I put these on my German wagon using the 450R Rapid Crossroad footpack. Super aerodynamic making them much quieter than my old square rails. Be sure to go to the Thule website and use their configurator, (is that even a word?), to ensure you get the right size bar for your vehicle. My Thule brand ski box fit right on, no hassles. Bike rack goes on just as easy. Cheers.
Unanswered Question
Are these bars what Thule specifies as...
Are these bars what Thule specifies as RB47, that would fit with the 400XTR Rapid Aero Foot pack?
Very low profile. The length of bar guidelines are a little misleading. At first I thought I could use any size bar, but then it seemed the feet would only fit a specific sized bar for my vehicle. Turns out you can use any size bar (provided they are long enough to span the roof) although directions are not very clear.
Unanswered Question
what size bars do I need for a 2000 Honda...
what size bars do I need for a 2000 Honda civic sedan?
Unanswered Question
The Dodge/Chrysler/Jeep factory racks (some...
The Dodge/Chrysler/Jeep factory racks (some of them at least) have a T-slotted rack... Do the adapters work to add Thule components to these factory racks? Has anybody tried it?
Are end caps included in the package-?
Are end caps included in the package-?
No. In the U.S. The caps come with the Thule Feet.