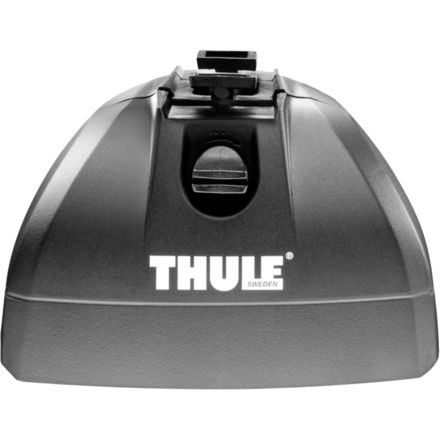 Colors
Description
Clean and simple.
Thule created the Podium Foot Packs for newer cars with pre-installed attachment points for load carriers. These Fixpoints allow you to attach your rack without any of the usual hooked-under-the-rain-gutter stuff. Podium Foot Packs come in two options. One works with regular square bars and the other works with Thule Aero Bars (see selections).
Does this podium set come with the ability to lock? Or do you still have to purchase the separate lock pack?
Nope they are sold separately



Feel free to hit me up at bporreca@backcountry.com or 801-736-6398.
We have a Toyota Tacoma with a topper and have a Thule track system permanently installed.

Here is the system for this specific setup:

Thule Podium Fit Kit - 3101

Thule Podium Foot Packs - Square Bar

Thule Load Bar Pair - 58"

Rocky Mounts BrassKnuckles Upright Mount
Easy to install.
Familiarity:

I gave it as a gift but have feedback to share
On the impreza hatchback. A must with your Thule set up. Good quality, recommend it with the Thule Universal Flat Top with Locks!
Quantity?
Familiarity:

I've used it once or twice and have initial impressions
Does $155 get you a pair, or does it get you all four needed to mount a complete rack?
Unanswered Question
I notice some places have this model with...
I notice some places have this model with the key locks already in them, while others do not. Do these come with the key locks?
Will these podiums work with a 2014 Jeep...
Will these podiums work with a 2014 Jeep Grand Cherokee?
Yes. It will require 460 square bars or 460R Thule Aero bars bu this item will fit on Jeep Grand Cherokees from 2011-2014.
Unanswered Question
can I use the Podium Foot Pack for my...
can I use the Podium Foot Pack for my square bars on a 2014 Lincoln MKZ
These are easy to install, and they hold very well to the car. Feel nice and secure. My only gripe is that it is hard to get the bar perfectly centered between the two feet, but half and inch isn't going to make a huge difference. I got the rapid aero version with aero blade bars, and I couldn't be happier. Many of the fit kits needed for this to properly fit your car are not found here on backcountry. You need to go to thule, do a fit configuration, and it will tell you exactly what number fit kit you need. I couldn't find mine for my jeep grand cherokee on backcountry, so I just ordered it straight from thule. little extra work for a lot of good times!
A bit pricey, get them on sale
Gender:

Male

Familiarity:

I've used it several times
These are the universal podium foot packs that install to your vehicle specific fit kit podium mounts. They are fairly easy to connect, but I needed help when installing the Aero Blades on the rear mount points. The Aero Blades were not sliding easily along the foot packs making it difficult to adjust and making it a two-man job. Loosen the bolts too much, they fall off your mount points; tighten them too much and the bars won't slide and you can't get the adjustment correct. Strange, the front crossbar went on fine with no issues and I needed no help, but the rear one gave me trouble. I suspect it could be a quality control issue with the fit being just a little too tight. That issue, plus price and the fact that the entire piece is plastic (I'm told it will last and their is a lifetime warranty) warrants only a 3-star rating.
Easy to install
Gender:

Female

Familiarity:

I've used it several times
Very easy to install with fit kit on car.
Is the Rapid Aero option the same as the...
Is the Rapid Aero option the same as the "460R" mentioned on Thule.com?
Yes, the rapid aero on here is the same as the 460r rapid podium pack on Thule's website.
Does it fit on my Kia Sorento 2011? dian...
Does it fit on my Kia Sorento 2011?
diane
Hey dia5501194,

I did some checking with Thule and I found out the Thule Podium Foot Packs will not coincide with your Kia Sorento 2011.

You do have a few options though. If you want to go with the regular Thule load bars, the Crossroad Railing Foot Pack is what you want. If you would want the Thule Aeroblade bars which are very quiet and a bit more expensive, you would need the Rapid Crossroad Railing Foot Pack.
Would I be able to attach this directly...
Would I be able to attach this directly to my 2004 Nissan xterra stock cross bars?
Hey Matthew Hall,

Thanks for the question. I checked with Thule and I did find that the
Thule Podium Foot Packs will not fit on your 2004 Xterra bars. What will fit is the Thule Crossroad Railing Foot Pack which we do carry in stock.
460R - Jeep Grand Cherokee 2011
Fits perfect with easy transitioning between seasons. I would recommend this to any outdoor explorer looking to travel with ease and comfort.
Does anyone know what cars these work with...
Does anyone know what cars these work with or know where there is a compatibility list? I have a 2007 BMW 328XI coupe with factory roof rack anchor points and would love to buy this setup vs. the factory option.
Best Answer
At the top of this page is the Thule car rack configurator. From there, click on 'build your Thule rack'. It'll give you all the options starting from scratch for your make, model, and intended use.

Be sure to double check my results, but a quick glance using your specs show that these Podiums are the ones you'll need. You'll also need #3039 fit kit for the 2007 3 Series, as well as to decide whether you want to order the 861 Aero bars or the 761 square bars. Don't hold me to it, and be sure to confirm. Hope it at least helped some.
used the thule fit guide and these fit perfectly on my 2007 bmw 328xi. looks great!.
Lowering the bar (in a good way)
These look great and as mentioned before have a much lower profile than other options. Plus they were easy to install.
I love the low profile you get with these towers. Much better than the factor-mungus towers you can buy from a your car dealer. I purchased these with the fixed point kit for my Audi A4 Wagon (2009) and love the look. I feel sorry for the folks driving around with the factory units on their cars knowing that they could have made a more economic and better choice.