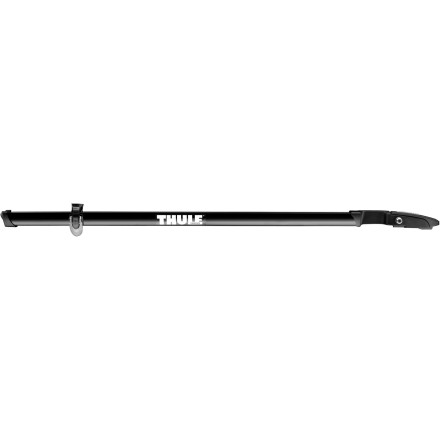 Detail Images
It doesn't matter if you have a road or mountain bike, skinny or fat tires, V- or disc brakes, the Thule Peloton Roof Bike Carrier is up to the challenge. This bike platform is the world's #1 selling fork mount, and we can see why—it's effective, and easy to use. This bike carrier fits all disc and suspension combinations that have standard 9mm (0.35in) axles, accommodates tire widths up to 2.6-inches (6.6cm), and carries bicycles with a wheelbase up to 48-inches (121.9cm). The Peloton's dual-lock design secures your bike to the carrier and the carrier to the rack for safe and fool-proof transport. This carrier fits Thule and Yakima load bars. If you have any questions regarding this Thule rack and your vehicle, contact our customer service experts at 800-409-4502.
is there a through axle adapter for this...
is there a through axle adapter for this rack? i want to use it for both my mtb and road bikes.
What do you mean? The width of the clamps on the fork will adjust to fit either a MTB and road bike. I've used mine to transport my Specialized Allez road bike, my RockHopper MTB, and a Jamis single speed, all just with a few turns of the wheel to fit the fork width.
http://www.backcountry.com/thule-thru-axle-adapter
Solid bike rack
Familiarity:

I've used it several times
Just to echo what's already been said, this is a great bike rack. It adjusts to fit just about any bike, securely locks your bike to your car, and (with an adapter) will fit any roof rack system. Simple, secure, durable system.
Solid Rack
Gender:

Male

Familiarity:

I've used it once or twice and have initial impressions
Good rack, so far i haven't had any problems. It locks the bikes on well and they don't make any noise while on the highway.
hands down, best roof mount bike rack on the market. read above,I'm not going to repeat it, but its awesome, I own a carbon fiber race bike and feel very comfortable throwing it on my roof!
This rack is super easy to use. I can put it on the roof of the Subaru in ~ 5 minutes and it only takes about 30 seconds to load and unload the bike. It locks the bike solidly in place on the roof of the vehicle. My only complaint is that there is no easy way to adapt the rack to fit factory roof bars.
Bought this model to replace my broken echelon mount and I like this model so much more. The locking system is excellent and I have no problems trusting it to hold my road or mtn bike. The rear wheel holder is a little flimsy but does its job to hold the wheel in place. Very quick load & unload time and extremely secure with the fork holders, much better than a clip or clamp rubbing the paint or decals off your bike.
Simple, Streamlined, Solid
I'm really pleased with the Peleton Bike Mount. It's quick and easy to put it on a Thule rack with with square bars or round Yakima bars, and the mounts do not take up much space. This is nice when you're mounting it close to the foot of the roof rack. (I have another bike mount from another brand that I cannot get as close because one of the screw pieces has such a long arm that it hits the foot when you try to screw it on). This Thule design allows you to maximize space on your roof it you're carrying multiple bikes and a roof cargo box. I really like the low profile design of the Peleton and easy adjustment to different width forks. It's also great that the lock also locks the bike mount to the rack (unlike some other designs out there). It seems that this mount will also have the Thule durability.
I need a bike mount to attach to the top...
I need a bike mount to attach to the top of my car for a 5,000 mile drive from Virginia to Alaska. Will this mount be stable enough for driving such a long distance? My car is not compatible for a trunk or spare tire mount.
The front forks are among the most stable of all and this is a great rack from a great company. Still, be sure to tighten it down and check periodically!
I agree, this will be a good mount. I would suggest a taking a couple test drives with you bike before you start your trip as you may want to use a bike bra or fairing to protect your bike and reduce wind noise.

Also consider the Thule Wheel On to mount your front tire to the rack. This will save space inside your car.
Good product, needs adapter for Aero Bars
The mount itself is really nice, very easy to put together and install, with the exception that if you have Thule AeroBars or wider than standard bars, you'll need an adapter kit. The adapters cost about $12-15.
Have 2 of these; love the thumbwheel fork holder adjustment. Bikes are on/off within 2 minutes.
I've had this rack for many years, many road trips across the country and it was great. It locks, and fits all types of bikes.
It's easy to use and I highly recommend it!
Just What You're Expecting...
Great rack, simple to use, easy to install. I use it at least once every week, and I'm exceedingly happy with it.
Only word of warning is if you have the Aero bars, you'll need an adapter, so make sure you have everything before you make any plans. This was a little bit of a headache for me.
I have a Subaru 2003 Forester, do I need...
I have a Subaru 2003 Forester, do I need any additional parts with this rack. I want to use the factor rack.
Your best bet is to go through the Car Configurator at the top of the screen. That will tell you exactly what you need.
Yes, it'll fit. Unless you have a very light bike I recommend getting the adapter cross bars though. The factory racks on foresters are kind of flimsy to support a bike(s).
This rack is only designed to fit on square cross bars. Most factory racks have some flattened oval shaped cross bars. Thule makes an adapter called the ride on to convert from this shape to square. Then the racks will fit.
The only way to carry your bike!
This is one of the best bike holders out there. The bike is held securely, no wobbling around like the ones where the front wheel is on. No gripper clamping on your frame rubbing the paint off. I know when I go somewhere if I have to leave my bike, it will still be there when I get back with way it locks on the front forks with the lock kit.
I can throw my bike up in no time and hit the road. The security is great so I can get some lunch and not worry about my bike being gone when I get back to the car. Not a single problem.
I have two of these and they work great with my Thule rack and Mtn bikes, but beware, although it says all bikes, some DO NOT fit the fork mount. I have had two different bikes of buddies that would not work leaving me stuck in someone elses car with someone elses crappy music. Try before you buy at a local bike shop, then order here!
Never had a problem with these carriers!
I've traveled all over the country with my bike on top of my car and this rack is the best. My bikes that are worth more than my car have never been stolen, or damaged. I love these racks!
I literally changed out the bike mount from my old one to this one in 15 minutes and the bike goes on in seconds. Close the clamp, lock it, strap the rear tire and your off. I've seen reviews that this model has a design flaw, but I haven't had any issues. My box was marked as Jul '08 date of manufacture and I purchased in July, so just be sure you get a new one.
I had a Velo Vise Fork Mount but I had to...
I had a Velo Vise Fork Mount but I had to force my Trek with Disc Brakes to fit. It never really did which resulted in a mishap that busted the mount and fortunately not the bike. Does the Peloton really work with disc brakes?
Works with both of my bikes that have disc brakes