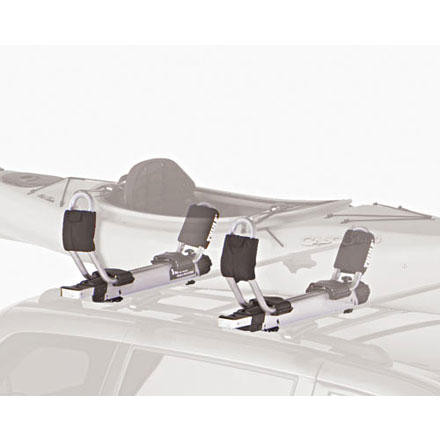 Thule's Hullavator is an elevator for your kayak. Instead of wrestling to get your kayak above your head or just sitting on the couch eating potato chips when you can't get the neighbors to put your boat on the car, the Hullavator does the work for you. All you have to do is hoist your kayak up to about waist height, and the gas-strut lifter provides the extra muscles to make loading and unloading a breeze. It can be attached to any Thule rack system and takes up 28in of load bar, so you'll still have plenty of room for your bikes and luggage. Now if you could just get the neighbors to help with the bikes, you'd be all set.
Load bars must extend equally between 4" and 8" beyond the foot pack. In rare instances, longer load bars may be required.
Unanswered Question
I have a 2007 Nissan Armada with factory cross bars. I would like to mount 2 sets of hullavators on the cross bars (for 2 kayaks). Can it be done? Or do I have to install a thule rack. If so, what is the best, cheapest, and easiest thule rack to add?
Unanswered Question
I have a 2015 Subaru Forester with factory rack and factory cross-bars. I purchased the Hullavator a few weeks ago because the salesman said it would fit with no other accessories needed. It arrived quickly and sat in my garage for a week. I plan on installing it this week. Just to make sure I had everything before beginning, I called Thule and asked once again if there was anything else I needed before the install. This is when they informed me that this product does not show as being compatible with my vehicle. Called the company I purchased it from, they said "it is, in fact, compatible". Before I open the box, I would really appreciate knowing if I am wasting my time. I am considering buying the Feelfree Moken 14 or the Feelfree moken 12.5.

Any advice would be much appreciated.

Sincerely,

Dazed and Confused.
This video is for the XT variant only
Will the hullivator work on a 07 F Cruiser? Will I need to buy another part to make it work?
Hey Edie,



You will need to have Thule Crossbars for the Hullavator to work which means you will probably have to get a few additional parts.



Unfortunately for this product factory installed crossbar wont cut it.



If you click the Car Rack configurator on the left panel of this page it will help guide you to the parts you will need otherwise give us a call and we get get it put together for you.
Can I put my kayaks hull side UP with the...
Can I put my kayaks hull side UP with the hullavator??? I have been using mine for four years now but hate having my kayaks filled with water during a sudden rainstorm. I tried cowl covers but they just come off when the water pools in them.

If the kayaks are mounted hull side up (ie upside down), will they still be secure and not slide front to rear or rear to front???
I have seen several people mount their boats upside down to reduce drag. You should be good to go.
Will the hullivator work with Yakima round...
Will the hullivator work with Yakima round bars?
Hey Sallie,



This does work with Yakima round bars.
Can the Hullivator handle a plastic tandem...
Can the Hullivator handle a plastic tandem kayak? I have a Necky Looksha T.
Steve,

While the Thule Hullavator can handle the length and width of the Necky Looksha T (Length: 5.5 m, Width: 76.2 cm) the weight of that kayak is unfortunately pretty far over the Hullavator's recommended limit of 75lbs (Necky Looksha T weight: 96lbs).
I have a jeep grand cherokee 2013 with...
I have a jeep grand cherokee 2013 with factory rack how would the hullavtor work on that
The Hullavator will work very well on a Jeep Gran Cherokee 2013 although the Hullavator will not fit on the factory rack and will require the installation of Thule square bars, round bars and Thule Rapid Aero bars.


Unanswered Question
Has anyone ever put this rack on a Toyota...
Has anyone ever put this rack on a Toyota Rav4, Subaru Baja (2006) or a BMW X3 (2011)? Appreciate your help...
Looking for rack for my F150 pickup. I...
Looking for rack for my F150 pickup. I am considering the Hullivator. Right now I load onto ladder rack from tailgate. Will Hullivator work mounted to roof or are pickups too tall and I'll need to lift kayak to head height to place in hullivator cradles? Also if Hullivator will work do i order the bars recommended on Thule site or get longer bars to allow for the Hullivator mechanism
Interested in the answer to this question too! You ever find out?
You can see more videos of the Thule Hullavator in action at http://www.youtube.com/watch?v=Pmgi_-qrhQc&feature=BFa&list=UUUWUeWKhqZNraLK6zuUh56A&lf=plcp
Does it come in pieces or assembled and...
Does it come in pieces or assembled and ready to put on. Also is it easy to get off and on the rack?
It does come with some small assembly required but it is not very difficult to install and easy to put on and take off.
Great concept...falls a bit short
I purchased 2 of these from Backcountry to use for my 16' touring kayaks. I previously had Yakima Landsharks with 1/4" closed-cell foam glued to the cradles. I guess the glue only lasts 3 or 4 years because 3 of the foam pieces came off within a few days of each other. The Hullavators looked like the perfect replacement. I have a few sets of Thule crossbars in different lengths that I played around with for the perfect fit on my SUV with the Hullavators installed. I spent about 6 hours installing, testing, tweaking & so on before I had to pack them back in their boxes and return them.

I'm used to a rock-solid mount with my kayaks. That means that the straps attach to the bars and grip the top 1/2 of each kayak. With the Hullavators, I found 2 glaring problems I simply couldn't work around. For one, the straps attach to the curved cradles & not to the load bars. That wouldn't be so bad, except that the longest curved cradle is well above my kayak, and the shortest cradle is about even with it. With the straps in place, 1/4 or less of the kayak was actually held down by the straps. This resulted in a very loose (dangerous) fit. My only option would be raise the kayaks & hullavators to the travel position & then attach more straps that would attach to the bars. The other problem I had is when the kayaks & hullavators were in the travel position, there was excessive play, wobble, or whatever one would call it. These things lock into place, but they do not firmly lock into place, thus the excessive wobble. Again, the only solution I had would involve strapping the Hullavator to the load bar so that it won't move. All in all, far too much work & far too many straps involved for a safe travel load. Since typical highway/freeway driving exceeds 80mph, along with a number of bumpy dirt roads for lake access, having a safe & secure mount is absolutely my top priority. All they (Thule) would need to do is provide a few solid strap locations on the Hullavator that would accomodate various sizes of kayaks, along with a much better closed position locking mechanism and/or some way to firmly secure the Hullavator to the load bar.
Anyone have Hullavators on a Jeep Wrangler?...
Anyone have Hullavators on a Jeep Wrangler? I have a 2010 Jeep Wrangler with a removeable fiberglass top,......and 2 Ocean Kayak Scrambler XT (12' x29" 51 lbs. each)........Will a Hullavator work????????Help.....and Thanks, Lorraine
Best Answer
Check www.Thule.com and utilize their "Fit My Car" option to see if the Hullavator is compatible with your Jeep.
I'm close to pulling the trigger on a...
I'm close to pulling the trigger on a couple of these, but I did have 1 question regarding use. I realize the kayak gets strapped only to the cradles, and that's what makes me nervous. All my prior cradles allowed me to strap to the cross bars, which are firmly attached to the car. With the Hullavator, I would be at the mercy of whatever latch mechanism is used to hold the cradles to the rack. Is this a non-issue, or do some of you also strap to the load bars?
Hi
I'm looking for a new hullavator because my original one has rusted from years of use - and never a single problem about the locking mechanism and strapping the kayaks to the cradles.
So glad I got these. What a difference in loading boats! I've spent decades loading boats the hard way. Thank goodness they came up with these so I can keep loading boats for decades more - the easy way.
Does Thule have any plans for added pads...
Does Thule have any plans for added pads or arms to accomidate the wider Hobie outbacks with the tri hull? I have had the Hullivator for 3 years now and it has been very good but last year I got a Hobie Outback and had to add pads to the existing pads so that it would touch the rack. Thule needs to make some arms to replace the existing ones so the Hobies will fit.
Thule does not have different after market pads for the Hullavator but from speaking with our Thule rep it looks like they are in the process of creating some interchangeable pads for different hull shapes.
I have a 2004 Toyota 4 Runner that came...
I have a 2004 Toyota 4 Runner that came with a factory installed roof rack. I want a Hullavator and was told that I need to buy the Thule 450 Crossroad rack to be able to install it. Is this true?
Yes, the Hullavator requires an installed Thule primary rack to function on top of.
I've had my Hullavator for 3 years and...
I've had my Hullavator for 3 years and love it...I now have 2 kayaks and 2 Hullavators...what to do?
I have a 2007 Subaru Forester with the 440 rails supported by the SR1 railing rack kit.
I know I cannot use the 440 rails with 2 Hullavators and must use a 58" rail. Can you tell me what rails and supports (with part numbers) I will need now?
Best Answer
Dianah,
The 440 sr1 kit should have come with 47" load bars. So you should be able to swap them out for the LB58 found here:
http://www.backcountry.com/outdoorgear/Thule-Load-Bar-Pair/THU0054M.html