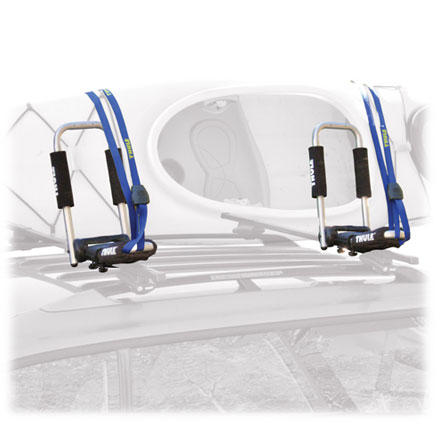 The Thule Hull-a-port Pro Folding Kayak Carrier holds your boat securely and then gets out of the way when you don't have a kayak on top of your car. Not only does this folding rack reduce wind resistance for better gas millage, it also decreases the chances that you'll floss it off when you pull into your garage. Thanks to the J-style carry system, this rack easily holds a sea or whitewater kayak and still leaves lots of room for other racks or cargo boxes. Thule also includes two ratcheting straps to help you secure your boat to the Hull-a-port Pro Kayak Carrier.
Totes my boat
Familiarity:

I've put it through the wringer
I ordered this when I bought a new SUV last fall, as the new vehicle wouldnt fit in my garage without a fold down model. It has nice little features such as a feed through tab for the straps, and a rubber "bumper" that goes over the metal part of the straps to protect your car. My only reason for not giving this 5 stars, is that I have difficulty when loading the boat onto it. I find that because there isnt as much of a "J" to catch it, the boat slips off as I hoist it up. Part of this is my own fault as i'm only 5'6" and not very strong. Let me assure you, once loaded and strapped in, the boat stays secure, even on the highway!
Hauls the Yak
Gender:

Male

Familiarity:

I've used it several times
Installed these on the factory roof rack on my 1999 Tahoe. They were a breeze to install and work great. I read some of the reviews that said they had theirs stolen. I wasn't really worried about that but it's an easy fix. I simply bought standard vinyl locking nuts and washers. I installed the carriage bolts upside down (from the bottom up instead top down). I tightened the nuts down and viola! gonna have to bring a socket set to steal mine! Honestly I do recommend installing as I described unless you are planning to remove them often. I don't see why you would though because of the "fold down" feature. The straps and bow/stern ropes and pulleys that came with it are top notch too! They make it super easy to secure the yak. My only issue is with my factory rack, it's a little loose so I think I'm going to purchase a Thule rack to replace it. Couldn't be happier with the Hull-a-port Pro though.
Will this fit a 2011 Subaru Outback...
Will this fit a 2011 Subaru Outback wagon?
Best Answer
I do strongly suggest you go through the Fit Guide right below the price of the item so that you will know for sure if this will fit your car specifically. Now, I don't know what kind of rack you have set up on your car currently or if it has a factory rack or not, but this is designed to fit most bar systems so I do have a strong feeling that this will work on your wagon.
Excellent.
Familiarity:

I've used it several times
Fits great and kayak feels secure. My experience is with a 10' kayak on an Land Rover LR2. I only wish there was a way to secure it to the vehicle to prevent theft - as another commenter has mentioned having their rack stolen. I tend to take the rack off if I'm not planning on using it for multiple weeks or if I'm heading into the city for a trip.
I'm carrying my 12.5 kayak in the bed of...
I'm carrying my 12.5 kayak in the bed of my Ford F150. I'd like a way to carry it on its side to allow for more room to carry the kitchen sink. Is there a way to mount roof racks to securely transport my kayak?
If you run your car through the Thule Fit Guide just below the price of the item it will tell you which racks will work with your truck and all the pieces you will need for the full system.
I owned this carrier for a couple years, and was pretty happy with it too, until it was stolen off the roof of my car. The thumbscrews are pretty convenient, but not very secure. Now I've become a more paranoid person, and would appreciate a more secure option.

I went ahead and ordered a replacement and noticed a substantial drop in workmanship from my original. This is best evidenced by the deep cut I got on the tip of my finger from a razor sharp burr left on one of the molded plastic components. Thule, please do a better job of de-burring your parts!
I have 2 12 foot wilderness pungo 120...
I have 2 12 foot wilderness pungo 120 kayaks and looking to transport on my Volvo XC60. I've read about the Thule Stacker rack & the Hull a port pro. Which would work for my car? I know I would need 2 Hull a port pro systems but, wondering if my 2 kayaks would fit and accommodate both hull a pro systems. I like what I've read about Hull a port over stacker but, unsure what my options are. I also have a Factory installed rack (I can attach & detach from truck). Just need some guidance.
If you run your car through the Thule Fit Guide it will tell you which racks will work with your car.

http://www.thule.com/mobile/
I have a pickup truck, and use Thule's XSporter XT truck rack with my Hull-A-Port Pro. Together, they hold my 16.5' kayak sturdily and securely. I have no problems whatsoever hauling my kayak for hours on end on backroads, highways, and even at Interstate travel speeds. My only problem is that I had to order an additional piece to get a Thule kayak carrier to mount to a Thule rack! It came fully prepared to mount to most factory roof racks and even a Yakima roof rack, but the supplied bolts were too short to attach the carrier to a Thule brand rack. The pieces needed were cheap, and sold here at Backcountry.com, but I was not notified that I would need this extra pack of bolts. With the longer bolts, it works fine. But, it was a bit of a chore to have to once again order more parts and pay more for shipping when four little bolts should have been included in the package - especially to facilitate mounting a THULE carrier to a THULE rack. Still, it works fine and is worthy of 5 stars. Just be warned that you may need an extra pack of longer bolts.
Have these mounted on a set of Thule Aero bars on my Explorer. Very well designed and the Pro folding version is well worth the extra $. The one handle locking/folding design is solid. Yes there is some wind noise, but that is to be expected in my opinion. It is minimal and hardly noticable with the windows up and the radio at normal volume.
I am interested in buying 2 pairs of this...
I am interested in buying 2 pairs of this product. I have a 2010 Kia Soul with RB53 Rapid Aero Load Bars. Will two Hull-A-Port Pro's be able to fit on my bars and still be able to both lay in the down position at the same time? Look at the attached picture if you need to visualize it...
From the looks of your roof rack, I would say the Hull-A-Port Pro would work just fine. It really doesn't extend much below the load bars. Your rack looks to have plenty of clearance.
The only reason I wouldn't give this a 5 star is because it's my first and only kayak rack, so I have no basis for comparison. The one drawback is a lack of locking mechanism. Aside from that, it's excellent. My 14.5-footer is more than secure at highway speeds.

Highly recommended!
What is the differences between "Thule...
What is the differences between "Thule Hull-a-Port Pro Folding Kayak Carrier" and "Thule Hull-a-port Kayak Carrier" except the price? And, does this carrier/rack contain two strings holding the fore and the end of a kayak?
Best Answer
Chang,
The PRO version van be folded down when you aren't carrying a boat. This doesn't particularly reduce noise, however it gives a much cleaner look and allows SUVs and other taller vehicles to enter parking ramps/garages without having to remove the carrier. Both should include 2 hold down straps and 2 fore/aft ropes.
I hope this helps.
can anyone tell me, around what driving...
can anyone tell me, around what driving speed will you start to feel the kayak start shacking ? or what is the typical speed you guys/lady drive when is loaded with kayak
Best Answer
I have a 16' poly tandem boat, about 75lbs and it is rock solid in this rack. I've had it around 70mph and it doesn't move. If there is much of a cross wind while driving you will feel that since it acts as a large sail when the wind hits the cockpits, but i don't worry about the boat moving.

One time I put the rack on a friends Grand Cherokee and I didn't get the rack tightened tight enough to the cross bars and the wind caused it to shift a bit, but it wasn't going to go anywhere. So make sure you tighten the rack securely to your crossbars as it can be a bit of a challenge.

Bottom line: you won't be disappointed with this rack.
I also have had my kayak securely transported at Interstate speeds. I try to keep it under 75, but even at those speeds, it is solid. It's mounted to the Thule XSporter 422XT using a 16.5 ft kayak.

No issues whatsoever.
I never feel it shaking, up to Interstate speeds of 70-75mph. The two straps grip the kayak securely, and when I grab the kayak and shake it to make sure it is secure, the whole truck shakes instead of just the kayak. The kayak is on solid. 100% confidence
We purchased the Thule Hull-A-Port Pro...
We purchased the Thule Hull-A-Port Pro fold down kayak carrier this summer. Our kayaks manage to slip out of the bottom j rack (into more of a horizontal position) every time we use it. We strap it down as tight as we can. Does anyone have this problem or any tips on how we can stablize our kayaks so they don't slip down?
You must have extremely narrow-beam kayaks. It they want to move horizontal and you have no way of changing the lash points, then I suppose let them rest as they want to be, then strap them down so they are secure. Aside from that, I cannot fathom how or why your boats would not carry properly on the J-cradles.
Best purchase of the summer
I purchased this to make more room for everything else on my roof and to make it a bit easier to grab and carry my kayak when I am by myself. If you have a tall vehicle (I have a 2003 Trailblazer) you might find that it is a bit of stretch especially when tossing the straps over. They are well built. I was afraid that having the folding mechanism might detract from the general sturdiness, but was surprised to find they are still solid. I do have the fairings for my rack but even with the carriers up there is no whistling or racket. For the price I was disappointed that they had no locking mechanism, but I managed to create my own here at the shop. They were a snap to install and there wasn't a bit of movement while driving with my buddy's 10' kayak or my Tarpon 160. The best part was that it did allow me to toss my 16'er on and off without accidentally nailing the roof or sides of the 'blazer. The way the kayak sits you can grab the handles and take it off and I didn't have to go flipping the kayak over to get it off.
Thule Hull-a-Port Pro Folding Kayak Carrier
I've used my new Thule Hull-a-Port Pro Folding Kayak Carrier a few times now and I'm getting the hang of loading / un-loading.

I have a Jeep Lberty with after market cross bars and carry two, 12 foot kayaks. The only issue I have with the fold down option is that the height of my Jeep necessitates carrying along a small step stool so that I can reach the locking lever used to fold or erect the carrier. I suppose on a vehicle with less ground clearance or a taller person (I'm 5' 8") this becomes less of an issue.

As for my purchase from BackCountry.com, I found it easy and was very satisfied with the entire process.
I highly recommend this rack. I've got a 15'6", 72lbs tandem kayak that I hull and this rack keeps it perfectly stable. As most people say, you probably don't need the bow/stern straps, but I use them anyway.

The rack doesn't lock to the crossbars, but I still leave them on all summer. The folding feature is a lot nicer than taking the rack off each time you use it and the PFD latch is much more secure than Yakima's plastic screw/nut.

It's an expensive rack, but it makes traveling with your kayak much more enjoyable, and you'll probably use your boat more too.
I have a 1991 Nissan Frontier with factory...
I have a 1991 Nissan Frontier with factory bars on top. The bars are quite large for factory bars and I'm wondering if the Thule Hull-a-Port is compatible?
I don't believe that Nissan made the Frontier in 1991, so I'm going to assume that you have a 2001, with the large tubular crossbars. This rack should fit just fine. Thule includes 2 different length bolts in the box, and says that for some larger factory bars you may need to purchase longer bolts. If this is necessary it would be only a few bucks from a hardware store. The Nissan tubular bars are really any wider that most other factory bars, they are just higher, and that is why you need the longer bolts. Always remember to check the Thule configurator at the top of this page to check your vehicle for sure.

This is a great rack (I personally own one) but my concern would be how far apart you can get the crossbars on your Frontier. How far apart they need to be depends on the length of your boat, but the further the better.
This carrier works very well, the folding action is not only useful but makes it easier to attach the straps. The cushioning is good protection for the kayak. The only problem I have with this is the paint on the rack, it scratches easily and is prone to pitting and rust. I have resorted to covering the tubing with vinyl tape to protect the painted areas. Thule makes great racks but they really need to do something about the paint.
Thule Hull-A-Port Pro review
I have two pairs of these. They work perfectly. They really secure the kayaks well. The appear to be well made and should last for quite awhile. I bought the Hull-A-Port Pro's so that I would be able to drive into the garage. I could not clear the garage opening with the regular J-style Thule kayak rack mounted on my SUV. However, I have encountered one small problem. And this is probably only a issue when the Hull-A-Port Pro is mounted on an SUV or tall truck. It is difficult to reach the release bar which locks and unlocks the upright sport arm. The support arm can be swung up when the bar is pulled. However you have to pull the release bar AND flip the support arm up at the same time. You can't pull the release bar and then swing up the arm. Try it that way and the release bar pops back into place locking the arm down. On a sedan or station wagon that would probably not be a problem as it would be easy to reach both the bar and the arm simultaneously. However it is a bit of reach (I'm 6') on my Saturn Vue. I can reach the release bar but when I try to flip the arm up the release bar locks again. It is a two handed operation and my wing span is to short. I have resorted to taking a plastic milk crate with me...it holds my bilge pump, water bottles, PFD's etc. I can stand on the crate and reach both the bar and swing arm at the same time. Other than this minor problem (and it would probably not be an issue on a sedan or wagon) the Hull-A-Port is great. Easy installation, looks good and it truly secures the boats well. I carry one 9 footer and a 12 footer. If it is a short trip I don't even bother with the front tie down. (Thule recommends using both front and rear tie downs). Once the kayak is secured I can grab it and yank it hard enough to rock the vehicle. Would certainly recommend this product to others.