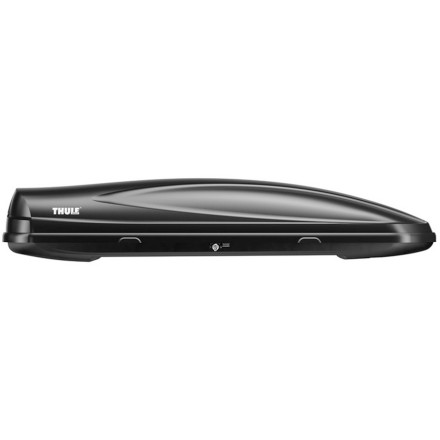 Colors

Detail Images
Description
May the Force be with you.
There's plenty of wet, muddy, and smelly stuff in your life—skis, clothes, tents, dogs, and small children—but the Thule Force Cargo Box has enough room to carry it all, so the inside of your car stays clean (note: putting living things in the Force is not actually recommended.) Thule made it of rugged ABS plastic, hooked up an AeroSkin textured lid for extra durability and aerodynamics, and installed dual hinges so you can open the Force from either side, making roof mounting a breeze. It's also compatible with round, square, and factory bars, so you'll be hard-pressed to find a car onto which it won't fit. Thule included locks, so your gear won't get swiped when you stop to grab some gas-station coffee, and made the Force in three different sizes to accommodate gear of all types.
ABS plastic
AeroSkin textured lid
Dual-side hinges
Square-, round-, and factory-bar compatibility
Locks included
I have 170cm skis,what's the internal length of the XL?
The internal length of the XL is roughly 210cm, so that will fit your skis Zambranojl
Also, the max length of ski for the L is a 173cm. If you know you will never carry skis longer than 173cm ,you could make that one work
Will the XL Force fit on my Mazda CX5?

As long as you have factory installed crossbars then it will fit. If you have a naked roof or a roof railing then you will need to purchase a crossbar system as well.



http://www.thule.com/en-us/us/buyers-guide
What is the "free gift with purchase?"
It's an adapter system for the Switchblade crossbar system. Just a small accessory to the box that you won't actually need unless you have Switchblades on your car (a separate product from Thule).
I don't see the weight of the carrier in...
I don't see the weight of the carrier in the technical specs. How heavy is the XXL? I'm thinking here of storage options and ease of taking on and off my vehicle.
Disregard, it looks like Full says 56 pounds for the XXL
Best Answer
"Thule". Stupid Siri.
Perfect!
Familiarity:

I've put it through the wringer
This cargo box is easy to take on and off, it's aerodynamic and simple to use. Opens from both sides and fits tons of stuff in it. I use it for skis plus cargo in the winter and I put pretty much everything in it in the summer.
Great product!
Familiarity:

I've put it through the wringer
Very spacious and surprisingly quiet. We have used it over 20 times for several days of use. Easily handles 4 snowboards and 4 carry on size suitcases and a couple of backpacks. Sold the snowboard rack and no more stuffing the cargo area! Easy on and off and we keep it in the rafters when not in use. Solid purchase perfect size for our family!
Good looking, Quiet, easy fit
Familiarity:

I've used it once or twice and have initial impressions
Purchased this with the intent of carrying camping gear... Used it finally and was very suprised that it hardly affected MPG. I have this mounted to Yakima Whispbar system and it mounts fast and secure.

Con: While loading (stuffing) the box full I did have some difficulty locking it, but if you don't try to overstuff it you will be fine.
I live in the area of Big Rapids, Michigan....
I live in the area of Big Rapids, Michigan. Where can I find a dealer that I can

visit and see these units? Thank you Dan Scheiern
Dude! I'm from Fremont originally. Whats up neighbor? Unfortunately I don't have any recommendations for you as to who is going to carry this in your area. If you need that recommendation you might want to hit up Thule directly, they will have a better idea as to who they shipped what too. Otherwise I know we ship to your area, I send gear to my parents all the time.
Force Cargo Box in use!
Familiarity:

I've used it once or twice and have initial impressions
So far this season, the cargo box has been perfect. I bought it heading into our family beach vacation. I wanted something to keep the beach toys, sand, chairs, and wet items out of the car (things we wouldn't need to cart into the rental condo, but would use frequently). Suited this task perfectly. Better than the cargo bags because it tolerated the rain that comes with being at the beach. I also really like opening from both sides. I used it again to go camping. Two big pluses: #1, you can get your food and gear up and safe from animals, #2, get things out of the back window for driving. You've got to remember you have something on the roof, but the ability to load, lock, and go while keeping it all dry is great.



If you can't keep this on your car, it's a pain to have to store something this size, but that's not a product problem.



Big fan.
does the 626 Force XXL fit on top of a...
does the 626 Force XXL fit on top of a e-350 van
Depending on what year the van is, the 387 Gutter High Foot Pack paired with 65" load bars should work.