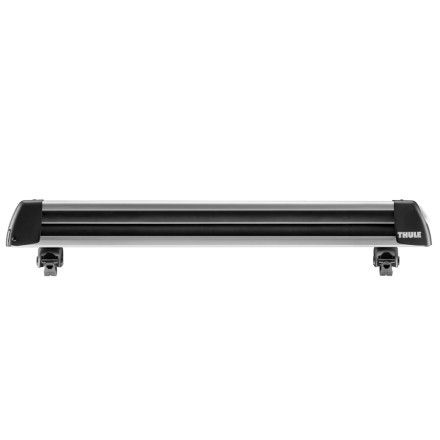 Detail Images

Community Images
There's nothing better than a blue sky, feet of fresh snow, and a car full of gear on an early winter morning drive to the hill. Wait, yes there is: A drive with skis or snowboards (or both) neatly organized, secured, and locked to the Thule Universal Flat Top with Locks is so much better than fighting for enough space in your wagon to manage a sip coffee.
Four-ski model holds two snowboards
Six-ski model holds four snowboards
A great product in every way! What a difference a well designed product makes! This ski rack was very easy to install and store. It's light, I can keep my gloves on to use it, the top bar stays up while I get the skiis on and off, and the parts that hook the rack to the cross-bar swivel to line up with the rack for easy storing!
Schawwwiiing
Familiarity:

I gave it as a gift but have feedback to share
"The process and assembly of this rack all-around was easy. It also looks really good. My only issue is that my snowboard doesn't fit with both bindings in the center or on the outside of the snowboard rack. You have to put one of the bindings in the middle and the other past the front or rear rack. Otherwise great product. 8 out of 10."
Boards and rods?what else?
Gender:

Male

Familiarity:

I've put it through the wringer
The design of these board/ski racks are so simple, it's not hard to find more uses for them. Yeah, they carry 2 snowboards easily, but I've used them to carry fly rods that won't fit in the Titan Vault. Kayak oars, pvc, you name it. The new universal foot attachment is genius. I was concerned about thieves cutting the rubber straps, but there is a decent band of metal in each. Also the strap design makes taking these racks of way easy. Just unlock, loosen slight and they pop right off and right back on. Love em.
Not just for winter
Familiarity:

I've put it through the wringer
I love this rack. I love the huge buttons to operate with gloves. I leave this rack on all year long. In the other 3 seasons I use it to safely transport my fishing poles and fly rods without breaking them down. Super convenient. With the addition of the lock cylinders I have no reservations of leaving my board or my poles on my car. The soft rubber cradles my gear without crushing it. Will post a pic when I have better light
Great rack
Familiarity:

I've put it through the wringer
Not all too much to say here, its a ski rack and it does its job very well. It opens easy, it closes easy, it locks easy, ski don't fall off it careening down the highway like daggers through an innocent bystanders windshield... what more can you really ask for? I've had mine on my Forester for about 6 years now, made a few cross country drives with a full rack, and have never had a problem with it. Every now and then it might take a sec to knock snow and ice off it but it's never gotten stuck on me. Big thumbs up and highly recommended!
Nice rack! hehehe
Familiarity:

I've put it through the wringer
I've transported 6 snowboards with it. Am very happy. A little disappointed that the screws underneath rusted on my very first trip. But I think that is just cosmetic.



As always. LOVE Backcountry! Great customer service!
Nearly perfect
Familiarity:

I've put it through the wringer
Only two tiny flaws - when it gets really cold it can be difficult to loosen the clamps enough to free the semi-rigid strap and move them. Above freezing, they go on and off in a matter of 90 seconds.



Second, occasionally have small issues getting the keys to properly spin the locks, takes a bit of fiddling.
I had to get this for a last minute trip back to Colorado. I put this on my 2006 Hyundia Tuscon with factory mounts. It fit perfect, was so easy install! We halled 3 fat powder skis and one snowboard on the Flat Top 6. It came with locks so I was never worried about someone snatching them off my car.



For someone looking for a good way to transport skis/snowboards for the person looking to save a little. Its not the best for noise, so if price is not an option you can for a nice more aerodynamic model.
super solid and easy to use
Familiarity:

I've put it through the wringer
I use this rack with thule bars. It's super easy to attach and detach. they literally came out of the box and were on my roof in a few minutes. i haven't had any problems with it in the snow or cold. the locks work well (something that i recommend getting). it holds four boards no problem. does what it says and does it well!
2nd Thule rack that I have purchased ,however the cylinder locks will NOT work,have sent numerous emails to thule & also have waited on hold on the phone till I realized no one was picking up!!! very disappointed


Perfect Rack
Familiarity:

I've put it through the wringer
The Flat Top rack is all around perfect for me. Looks slick, no bigger or smaller than it needs to be, and the components always work. Whether it is 5 below and snowing or just throwing 4 boards on the roof for a sunny spring day, the buttons and locks allow for easy open and close - never an issue!
Pretty perfect...
Familiarity:

I've put it through the wringer
These racks are incredibly easy to use. They install easily to the Thule Loadbar and operate nicely in about any condition. They have big buttons to release that can be easily depressed even if caked in snow and a bit of ice. They also close incredibly easy in the same conditions. I have had the 6 pair and the 4 pair, the 6's are super nice if you are going to be skiing with groups of friends or family, especially if some of them snowboard. The 6 pair fits about 5 pairs of pow skis, 6 pairs of park skis, or two snowboards (stacked on top of each other) and 3 pairs of park skis.
Easy
Familiarity:

I've used it several times
Definitely the choice of most regular snowboarders or skiers. Extremely easy to set up and use. and looks good on any car. Being able to fit 4 snowboards on the top of your car is a pretty great thing. I'm usually only taking a couple people to the hill so its awesome. Very secure so you don't need to be paranoid if you're somewhere else. 05 WRX
do i need to order one or 2
do i need to order one or 2
The Thule Universal Flat Top is sold in pairs, so you only need to order 1 if you'd like one one set on your car.
Superb Rackarama.
Familiarity:

I've put it through the wringer
I've actually loaded mine to the gills with 4 boards and 2 pairs of skis. (The ski's were semi-vintage from 1999, so they were still skinny!) It definitely took some strong handing to get it closed all the way, but it did it!



Can't wait till the pow makes a return... Hopefully in 2 more months!
Go Bigger if you have fat skis
Familiarity:

I've put it through the wringer
With the way ski companies are going by making fatter and fatter skis Thule needs to make a wider model again. My 6-pair rack can fit 4-5 pairs across the top of my roof due to the width of skis. Just keep that in mind if you're looking to carry six pairs on a pow day.



Also, the locks on there are great addition to their newest update. No need to spend more and install them yourself. If you need extra keys, call Thule and give them your 3-4 digit number off the lock cylinder.
I have an 04 Toyota corolla , I'm unsure...
I have an 04 Toyota corolla , I'm unsure how the mount would attach because there is no rails to attach to, but I really want a rack, any idea???
Best Answer
If you have a naked roof on your Corolla you will need a base rack to attach this Flat Top to. The easiest way to find out what components you need will be to use the Thule Rack configurator located just above the tech specs. But basically you will need a set of 4 feet, a fit kit for your specific model of car, 2 cross bars, and locks and a fairing if you choose to get them.
Are these sold as singles or in pairs?
Are these sold as singles or in pairs?