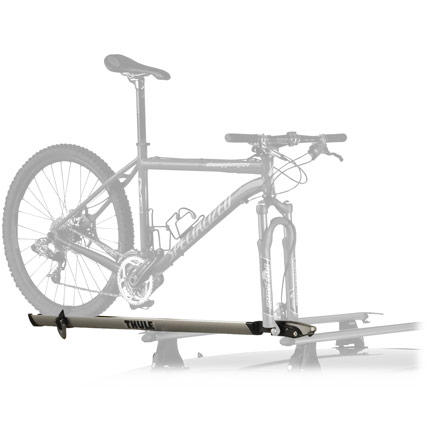 The Thule Echelon Roof Bike Carrier takes fork mounts to the next level. This roof bike rack's ETC (Equalized Twin Cam) clamps your bike in a snap with little to no adjustments necessary. Thule gave the Echelon Roof Rack a centrally located cam lever and an adjustable, ergonomic knob so you can load and unload your bike faster than ever before. This bike carrier fits all disc and suspension combinations that have standard 9mm (0.35in) axles, accommodates tire widths up to 2.6-inches (6.6cm), and carries bicycles with a wheelbase up to 48-inches (121.9cm). The Echelon's dual-lock design secures your bike to the carrier and the carrier to the rack for safe and fool-proof transport. This carrier fits Thule and Yakima load bars. If you have any questions regarding this Thule rack and your vehicle, contact our customer service experts at 800-409-4502.
Unanswered Question
Just ordered the Thule aeroblade bars...
Just ordered the Thule aeroblade bars complete roof rack system? Which fork mount bike rack(s) do you recommend?
Will this attach to my Thule aero bars?
Will this attach to my Thule aero bars?
Yes, with the Thule Xadapter9. You'll have to get that from Thule, rackattack or somewhere else online.
After 2 failures, I'm done. This thing is really dangerous and does not hold the front fork.
The Echelon worked great until it came close to catastrophically failing on the highway. Less than 3000 miles of use and the bracket that holds the head to the cross bars failed. It's just a poor design (there's not enough width to resist the moment forces), though it'll work fine if you only go in straight lines on smooth roads. Sent it back and got another Sidearm, which is bomber.
I usually swear by Thule gear and have bought much from them in the past. The rack worked great for a while until it started dragging on a little plastic piece on the tightening knob. Keeping a road bike on the rack mean's tightening the echelon a little bit tighter than its supposed to go and overtime wore down Thules ETC system so it no longer locks in the forks. I switched to a pelaton system and like it but will probably move to the Rocky Mt's model next time around.
Them bikes done been put on that there car roof
Phenomenal bike mount. I have used these to carry my bikes both on day adventures and on 1,200 mile drives between Colorado and Wisconsin. They fit my mountain bike, road bike and track bike just fine and keep them securely locked in. It is fairly easy and intuitive to use and install. Definitely buy the lock cylinders so you do not have to worry about your bikes getting stolen.
, ☃bcs_badge_alumni_label☃
No, lock cylinder sold separately.

http://www.backcountry.com/outdoorgear/Thule-Lock-Cylinders/THU0056M.html
I'm new to roof racks. I want to put a...
I'm new to roof racks. I want to put a rack on top of my Subaru Legacy wagon and would like to be able to carry at least 3 bikes. Since everything needs to be bought separately (it seems) from Thule . . . what are all the pieces I need to buy (I have nothing but the factory roof rack at the moment. Thanks!
If you have cross bars already on your car you just need to purchase the bike mounts and the lock cylinders( not required but recommended). If you don't have any type of mount on your car you need to buy the fit kit (your vehicle will have a particular fit kit for it), the cross bars and the bike mounts. The fit kit is tailored the to fit your vehicle's roof, lock on to the frame of your car and hold the cross bars. The bike mounts can then be mounted on the cross bars. As i said before i would also recommend getting lock cylinders so you can lock your bikes into you bike mounts. A fairing is also a nice optional piece of equipment to consider as it helps with aerodynamics and looks nice.
Used only a few times, but much beefier than the prologue that I've used for several years; does everything I've expected
Excellent roof rack for bike
Beautiful, asethetic design. Solid and well built. Easy to install. Excellent product. Yes, you need the X9adapter but many parts in the adaptor package you don't need. Thule should just sell us 2 square base screws. However, I notice there is some whistle blower wind noise, perhaps from the Rapid Area bar and the mount. Any one has an idea?
Great design, easy to mount
Nice, heavy feel gives me peace of mind.
Works great and looks good as well. I like the new looking style of this rack. The fork holders works awesome and gives me piece of mind that my bike won't fly off while screaming to the trail.
hello, don?t you have the x9adapter from...
hello, don´t you have the x9adapter from thule to use the echelon with aerobars?