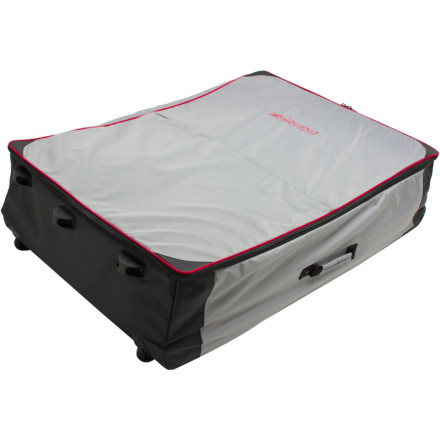 If you're headed on a long trip and plan to take along the stroller, then Chariot Carriers recommends its Wheeled Travel Bag. Durable, waterproof materials help keep your one- or two-kid Chariot free of stains, grease, and grime whether your Chariot is in the back of the family truck, in the roofbox, or doing the airport conveyor shuffle. Thanks to the durable wheels and handles, it's easy to haul the wheeled duffel and everyone's goodies or hold onto those little monsters until you can get them strapped into the stroller.
Excellent Bag
Gender:

Male

Familiarity:

I've used it several times
We bought this to protect our Schwinn Joyrider. The bag is a little big for it and with the wheels in the bag (which fit perfectly) it was over 50 lbs so we put the wheels in a suitcase. It made it from Boston to Orlando and back with no problems. But the checkin folks at the airports were very curious at to what was inside. Apparently not many people travel with double strollers in a bag. It rolled very well when loaded and folds very flat when empty. I'd definitely recommend it as stollers at Disney cost $35/day. Well worth it.
Will my chariot arrive in one-piece if I...
Will my chariot arrive in one-piece if I use this while flying and check the bag in? I'm afraid that the bag won't provide enough protection.
Your charriot is built to survive a roll over at speed if you're towing it behind a bike - this thing will do just fine for you even if the bag handlers decide to try and break your stroller. They are built like tanks so I'd travel without worrying.
What is the dimension of this travel...
What is the dimension of this travel bag?
The single is 44 x 25 x 12 inches the double is 44 x 32 x 12 inches.
Does this bag qualify for free gate check...
Does this bag qualify for free gate check when flying with your child?
Goodness Cassidy. what a question...

There is no universal answer when flying with children; airlines and travel restrictions will vary depending on where you travel and when (such as during a heightened security alert). Double strollers are wide in general, especially the chariot. While the screener should be able to accommodate the unit, it may not, which poses it's own issue. With luggage, I've seen folks get through screening only to be redirected at the gate to check their bags. True enough, if you can make it to the gate with kids in the stroller, then you very-well may be able to then stuff the stroller into the bag and have them take it from the jet ramp. Without dissing this bag or its functions, it may make more sense to simply buy a cheapo stroller(s) for travel and use a carseat + GoGoKidz Travelmate assembly for kids on the plane.