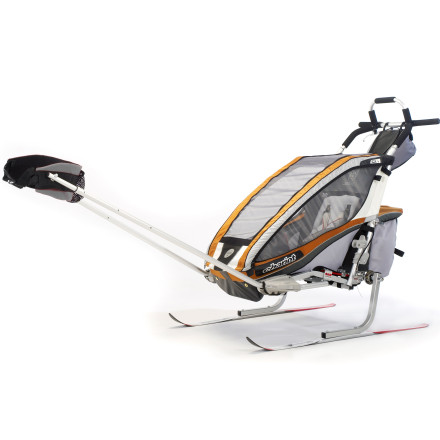 You and your kids already love the CTS (Child Transport System) in stroller, jogger, and bike mode, but when winter comes, it's time to gear up and get out on the cross country trails. With the Chariot Carriers Skiing CTS Kit for CX, you can adapt your Chariot CX Carrier to comfortably haul your little one along when you hit the pristine cross-country trails.
Lightweight Rossignol skis (pair) attach to the CX child carrier (stroller) at the axle via lightweight yet durable aluminum arms
Padded, adjustable waist harness features two towbars that keep the carrier stable and has three positions to fit different sized users
Requires CX Chassis and Ski Kit Axle Adapter (sold separately)
This is awesome. Perfect for hauling around the little one on cross country trails.