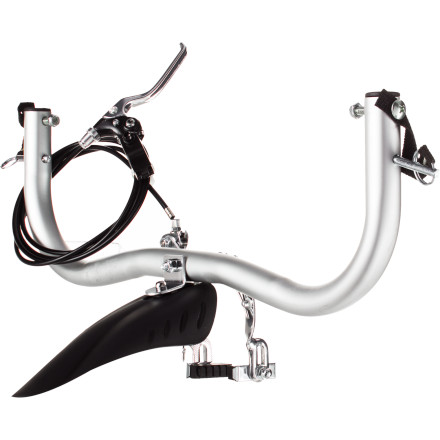 Detail Images
The Jogging Brake 2.0 turns you Chariot Carriers Cougar Stroller into a distance-running machine. Use a single included tool to mount the kit to the Cougar 1 or 2. A front fender comes with the brake kit to keep your kids dry since you'll be blasting down the road without time to stop for every puddle. When rolling downhill, or slowing down for an intersection on the way to the park, just grab the Jogging Brake to bring your Cougar to a stop. Chariot designed the Jogging Brake Kit to fold under the Cougar for cycling, strolling, or storage.
The VersaWing 2.0 folds away under the carrier when you are just strolling
Integrated fender on the front of the kit protects the front of your carrier from muddy water
What do you think about this product?
Have questions about this product?
This is the Cadillac of Baby Joggers. It is a very sturdy product with a lot of features. It is a little heavy for a jog but when you strip it down to the bare bones, it's strength makes for a smooth ride and long, trouble free lifetime of running. This site had fantastic service and they were the only vendor with the jogger in stock and ready for delivery. Everyone else had a 3 month waiting period. Great job!
A brake makes a nice addition.
I have used several joggers, some with a brake and some without. First off, the Chariot is the nicest I have used. The option to add all the accessories such as a brake is really nice. The brake was not too hard to install, but I did run into some confusion. The one point I will give is to remove the hand brake from the cable as it does not tell you to do this in the instructions and is necessary to thread the cable along side of the stroller upward support. It is not the best brake I have use and the adjustment sometimes does need to be checked, but it makes my chariot complete. A nice touch is you can lock the hand brake and/or the back wheels for immobilizing the carrier. One concern is the cable is directed underneath the double stroller and can dangle down. It has not caught on anything as I check it each time and I am developing a way to have it concealed. As for the fender/brake assembly I leave it up all the time even when pulling with a bicycle. It seems to help keep debris out of the carrier and off the children. I do not have the stroller kit and therefore no opinion in this regard. It helps with a functionality that I want and certainly helps make my jaunts with the kiddos more enjoyable. I would buy again.