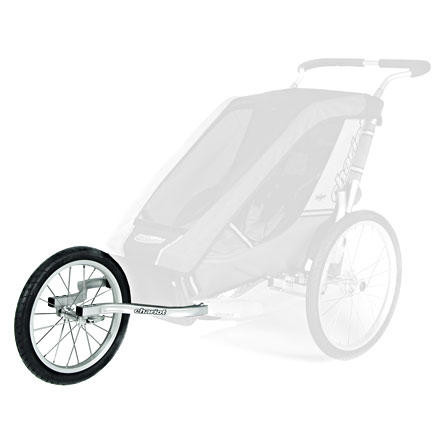 A running-deprived mom is not a pretty thing; use the Cougar Jogging CTS Kit to set up your Chariot Cougar 1 for running, and preserve family harmony. A large, 16-inch front wheel lets you run as fast as you like, while the little one enjoys the ride. As with all Chariot accessories, the Jogging CTS Kit is durable and easy to install.
Includes 16in wheel and two ezClick aluminum arms
Compatible only with Chariot Cougar 1 chassis
Perfect for jogging or easy trails! Very easy to take on and off for other attachments! The Chariot system is the best for high en strollers and I highly suggest it.
Is the jogging CTS kit the same for Cougar...
Is the jogging CTS kit the same for Cougar 1 and 2?
No. The jog kit is the only kit for the Cougars that is specific to the 1 or the 2. The width of the frame is different on the single and double carriers, so you have the get the right Jog kit so the arms meet in the middle for the front wheel.
Well I guess you could, but the balance would be tricky. Big wheels are great for running over varied terrain. Assembly is easy and parts are very secure.
This jogging kit, like the rest of the Chariot unit is a very user friendly design and great quality. I also have the bike kit.
When my daughter grows out of this Trailer/Stroller someone else is gonna get an accessory!