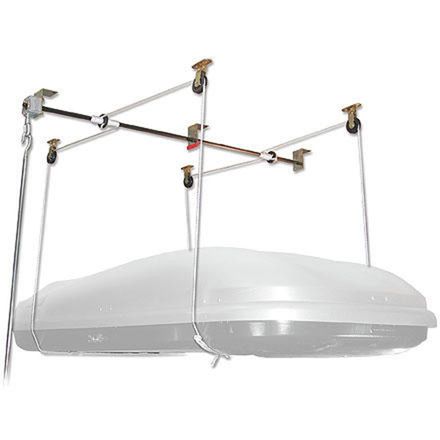 Community Images
Description
Maximize your storage space
The Thule Box/Storage Lift allows you to move your carrier (or kayak, boat, big gear etc.) out of everyone's way when it's not being used. The Box/Storage lift can be easily mounted to ceiling studs or to the rafters in your garage and is the perfect way to organize and maximize your space. The Lift features a crank system that is easy to operate, and has adjustable load straps that fit everything from wide cargo boxes to skinny kayaks
Mounts easily to ceiling studs or rafters (hardware included)
Crank system is easy to operate
Adjustable load straps (with 220-pound weight capacity)
Great way to store a roof box
Familiarity:

I've put it through the wringer
Took about 2 hours to install and hoisted my box off the roof of my car, and stored really snug to the garage roof. Love that I can hoist directly off the roof.



Mounting hardware included only suitable for fixing to a solid roof. You need to provide your own fixings for any other mounting.
My husband and I were able to install this in around 2 hours without too much difficulty, directly into the garage ceiling studs. The instructions are not really great, you'll have to use some of your own common sense - I think Jim (below) has the right idea for installation. The gear box and removable arm to crank it up make this item worth the purchase, although the rope is chinzy. One little detail not mentioned in the instructions is that the device is meant to lift the box directly off the roof of your car, so the rope is not long enough to hoist a box from the garage floor. Installation was light years easier than slipping a large, bulky rooftop carrier into the two rope loops hanging 5 feet above the floor! We considered buying a longer rope, but are not sure there is physically enough space in the mechanism to wind up more rope. Despite some limitations, we are reasonably happy with our purchase.
Unanswered Question
Is this lifting mechanism installed directly...
Is this lifting mechanism installed directly over the car? My garage door opener is attached at the center line of garage door and is mounted directly over the car. In the reviews there are comments about 1 person being able to remove and replace the storage box single handedly. How do you deal with the garage door opener issue?
Thanks for your help on this.
Dennis
I have 23" of clearance between my ceiling and the top of my garage door (when it's open) and I was able to get this and my Yakima 16S to just fit when mounted to 1x4s. For those who are in a similar situation, the highest point of of the lift is about 3.5" in the center bracket.

This thing was a total bear to set up. A neighbor helped me and even taking suggestions from reviewers on Amazon, such as measuring and doing as much as you can before mounting it, it was still a lot of work to measure where on the ceiling to put it and where the studs were in my ceiling. Though it was a lot of work, I am so, so happy to have my box up above my car now, saving space and also making removing and mounting the box on my car that much easier.

The rope in the kit is chintzy and I will probably replace it soon.

Bottom line: The kit is a little overpriced, is a total pain to install, and comes with so-so rope but is totally worth it if you have a gear box laying around your garage making your life hell.
My rafters run across the garage ceiling so I had to add lumber to mount the hoist. If the rafters went from the overhead door back into the garage the additional lumber would have been unnecessary. Installation took a couple hours, including a few trips around the corner to Lowes.
Another post says to buy pulleys and do it yourself. The pulleys are about $6 each the rope another $6, but good luck finding the shaft and gearbox. I found one place that could order a gearbox but it over $200.
My only concern was the gear ratio in the gearbox would take 300 revolutions of the handle to gain one inch of vertical, but that is not the case the box goes up at a reasonable pace.
You will need hardware to mount to wood, I spent about $10. The rope provided was about two feet too short for a 10' ceiling and a five foot tall vehicle. I wanted a little extra slack to be able to pull the rope around the ends without lifting the box in case my bride decided to load or unload it.
I am very happy with the product and Backcountry's price, no regrets.
how does this attach to the ceiling?
how does this attach to the ceiling?
Hardware needs to be attached to rafters or studs. There are seven points of attachment.
Seriously when you buy your rocket box think of what your going to do with it when you don't have it ontop of your car.....

yes this took 2 of us 3 hours to install. BUT now I don't need anyones assistance to remove the box off of my rack ever again. The hassle in installing this bad boy saved me countless hours of removing and placing this box on top of my suv with someone else's assistance. I would highly consider buying this. But please don't think that this rack can store your gear inside of your box while it is attached to the rafters of your garage. Personally I would not enjoy having my gear falling on top of me or the roof of my suv incase it collapsed. Amazing device, and wicked sturdy. a major score for my clutter free garage.
how much can this thing lift, and how wide...
how much can this thing lift, and how wide a load can it take?
The manual claims 100kg, but I am sure there is an insurance liability factor built in to that.
My Husband is Part Monkey
We have all sorts of shelving hanging from our garage ceiling for all his stuff, so the box lift fit right in. After he bought the lag screws, it took him about 35 minutes to install. Great product!
You better have a high ceiling in your garage. This makes removal a one person job. You can make one of these just with pulleys and a rope if you want to save some money.
The hardware included are for installation into a concrete ceiling. Well, I live in the states and do not have a concrete ceiling. So I went to the store to find proper hardware so I can mount it to my 2X4's/drywall. Installation time took a while for me. There's 14 holes I drilled for the 7 mounts which all had to be carefully measured out on the ceiling. After it was completed (several hours later) I tried it and was extremely pleased with the results.