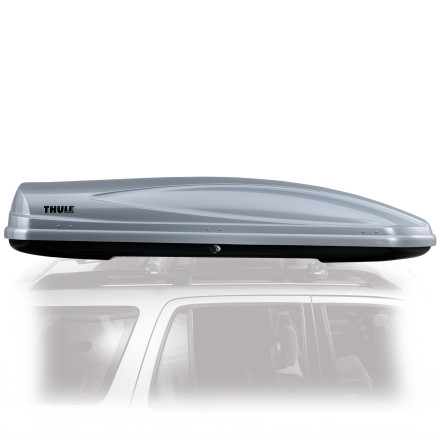 Find the right size Thule Atlantis XT Cargo Box and hit the old dusty trail. This roof cargo carrier features QuickGrip technology (as easy as it sounds), access on both sides, and fits on most factory-installed and after-market racks. Throw some friends' skis (Yao Ming has to hold his pair outside the window) along with yours in the Atlantis XT, and since the padded security key won't release unless the box is completely closed you know your sticks and other gear will be safe.
Thule/Atlantis 1600 XT
Gender:

Male

Familiarity:

I've used it once or twice and have initial impressions
I really like this cargo carrier. I have just returned from a 10 day road trip with some camping included. There is a goodly ampint of room, I like the ease of mounting, the locking system and it stays dry. I will certainly use it many times in the future.
What are the dimensions for where the hooks...
What are the dimensions for where the hooks lock in to the roof bars. I have a 2011 Dodge Durango and from the middle of one bar to the other is 28 inches will it fit my car?
This will fit your car. The QuickGrip system is mounted on rails that are adjustable to accomodate different cross bar spread distances. The minimum cross bar spread is 23-5/8".
I noticed that under "material" your specs...
I noticed that under "material" your specs say "plastic"... I was thinking like other boxes that this should be at least ABS, PVC or some other material. "Plastic" sounds like a kids toy... that just won't last. ALSO, I have a 2009 Grand Cherokee Jeep. It looks like the 84" or so will be my longest option. So the question is... how FAR in front of the front factory cross bar can this box "hang over the cabin? OR even to the front of the top lip of the windshield. ALSO I have Sirius Radio, factory installed. On the roof at the rear center in front of the hatch seam sits my Sirius factory, the one that's like a half a tennis ball size (no stick sticking up)... Well how will this box (plastic) with normal luggage, clothing etc inside the box (possibly metal items???) affect my satellite reception?
Best Answer
I can answer some of your questions:

The "plastic" is bulletproof. I've had this box for 3 years and there are zero cracks or seams or blowouts. Definitely some of the finer material I've had in a roof box. As a bonus, the locks are awesome.

I have this box on my VW passat wagon and it does NOT cover the rear hatch seam. Its even forward of the "RC CAR" antenna on the vw. The attach points do have some flexibility (Maybe 5 inches in either direction?) so you can move them as needed. Also, I'd guess that your roof rack has some for/aft movement as well. I don't believe it would hang over your windshield.

Hope this helps.
UNSURE WHICH DIMENSION IS FOR THE HEIGHT....
UNSURE WHICH DIMENSION IS FOR THE HEIGHT. CAN YOU CLARIFY.
The dimensions shown are actually for the 1200XT, a size backcountry does not have in stock. The last number is the height (17"). As for what's in stock, the height of the 1600XT is 16.3" and the 1800XT is 16.9"
Length x Width x Height is how the dimensions are listed.
Picked this up as our vehicle won't fit all of our gear inside. I got the 1800 and it fits loads of gear! It is extremely easy to use and has been made very user friendly. I was a little worried that it would be difficult install but there wasn't a single glitch! We even did it in the middle of a blizzard and to top it all off, Justin, who completely ROCKS and works at backcountry installed it with me. They really are the best folks around!!!!
Your description for this cargo box says...
Your description for this cargo box says 1200 cubic feet, yet the options available are a silver 1600 and black 1800, which I believe refer to the cubic feet size. I need to be absolutely sure about the dimensions before I buy this. Can someone check and get back to me please?
Best Answer
You're right about that, the only ones left in stock are the 1600 and 1800, whereas dimensions are given for the 1200. You should get on Live Chat and have them check the dimensions in the warehouse for you. However, I can guarantee you that the sizes are not given in cubic feet. 1800 cubic feet is (for example) 10 x 6 x 30, which is a school bus. I don't know what they are (120, 160, 180 L perhaps?) but they're not cubic feet.Hey Lori,I spoke to the folks on live chat a few days ago about this same thing. The 1800 is 18 cu ft. and the 1600 is 16 cu ft. The dimensions for the 1600 are 84x35x17. Hope that helps.