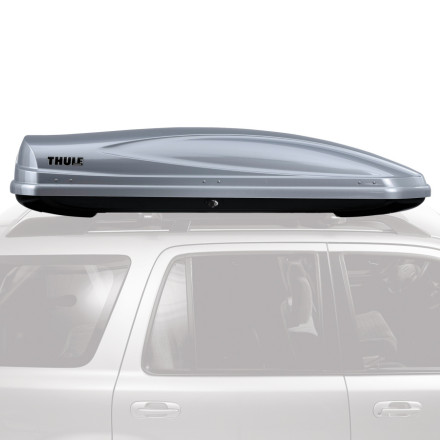 Community Images
Thule's Atlantis 1200 XT Cargo Box offers enough space to stash several boards or pairs of skis after an epic day at the mountain, with a low-profile design that's also ideal for your day-to-day storage needs. The aerodynamic shape remains quiet and fuel-efficient, and the Quick-Grip tool-free installation system gets you set up and ready to roll in minutes. Included locks with oversized knobs make operation a cinch even while wearing gloves, and dual-sided access means you can avoid that mud puddle taking up one side of your parking space.
Used this box for two cross country trips in the past few years and works great. It is not just a place to put all your travel stickers. It is really light to be able to get on and off by myself and stable where doesn't move around. not too big where it is impossible to store in off season or when not needed. With the screw clamps very easy to attach to different size of bars.
Unanswered Question
Will this work for a Mazda CX 9?
Will this work for a Mazda CX 9?
Unanswered Question
what is the diference with the Thule Force...
what is the diference with the Thule Force Alpine Cargo Box
Has anyone installed this on a 2005-2007...
Has anyone installed this on a 2005-2007 Subaru Outback on the factory racks? Just wondering if I will be able to open the back hatch all the way? Thanks
I have the 05 Legacy wagon which has different rails. But I have the Subaru cross bars and am able to lift the rear hatch all the way.
Also works on our 2010 Outback.
Solid. Fits 09 Subaru Outback
Have this locked down on my 2009 Subaru Outback with factory roof rack bars. Works perfectly for what I need it for, holding skis and some extra gear to keep space in the back of the car and the backseat open. Also small enough that it can be pushed over to one side to fit a Thule single bike rack on the factory bars. Love the thing, feel secure with it on there and has about 2000 miles already. Mounting system is super easy to use and intuitive.
Happy with my Thule roof top box
I bought my Thule Atlantis 1200 XT cargo box for a trip from Chicago to Florida and back. I mounted it on the factory cross bars of my 2011 BMW X5. The factory cross bars are very wide compared to the thule crossbars, but the box mounted nicely and was very secure. This box fit 3 airline sized roller boards (suitcases) with room to spare. Two of the suitcases were expanded to full capacity. On the way to Florida, we drove for about 3 hours in heavy rain. Everything inside the box stayed completely dry. Wind noise was barely noticeable even at 80 MPH. Fuel economy was definitley affected by a couple of MPG, but then again, the care was completely loaded and carrying 4 passengers as well. For those of you wondering, my X5 is a diesel and averaged 23 MPG for the entire 3000 mile trip. It normally would get about 25-26 MPG without a load. The box is constructed of thin plastic, so care should be taken when installing/removing/storing. It is light and one person can easily lift and adjust by themselves. The mounting system is incredibly easy to use. I almost bought the cheaper version that you have to mount with a bracket and nuts/bolts, so glad that I did not. Probably the only negative would be that you have to leave the key in the lock any time the box is open. If you keep the key on your car key chain, that may be a problem. I just put it on it's own key chain along with the key for my cross bars and it really did not matter to me. Once on the car, it actually looked pretty good. Another benefit of this box is that it will easily hold 4 or 5 pairs of ski's. I was using a open ski rack which allowed road salt to get all over my skis. Next year the skis will be nice and clean.
First box...and love it!!!
It is very light and easy to install securely. It holds a lot of stuff. Great for my skiis during the winter or for whatever during the summer months. My dog loves it because she gets more room to lay down in the back of the SUV now that we can pack more stuff up top.

Didn't notice increased noise from wind resistance and I have had this on my car for a while no with very little signs of wear.

I even put my backcountry goat on the side of it...fits perfectly.
I have always thought roof boxes were a little weird until I started using one. OMG. I can't believe I ever used a ski rack. Not only can you fit way more in here, but they stay protected from the elements and out of site. I leave my skis in my box all winter, REALLY nice when I am going skiing almost every day.

This Thule is durable, extremely easy to take off and put on, I can do it myself, and being able to get into it from either side is crazy nice. I have fit 8 pairs of fat skis in here before (stacked carefully of course.)

This fits on my subaru outback perfectly- and matches the silver color of my car!
This box is awesome for any extended trip if you want 4-5 people to feel comfortable in your car. I got it for my prius and it is not too long for that type of car. You may want to convert the antenna into a sharkfin one to avoid the box bending it.
For ski trips: It can easily fit 2-3 pairs of skis along with a couple of snowboards and boots. It is long enough to fit any type of skis as well. You can then use the trunk for all your other stuff.
For surf trips: It can fit 2-3 shortboards. Don't count on having longboard though! Haha. And you can keep all the wet stuff in the box too.
The installation takes 2 minutes really and doesn't require more than one person to do it.