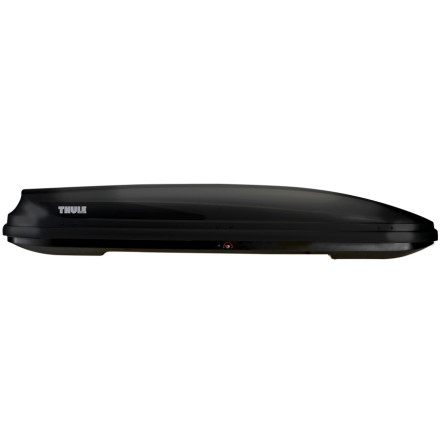 Detail Images
Quit scratching up your inside car doors with your skis or boards, and purchase the long and lean Thule Ascent 1100 Cargo Box.
Dual-side opening for easier loading and unloading from either side of your vehicle
Tough box lid and base protect your gear from the elements
Quick-Grip mounting system allows for easy, fast, tool-free installation and removal
2 One-Key locks (included) secure box contents and lock the box to the carrier
Fits 5-6 skis or 2-3 boards (max length 210cm)
Check car-rack configurator link near the top of the page for car-compatibility
Great Box
Gender:

Female

Familiarity:

I've used it several times
The coffin as my husband likes to call it is heavy duty and holds up in our Park City weather. It is much easier for me to throw skis in this box than to put them in the racks so I love it. We fit it to our car using the fit guide on Thule's site and it is works perfectly.
The Thule Ascent 1100 was exactly what I wanted. I checked the Thule website and it seemed that it would fit my 2005 Honda Pilot. When I got the box it did not fit. There is limited adjustment to the mounting and you can't make it clear the back hatch. When I called Thule they said it would fit the rack but it wouldn't clear the hatch. They said only the Boxter would fit for sure. That wasn't the shape I wanted. Backcountry was very helpful and had the box shipped back for credit. I called several other manufacturers and was unable to get accurate dimensions to determine if their boxes would fit. If they would just give dimensions from the back of the box to the front and rear mounts (their range) you could see if it would fit. Finally, I had a neighbor with a Thule Frontier Box who let me test fit it. I had to drill some new holes for mounting, but it fits fine now.
I have had this box for 3 years now and it does the job. Holds up against everyday use, rarely do I take it off. Has made multiple trips across the country and still looks great. It will hold numerous pairs of skis, think the most I have ever had in there at once is 4 skis (100+) underfoot, but that was some extreme packing. I have put up to six skis in there when the east coasters are tagging along 110 or less underfoot. I guess my only complaint would be that the lock can be pretty stiff if it is cold out.
Recently had to change the locks on the box and it was no big deal, just follow the simple little guide that they come with and you are good to go. The mounts have a lot of room for adjustment so it does fit a bunch of different set-ups. I have put it on some other vehicles and its a quick install. Just need to line it up and screw it down. Definitely would recommend to a friend.
Write your question here...I have only 1...
Write your question here...I have only 1 key fo my thule ascent1100 can I get extra keys made
Thanks
You can buy whole new locks with more keys.