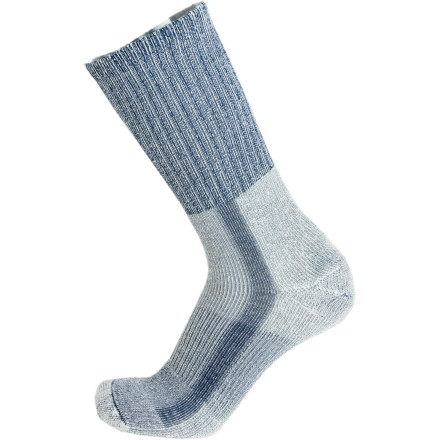 Detail Images
Grab your daypack, some water, and the Thorlos Light Hiking Thor-Lon/Coolmax Crew Socks before you head out for that out-and-back hike this afternoon. The Crew Socks provide moderate cushioning to help pad your steps and advanced venting technology to keep your feet cool in mild-to-hot weather.
Lightweight padding in the heels and forefeet cushions your steps, reduces abrasion, and helps prevent blisters
Upper padding helps alleviate pressure from tight laces and wonky-shaped boot tongues
Stretch zones provide a comfortable fit without feeling overly restrictive
CoolMax venting panels help wick sweat away from your feet, keep you cooler, and help reduce the chance of developing blisters
This is by far my favorite hiking sock and I've been hiking and backpacking for a very long time. I love these socks! They last *forever* without losing their shape or padding. They dry super-fast, even in the muggy Mid-Atlantic. I have never once gotten a blister while wearing Thorlos, and I wear them comfortably without a liner, even on extended backpacking trips. And even my oldest Thorlos don't retain odor. There is literally nothing bad I can say about these socks (okay, well the colors are boring). If you want a really good pair of hiking socks that will dry in a flash, won't cause blisters, and will last a very long time, buy yourself a pair of Thorlos. Just remember to wash them inside-out WITH fabric softener to extend the life of the pile. It works.
I use them for 4 year now. they have the best padding in the world! and they last for years. they r pretty cool on wearing. but...they have a smell /: