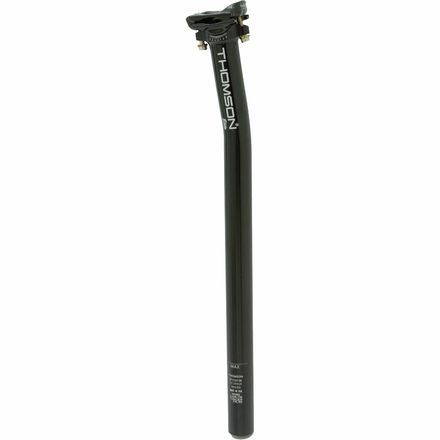 Colors

Detail Images

Community Images
Description
Get back.
For riders who prefer a bit more of a stretched-out riding position, the Thomson Elite Setback Seatpost supports your saddle so you can give the pedals your all. The Elite provides 16mm of setback in a bent shaft design. The post is engineered from once piece of machined 7000-seriess aluminum to give you a lightweight, yet highly durable design. The two-bolt saddle clamp design allows adjustability fore, aft, and up and down so that you're able to get the ideal position.
Machined 7000-series aluminum
180 grams
Two-bolt saddle adjustment
Share your thoughts
What do you think of the
Thomson
Elite Setback Seatpost
? Share a...
Great post for a set and forget part.
I wish it was a little cheaper or a little lighter but if you want no drama just buy this post and never think about it again. There is competition with comparable post that are a little lighter and a little cheaper but they don't say Thomson on the side.
And that's pretty much all one needs to do to this post! Well, that's not completely true. You can install and forget all Thomson parts. Sure, you need to take care of your stuff, but fretting over whether your Thomson bits can handle the abuse is a complete waste of gray matter.

On the rare occasion that I buy a bike in a box, the first things that get dumped are the stem and post.

Made is the US of A, by guys that know what the F they're doing. These very same guys answer the phone should an issue ever arise, and will stand behind their product, no questions asked.

If the answer to your question is Thomson, should you have asked the question?
I am buying this for my Specialized Aliez...
I am buying this for my Specialized Aliez road bike. I have measured the current seatpost at 1 inch OD. What size should I order?
Not being sure how you measured to OD on your current seatpost I can't say forsure but a 1 inch diameter with be a 25.4mm post. This is sorta a rare size and not likely what you have on your Specialized. From what I can find most to all Specialized Allez frames used the 27.2mm size since 1993. Unless you used a dial caliper to measure the 1 inch OD buy the 27.2mm seatpost.
what size of seatpost should i order for...
what size of seatpost should i order for 2008 trek fuel ex
Usually the size is stamped on the post somewhere near the minimum insertion line, if you have the old one around. Otherwise a dial caliper would be helpful in confirming the size.

But I'm pretty sure you're looking for a 31.6mm diameter post. Like 89% sure.

Length wise, you'll need to assess the way you frame fits or you could buy long and cut if needed. Good luck.