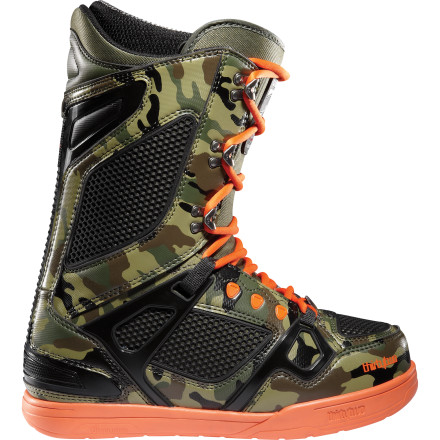 Community Images
Slide into the ThirtyTwo Men's TM-Two Pro Lace Boot and attack anything on the mountain. The TM-Two features medium-aggressive flex to give you an edge on any type of terrain that you encounter.
STI foam outsole for impact absorption, comfort, and support
3D molded tongue for tons of cushion and a natural feel
Inner ankle harness gives you a tight feel around the ankle and prevents heel slip
Level 4 thermomoldable liner with Aegis anti-microbial treatment for a custom fight and reduced odor
Level 2 polyurethane footbed with dual-density PU heel insert for optimized comfort and impact absorption
Feels like a shoe
Familiarity:

I've put it through the wringer
I found these boots to be quite comfortable, they fit roomy and wide like a shoe. They are quite comfortable and spacious for someone with a large or wide foot. However, there is a very slight arch so for those with narrow feet and large arches I wouldn't suggest this boot. The cushioning is middle of the road, nothing exceptional. The lacing system is fast and efficient, its a classic lace system with a lace tighten liner inside. The lace system makes it easy on and off but does tend to loosen over the day so lace up again at lunch. This is a great freestyle boot that is a simplistic design and feel, no crazy technology or lacing system. For those who want a boot that feels more like a shoe, this is for you. Just remember, that added comfort comes at the cost of a very wide boot.
Im pretty sold on these boots, but I don't...
Im pretty sold on these boots, but I don't know how these fit. I wear a 10.5 in burton, should I buy a size a 11 in these?
Best Answer
I'd go 10.5 my friend wears 11.5 shoes though he wants to have the smallest boots so he can to prevent toe and heel over hang. I buy my shoe size when I purchase 32's
Sick boots, super warm, tons of cushion, an comfy. Plus they kind of have an old school sneaker look. Very happy, put 25+ on em last season and still look brand new (fit true to size imo)
I will never go back to another boot
These boots are by far the best boots ever made. I've always loved thirty-two boots but these are definitely my favourite. Yes they are a "stiffer" boot, (7 on the flex scale) but they don't feel that bad. I ride quite a bit of park and powder and they were fine. I do ride a bit softer binding,( Rome 390) and they were a great combination. They were responsive, and could always hold their press. I rode these a lot in powder as well and they were great. Definitely the most comfy boot you can buy, and also the best all around boot ever. I love these boots and I will never go back to another boot.
These boots are by far the best boots I have ever owned. They are comfortable. They never come undone and I prefer a stiffer boot which these definitely are. I've only rode with them once but I have to say I was very impressed
i have the 2012 DC JUDGE, An these "Thirtytwo TM-Twos Simon Chamberlain model" i love em eveything about these boots is so tank, from charging hard "really hard" to big freeestyllee all day terrrain park light weight boots love all the features. honestly you have to be a true rider to Appreciate all that this boot brings to the table. so much tech in this boot. if you ride a lot an want perfect comfort treat your self. ESP if you ride a lot an your waking back an forth. hands down awesome. another reason perfect stiffness.

extra notes :

2012 Special Blend Annex Burnt green camo
2012 FORUM destroyer Doubbble DOGG 154
2012 Burton Malavita RE-FLEX

thanks,



rb
What is the difference between the pro...
What is the difference between the pro lace and the non pro lace TM-two models?
there is no difference pro just means its a pro model the camo is scot stevens pro model boot and the black raw is simon chamberlains pro model boot